Today at Meta Connect, in partnership with EssilorLuxottica, we announced our next-generation Ray-Ban Meta smart glasses collection. We redesigned these from the ground up, improving all the core features of the first generation while adding new capabilities that have never been seen on a pair of smart glasses before. They start at $299 USD. Pre-orders are open now on meta.com and ray-ban.com, and the smart glasses will be available for purchase online and in retail stores starting October 17.*
Since we launched our first-generation smart glasses built in partnership with EssilorLuxottica, millions of moments have been captured and shared. From music festivals and birthday parties to first steps, graduations, and beyond, Ray-Ban Meta smart glasses free you from the constraints of a hand-held camera. Instead of keeping the world at arm's length (or worse, missing out on the action completely as you struggle with your smartphone's lock screen), Ray-Ban Meta smart glasses let you snap a photo or video clip from your unique point of view — allowing you to not only relive the moment, but really live in the moment, too.
We redesigned our next-generation glasses from the ground up, listening to feedback from the community and taking the time to understand what people love about the product — like the effortlessly cool form factor, hands-free convenience, and open-ear audio — as well as the areas where we could improve, like overall media quality and comfort. We've improved all those core features of the first generation and added a couple completely new features that have never been seen on a pair of smart glasses before.
Here are some highlights:
Improved audio: We have all-new custom designed speakers with extended bass, higher maximum volume, and improved directional audio that provides reduced audio leakage for improved calls, music, and podcasts — even in noisy or windy environments. And when you're recording a video, the newly designed five-microphone array supports immersive audio recording, so you'll be able to capture sounds exactly how you originally experienced them — whether in front of you, from the sides, the rear, and even above.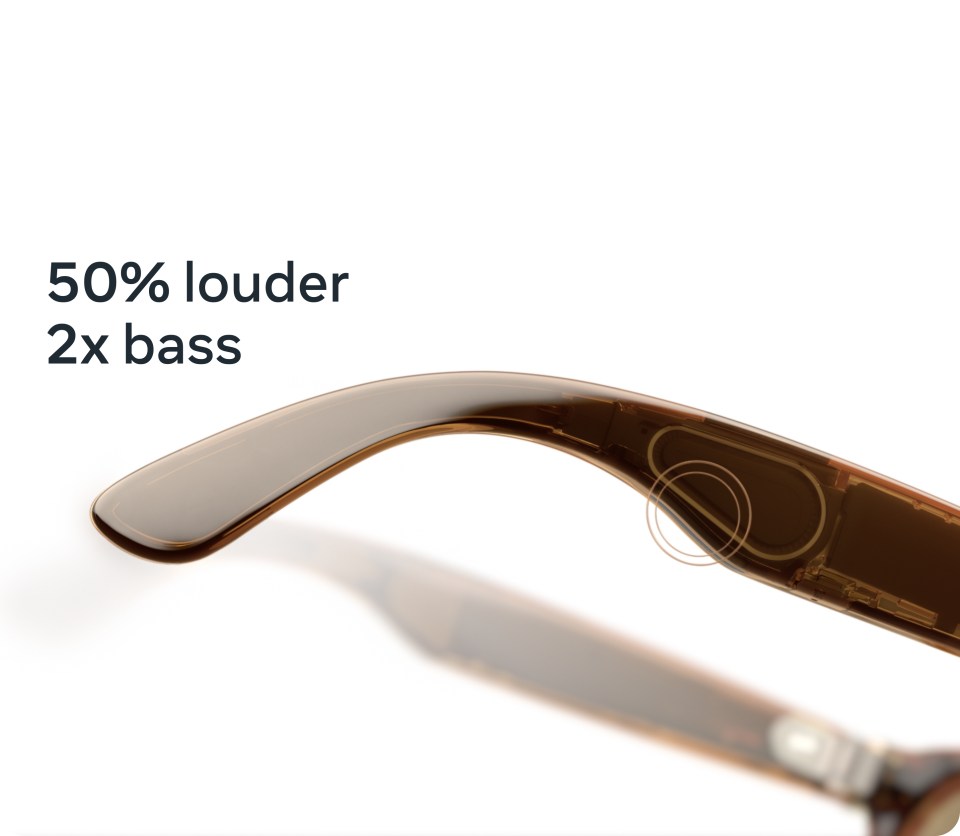 Share your point of view: A new ultra-wide 12 MP camera translates to improved quality for your photos and 1080p videos up to 60 seconds, so whether you're taking in breathtaking views during a hike or living your best life at an art show, the evidence of your exploits will be as epic as the real deal. You can even directly share photos to friends and family from your glasses with a simple "send a photo" voice command.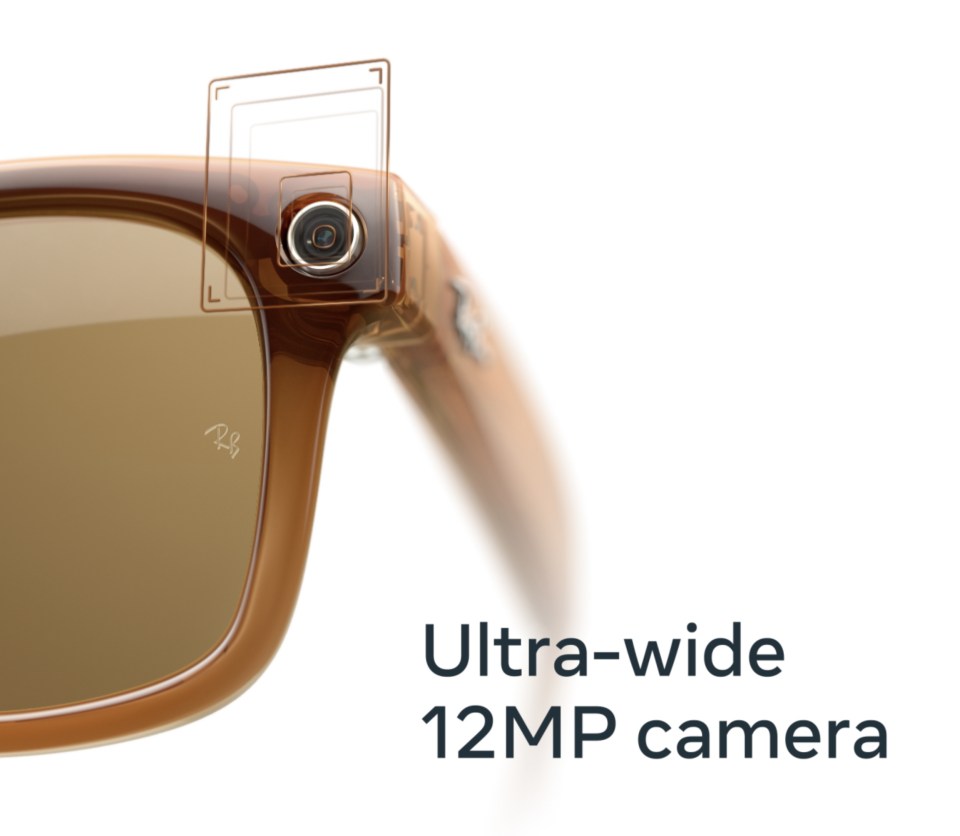 Power up: Ray-Ban Meta smart glasses are powered by the all-new Qualcomm Snapdragon AR1 Gen1 Platform, which enables higher quality photo and video processing and even faster compute. And the glasses come with a redesigned and sleek charging case, which holds up to eight additional charges (for a total of 36 hours of use) while being slimmer and even smaller.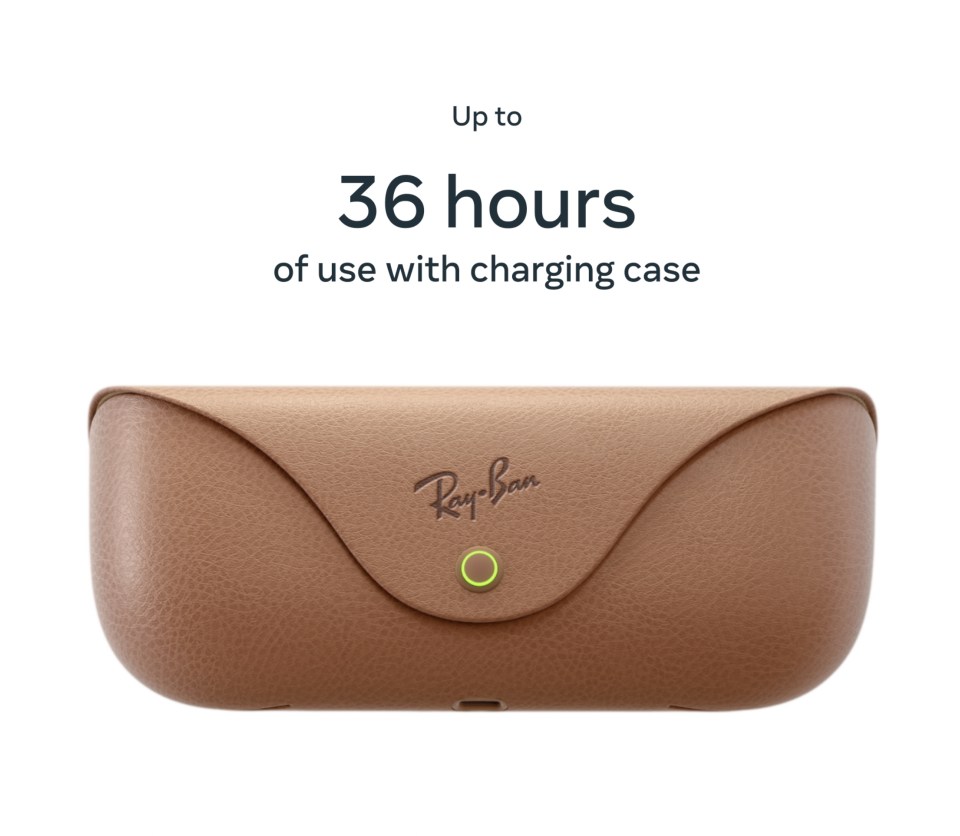 The look(s): Ray-Ban Meta smart glasses come in the timeless Wayfarer style you already know and love, plus a brand-new Headliner design for a more retro look — both of which are available in Matte Black and Shiny Black. We're also introducing three new transparent frame colors in Jeans, Rebel Black, and Caramel that celebrate the tech inside. And with over 150 different custom frame and lens combinations on the Ray-Ban Remix platform, you can mix and match to make the glasses your own on ray-ban.com. We've also made them prescription-lens compatible. 
This slideshow requires JavaScript.
Comfort and control: We reduced the weight of the glasses and slimmed down the profile in every direction, making them lighter and more comfortable. And the glasses are now water-resistant (IPX4). We also improved the touchpad and added interaction earcons so the glasses respond much faster and more reliably to your commands.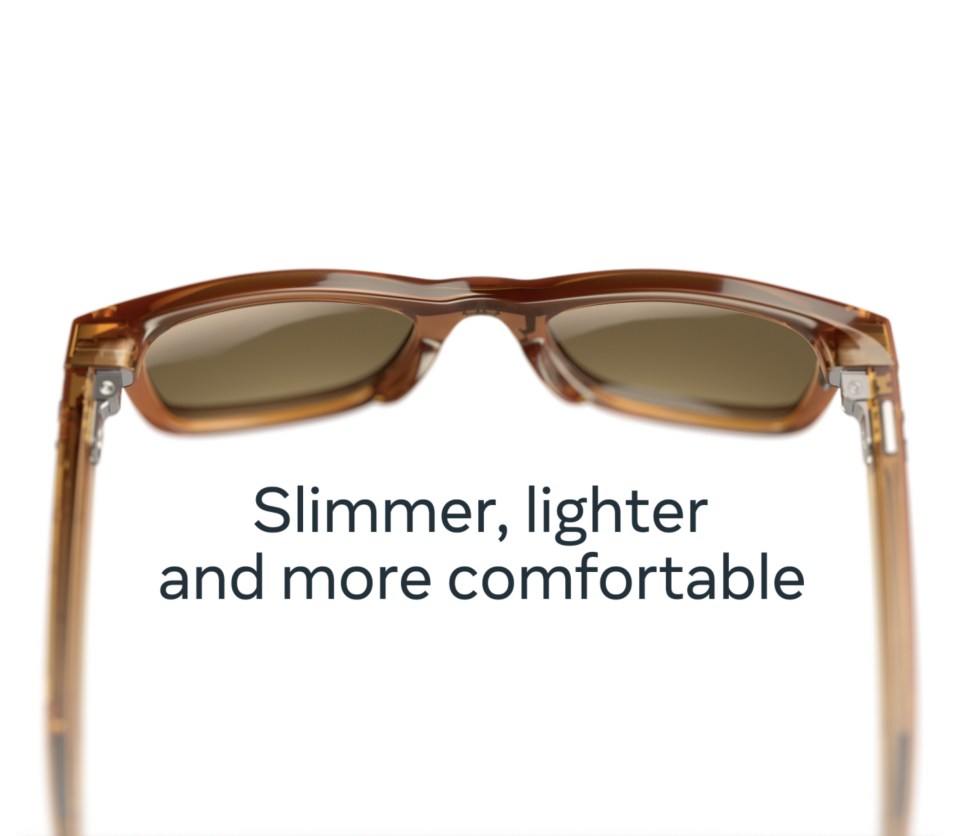 Hands-free livestreaming: You can now livestream from the glasses to Facebook or Instagram.  And you can see the comments in your preview, or tap and hold on the side of your glasses to hear them out loud to engage with your community as you're living in the moment.
Meta AI: We've integrated Meta AI, our advanced conversational assistant, on Ray-Ban Meta smart glasses and optimized it for a hands-free, on-the-go experience. By saying "Hey Meta," you can engage with Meta AI to spark creativity, get information, and control features — just by using your voice. Meta AI features will be available in the US in beta only at launch.
Get all the details on our Meta Quest blog.
Pre-order your Ray-Ban Meta smart glasses now on meta.com or ray-ban.com. 
* Ray-Ban | Meta Smart Glasses Collection will be available in 15 countries, including the US, Canada, Australia, and throughout Europe.