Update on March 17, 2022 at 9:00AM PT:
We're excited to announce that we're rolling out Ray-Ban Stories, our first-ever smart glasses, launched last year in partnership with EssilorLuxottica, in four new countries. Starting at €329, Ray-Ban Stories will be available online and in select retail stores in Spain, Austria, and Belgium beginning March 17, and in France beginning April 14. These stylish glasses offer everyday wearability and help you be more present with friends, family, and the world around you by letting you capture a moment or listen to music, while your phone stays in your pocket. 
New color combinations and software features
In early April, we'll introduce four new color combinations in all our markets, giving people more options to choose from, including Round Shiny Black with Gray Transitions® , Round Shiny Black with Brown Transitions®, Wayfarer Matte Black with Gray Transitions® and Wayfarer Shiny Black with Brown Transitions®. These new additions to our collection offer seamless all-day wear with lenses that intelligently filter light for optimum vision in all environments – inside and outside, day to night, up a mountain or in front of the TV. That means that all told, Ray-Ban Stories will be available in 28 different variations. If you can't decide which style to choose, you can visit Ray Ban's Instagram Shop now to virtually try them on through a special Spark AR effect and see how each style looks on you.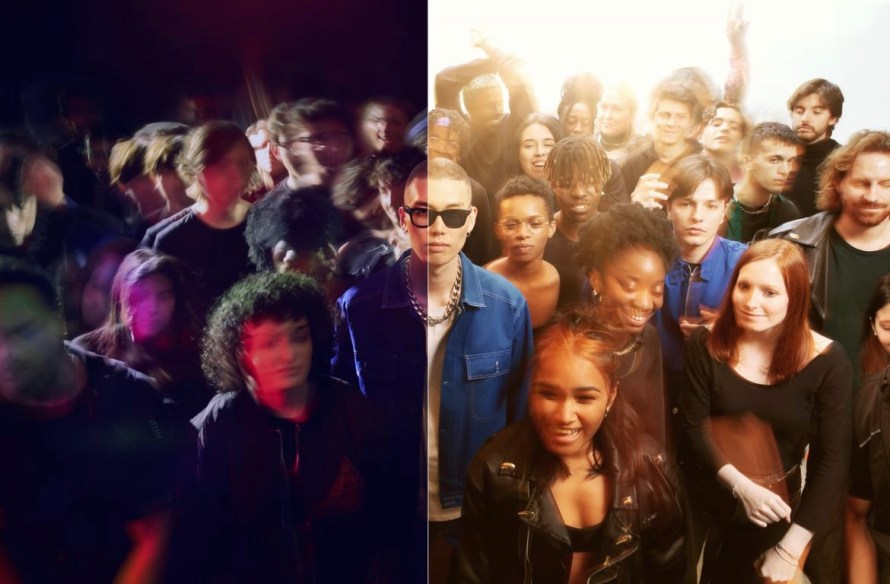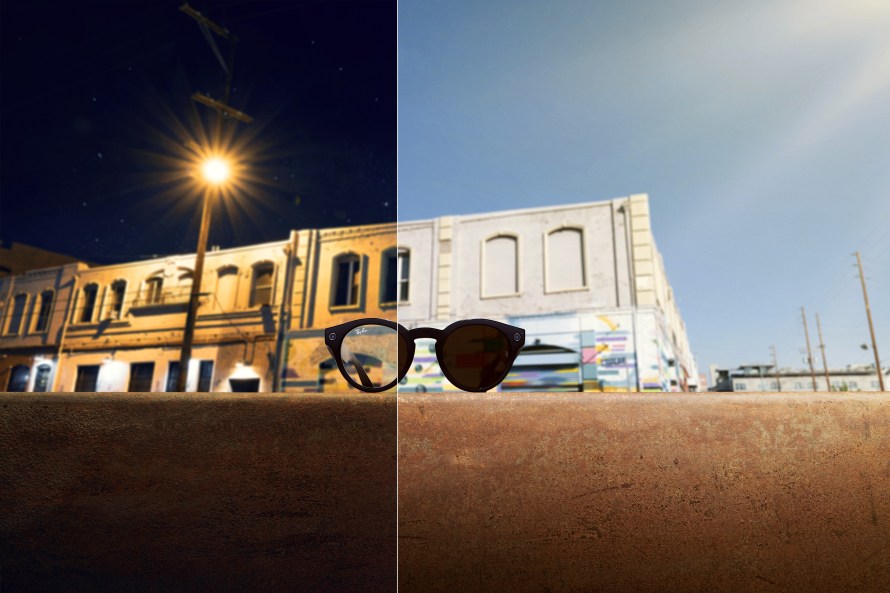 We're also expanding the product's software features:
Ray-Ban Stories will be able to record up to 60 seconds of video. The glasses were previously limited to a maximum of 30 seconds. You'll be able to toggle between 30 and 60 seconds as the max recording length in the Facebook View app settings in an update coming in April.

In April we'll begin rolling out the ability to use voice commands in French and Italian for a hands-free experience in those languages

.

We're adding audible notifications that alert you when your battery is low, your storage is nearly full, or your glasses are too hot or cold. (Available in English, Italian, and French).

Since last year's launch, we've added the ability to make phone calls, send messages, and hear message readouts

using your voice

via Messenger, and use voice commands to control media playing on your glasses (Available in English).

The Facebook View app will now be available in French, Spanish, Dutch, and German.
Privacy is built-in
In April, we'll roll out a marketing campaign in our EU markets to educate people on wearable devices and smart glasses and how they work. The campaign will aim to raise awareness about what signals people should look for when the glasses are in use, and that you should stop recording if anyone around you indicates that they don't want to be in a photo or video. The campaign will also alert people to being mindful of taking photos around minors.
Originally published on September 9, 2021 at 9:00AM PT:
Today, we're excited to launch Ray-Ban Stories: smart glasses that give you a new way to capture photos and video, share your adventures and listen to music or take phone calls — so you can stay present with friends, family and the world around you. Built in partnership with Facebook and EssilorLuxottica, Ray-Ban Stories start at $299 USD and will be available for purchase in 20 style combinations online and in select retail stores in the US, as well as Australia, Canada, Ireland, Italy and the UK.
Ray-Ban Stories' dual integrated 5MP cameras let you capture life's moments as they happen from a unique first-person perspective. You can easily record the world as you see it, taking photos and up to 30-second videos using the capture button or hands-free with Facebook Assistant voice commands. A hard-wired capture LED lights up to let people nearby know when you're taking a photo or video. Streamlined, open-ear speakers are built in, and Ray-Ban Stories' three-microphone audio array delivers richer voice and sound transmission for calls and videos. Beamforming technology and a background noise suppression algorithm provide for an enhanced calling experience like you'd expect from dedicated headphones.
Ray-Ban Stories pairs with the new Facebook View app, so you can share your stories and memories seamlessly with friends and social media followers. The Facebook View app on iOS and Android makes it easy to import, edit and share content captured on the smart glasses to apps on your phone: Facebook, Instagram, WhatsApp, Messenger, Twitter, TikTok, Snapchat and more. You can also save content to your phone's camera roll and edit and share from there. And new, exclusive post-capture enhancements built into Facebook View let you create unique content to put a special spin on your posts.
From the start, we designed Ray-Ban Stories with privacy in mind, adding numerous built-in features to provide control and peace of mind to both device owners and bystanders. More information on these features, as well as our new guidelines for responsible use, can be found on the Ray-Ban Stories privacy microsite. 
Ray-Ban Stories are available in 20 variations, in classic Ray-Ban styles — Wayfarer, Wayfarer Large, Round and Meteor — and five colors with a range of lenses including clear, sun, transition and prescription, so you can choose the style that's right for you.
Ray-Ban Stories smart glasses are the first product to come out of our multi-year partnership with EssilorLuxottica. Together, we're committed to delivering innovative technology and fashion-forward style — while helping people better connect with friends and family. Learn more about Ray-Ban Stories.