Today we're announcing new ways for creators to test their content and understand performance to grow on Facebook. All of this is made possible in professional dashboard, our one-stop-shop for all creator resources.
Test Different Reels Content to See What Works Best
Selecting the right image and text to accompany your reel helps draw your audience in, but it can be hard to know what will resonate. We're rolling out a Reels A/B testing tool that allows creators to test different captions and thumbnails on their mobile device to see which one performs best. 
While creating a Reel on mobile, you can test up to four different captions or thumbnails. Results of the test will appear in your professional dashboard and we'll automatically display the winning variant on your profile or page unless you change it. We're also experimenting with incorporating generative AI to help you create different caption and thumbnail options in the future.
You can now also easily create Reels from your existing video posts and livestreams. On mobile, select from Your Content within the Reels composer and add finishing touches before posting to Facebook.
Track Your Progress and Earn Rewards
Over the past year, we've rolled out a number of features in professional dashboard to help creators learn tips and earn badges for reaching their goals. 
We're now rolling out the Achievements hub in professional dashboard where you can see all your achievements across Education, Stars, Reels and Progression in one place. There's also a new achievement called Reels streaks earned by posting Reels on a weekly basis. Note: you will only see achievements you're eligible for.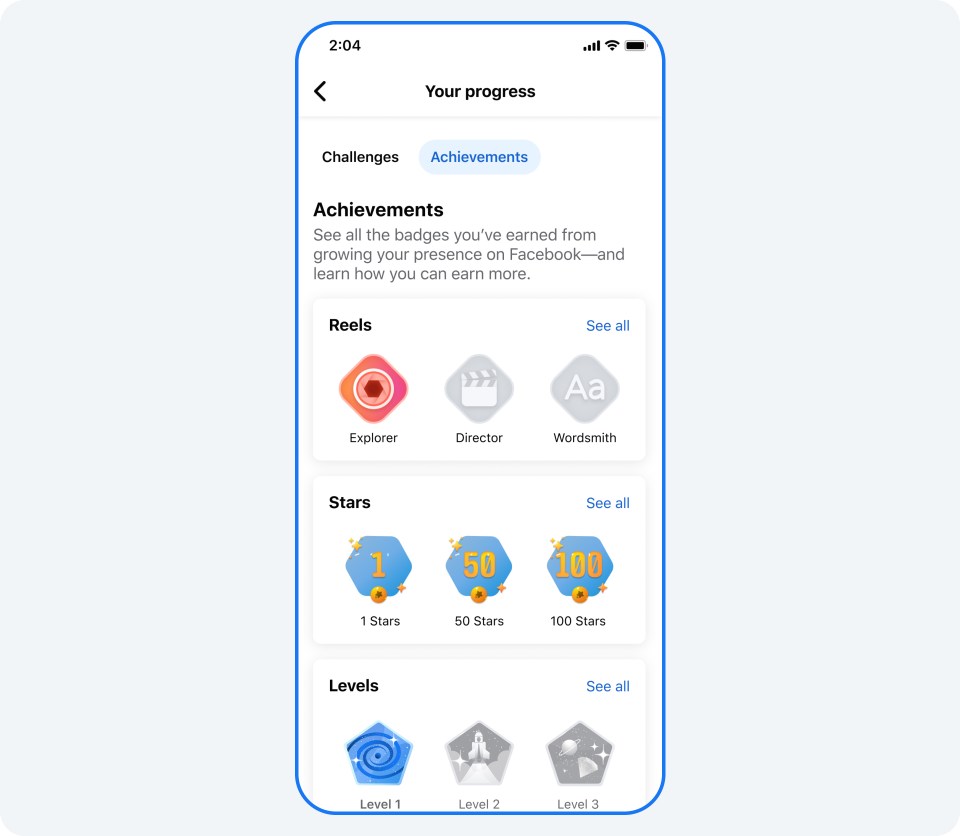 And while these Achievements on their own may help you grow on Facebook, to make them even more worth your while, we're testing rewards for reaching different milestones. Creators who are 18+ that finish all Progression levels can become eligible to get increased visibility in Feed or have the Rising Creator label featured on their page or profile – both of which may help you get discovered more easily.
And once you've completed all the Progression levels, you're eligible to participate in our newly launched weekly challenges. Every Monday a new challenge sets a series of tasks designed to help you continue your creator journey, such as posting or replying to comments a certain amount of times or reaching a designated number of reels plays or interactions.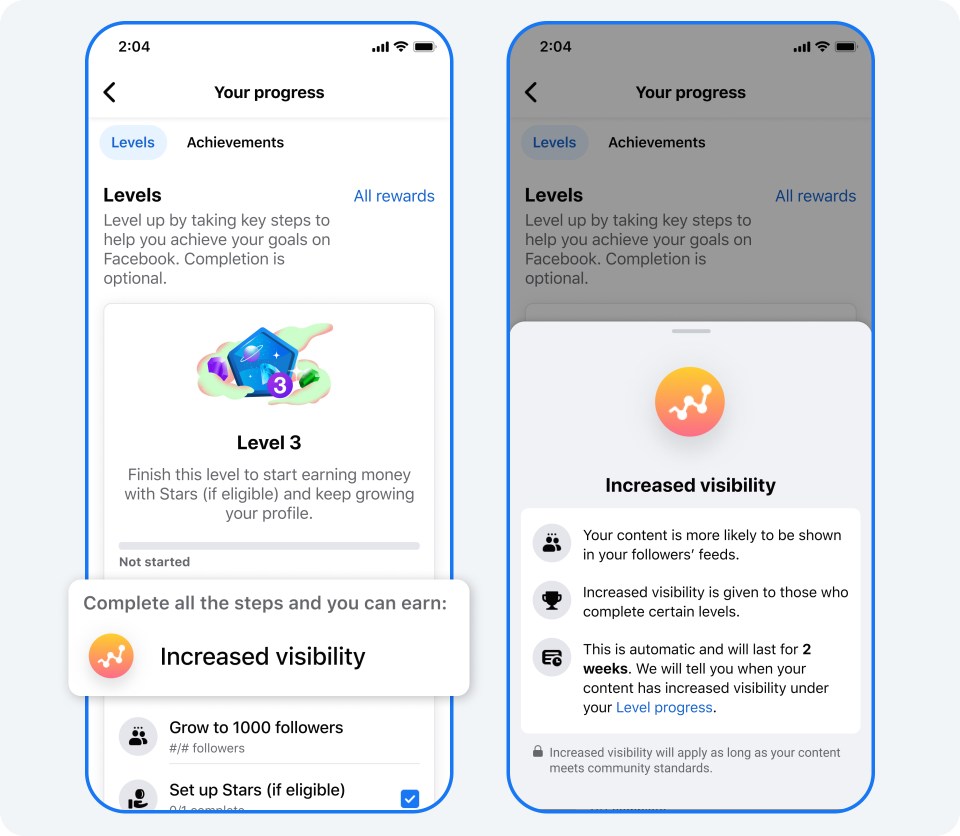 Manage Your Content In One Place
We've added a content management tool to professional dashboard where you can see all your posts, reels and videos in one place. From there, you can easily view each individual post and take actions like hiding it from your profile and pages or moving it to the trash. You can also see content performance insights. Previously creators had to go through each post individually in their feed. 
Access More Powerful Insights
Whether you create content on Facebook or crosspost from Instagram, Insights in professional dashboard provide the information you need to analyze your performance on Facebook and make more content that will resonate with your audience. 
Now when you visit Insights you'll see your account highlights for the week (both aggregated and individually), revealing insights on your posting habits, your audience and your content's performance.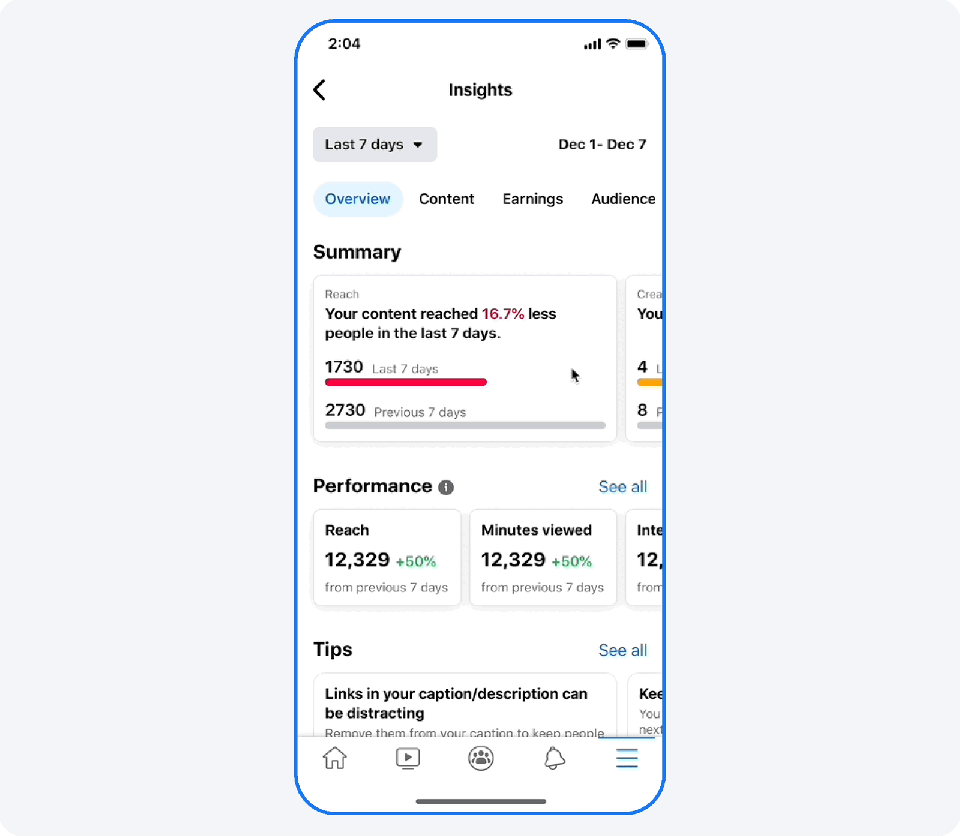 When you dig into content insights you can now view data spanning the past 90 days, a notable increase from the previous 28 day timeframe, providing a more comprehensive understanding of your content's long-term performance.
We've also rolled out a number of new Reels metrics on professional dashboard, including Reels-specific Reach broken down by followers and non-followers, a distribution score that tells you how your Reel did compared to your other Reels and an audience retention graph showing how long your audience watched a Reel and when they stopped watching it. We're also updating our Reels plays metrics to include replays, so you'll have a better sense of how each Reel is performing and which ones resonate most with your audience.
This slideshow requires JavaScript.
Find Answers When You Need Help
And finally, we're launching search and shortcuts in the Creator Support Hub on mobile within professional dashboard. When troubleshooting something or wanting to learn more about a topic, the search function will show you relevant Help Center articles to answer your question – no more scrolling article-by-article for answers! 
New shortcuts on popular topics will bring you directly to the right place to easily check on your monetization eligibility, see payout information and learn more about products such as Meta Verified.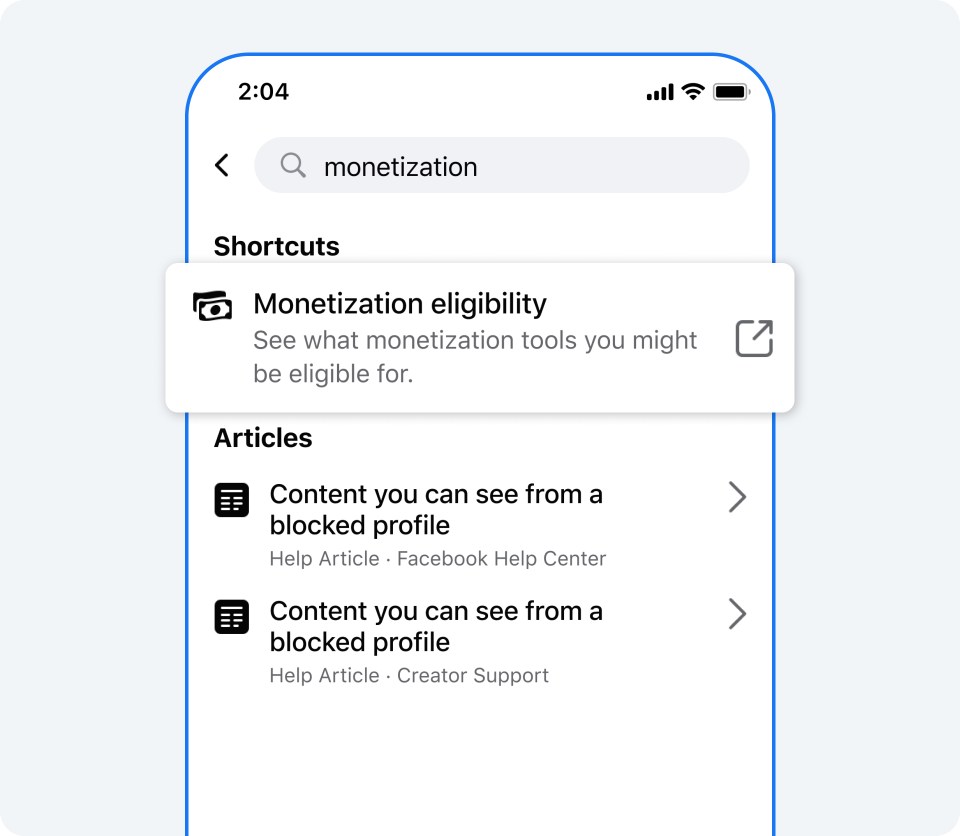 We plan to continue enhancing professional dashboard to make it even easier to find what you need.