Since its launch nearly three years ago, Reels has redefined entertainment, expression and connection for people across India. We've also seen brands across verticals use Reels, transforming the way people connect and engage with businesses. Today we're launching #MadeOnReels, a new program built to support our advertisers in India to supercharge their growth with Reels Ads. 
At the start of the year, we began working with leading brands across categories to determine the impact Reels Ads could have on their marketing objectives. Campaign results from brands including Cadbury Dairy Milk Silk, Meesho, Navi, Maruti Nexa, Snitch, Amazon Prime Video, and Tanishq showed that Reels Ads drove strong business outcomes across ad-recall, message association, and conversions. 
The campaign results from these brands using Reels ads demonstrates that the powerful combination of Reels Ads and creators can supercharge growth for brands and address their marketing objectives. Our goal at Meta is to help businesses build for the evolving consumer behaviour and create a strong ecosystem for the future of digital advertising in the country. #MadeOnReels does precisely that.

Arun Srinivas, Director and Head of Ads Business for Meta in India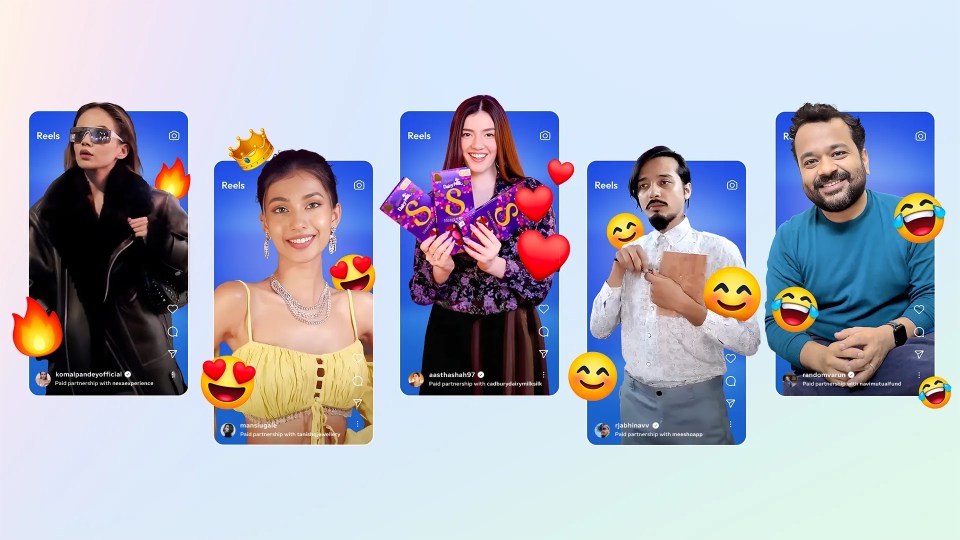 Based on the encouraging results, we're now launching #MadeOnReels to the wider ecosystem, and inviting briefs from other brands to become a part of this program. We'll provide the selected brands with creative and program support, as well as an opportunity to work with three creators each on Reels campaigns that address their specific marketing objectives. As part of this program, creator costs will be managed by Meta.
As the largest car maker in the country, Maruti Suzuki India has always been at the forefront of innovative solutions that capture the imagination of our customers. We used Reels Ads for the launch of our latest car Fronx and focused on working with creators to showcase different features of the car. The campaign saw an increase in both ad recall and campaign awareness with an overwhelming response from our consumers who watched the Reels.

Ram Suresh Akella, Executive Director Marketing at Maruti Suzuki India Limited
Leading creators from India such as Niharika NM, Barkha Singh, RJ Karishma, Ayush Mehra, Viraj Khelani, Ruhee Dosani, and Masoom Minawala will be a part of #MadeOnReels program.
A lot of myths were busted for us when we used the combination of Reels Ads and creators that drove an 8% reduction in cost per first-time transaction. The combination of creators and Reels is a powerful combination that can unlock massive business growth for brands.

Aseem Sharma, Director, Head of Growth, Navi
While submitting their briefs, brands need to outline clear marketing objectives, and present inspiring briefs for using Reels. At the moment, we're only looking at brands that are looking to do campaigns between the months of June-August 2023.  The briefs can be submitted until May 31st, 2023 here.