One billion avatars. Yesterday, we got to publicly announce and celebrate that incredible milestone. More than one billion avatars have been created across our technologies. That's a billion times people have reimagined how they show up online — like showing up to meetings in a suit and tie while wearing pajamas in real life. Respect.
Today, we're announcing some improvements to Meta Avatars that will help freshen up your look just in time for spring. We're adding a handful of new avatar body shapes to help you better express yourself — especially if expressing yourself means dancing along to "Hips Don't Lie." We've also partnered with PUMA to bring seven outfits to the Meta Avatars Store. 
And we're continuing to make your avatar look better in smaller and subtler ways as well, because those details help your personality shine through. Literally shine, as we're adding a bit more sparkle to your eyes, brushing some volume into your hair and making clothes look more realistic and textured. You'll see these changes when you use your avatar outside of virtual reality (VR).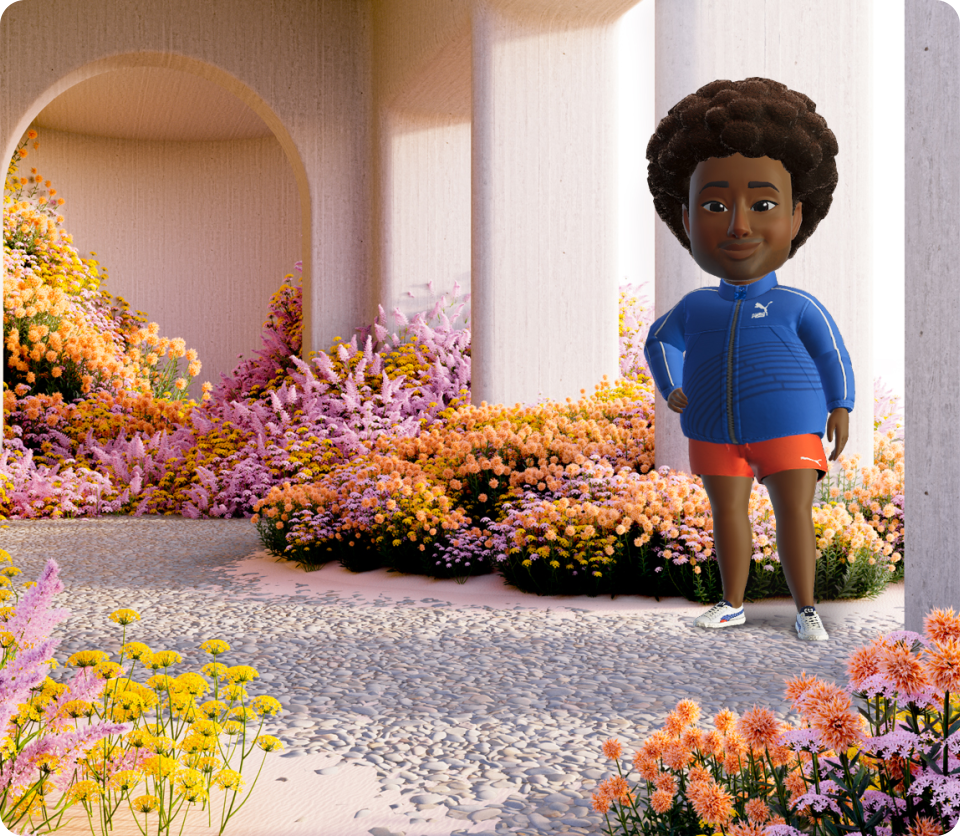 Introducing New Body Shapes
Everybody's different, and every body's different. Until now, though, the body shape options available when creating your avatar were all pretty similar. Maybe a little rectangular.
We created them as a good jumping-off point when we launched this iteration of avatars back in 2021. But, we've heard feedback that not all of you can see yourselves in the current options.
So we're adding more choices, simple as that. Starting this month, you'll be able to choose from a wider range of body shape options, including two curvier body shapes. We're refining some of our existing options to help differentiate them as well.
Self-expression and representation matter — it's what makes your avatar feel like you — and we'll continue adding more options over time, working toward a future where everyone can create an avatar they love.
New PUMA Looks
Last year we introduced the Avatars Store, a one-stop shop for customizing your avatar across Facebook, Messenger, Instagram and in VR. Since launch, we've brought in outfits from some of the world's leading fashion, sports, and lifestyle brands — including Madhappy, the NBA, Prada and Thom Browne. 
Add PUMA to the list. We've partnered with the sports brand to offer seven of its lifestyle looks starting May 1.
Hair and Clothing Textures
Lastly, we've overhauled how your avatar's hair, clothing and eyes appear in stickers, profile pictures, cover photos and more. 
Sparing you the nitty-gritty technical breakdown, we've added additional detail and realism to both hair and clothing — meaning whether you're rocking a clean fade and suit or bedhead and sweats, your avatar should pop a little better than before. Solid glow-up, right? We've also tweaked our lighting model to add a little more of a reflective gleam to your eyes, making them sparkle and bring your personality to life.
Keep an eye out for more changes. We have a lot of improvements coming to avatars this year, and we can't wait to share more!
As a reminder, when you create an avatar and share it across our technologies it will be public to other people. Learn more about controlling your avatar permissions.