Today we're announcing new features on Facebook that allow creators to express themselves, build and engage a fan community, and make money pursuing their passions.
New Professional Mode for Creator Profiles
We want creators to reach their full potential on Facebook and that means giving them ways to earn money and gain insights that help them understand what types of posts resonate with fans and communities. Until now, these tools were only available on Pages. We know that many creators — especially those who are just starting out — are on profiles, so from today we're announcing the roll-out of a new professional mode for profiles. 
Professional mode will open up access to post, audience and profile insights, as well as give easy access to monetization features – all in one place. For example, creators will be able to see the total number of shares, reactions and comments that posts have, and allow them to review their follower growth over time.
Within the new tool, creators will remain in control of who sees what content they share; what will differ is that anyone will be able to follow them and see their public content in feed.
This new mode is being tested with a limited number of profiles in the US, and will begin rolling out in EMEA next year.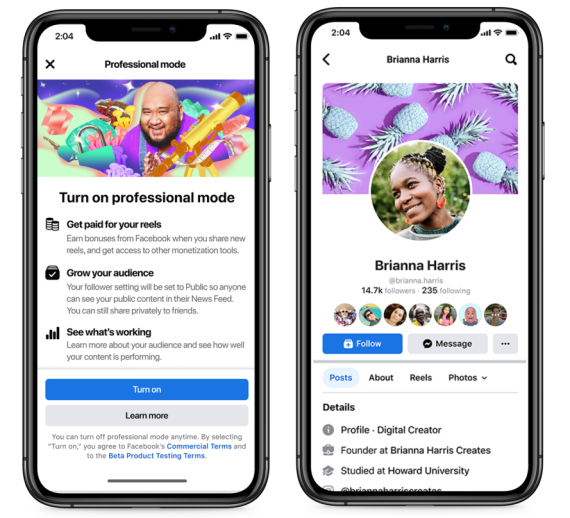 New Ways to Earn Money With Stars
Since the roll-out of Stars last year, we've witnessed the amazing ways people have deepened their connection and supported creators they love. Available in 20 countries across EMEA, fans have purchased and sent Stars to their favourite Creators, such as UK based LadBaby and Dutch DJ and record producer, Armin Van Buuren. We want Stars to become the best way for people to show their appreciation on Facebook, so this week we announced new changes that will make buying and sending stars even easier.  
Up until now, Stars could only be purchased while watching videos – but we want Stars to exist everywhere that creators are engaging with their communities on Facebook. To do this, starting today we're testing Stars in more places, including videos on News Feed, the Watch feed and the gaming tab. 
To make purchasing of Stars easier, we're also launching Stars store, a new place for people to buy Stars via Facebook Pay and at lower rates, on mobile and desktop. When people purchase Stars through the Stars store, they will be deposited into their virtual wallet. They can then give them to eligible creators while watching their Facebook Live or on demand videos. 
Alongside these updates, we're going to be introducing even more features that not only help Creators earn money, but equally give fans new opportunities to interact and feel closer to their favourite performers, influencers, gamers and more. This includes new bonus programmes for creators, as well as fan features including Stars Party and Stars badges. You can read more about these updates here.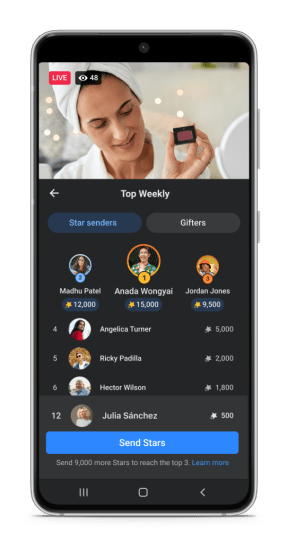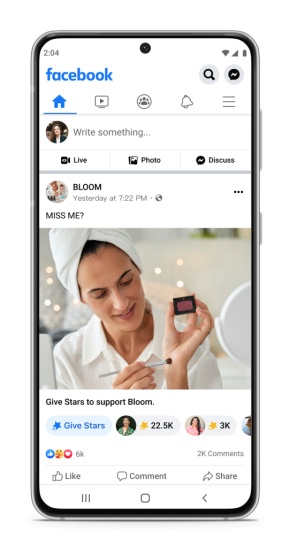 Facebook Reels Launching in EMEA in 2022
In September this year, we launched Reels on Facebook for iOS and Android in the US, creating a new space for short form, entertaining video experiences. Today, we're announcing that this new feature will roll out in EMEA in the first half of 2022 – providing a new space for creators to creatively express themselves, grow their communities and reach new audiences. 
Just like Reels on Instagram, the feature on Facebook will consist of music, audio, video effects and much more. You can find them in News Feed or in Groups, and when viewing a Reel on Facebook, you can easily follow the creator directly from the video, like and comment on it, or share it with friends who have access to their content.
When shared publicly, Reels can reach everyone, not just existing followers, making it possible for the most creative, funny and inspiring creators to build an audience. In Groups, creators and group members can create and share reels to express themselves and engage in a more fun and visual way with their favourite interest communities.
As we continue to build new products and invest in creators around the world, we're excited to see how creators in EMEA continue to use these tools to share their passions, build a global community, and make money doing what they love.