The holidays are back, and whether you prefer your seasonal beverages pumpkin spice or peppermint flavored, Starbucks has some festive treats in store. Beginning November 7, patrons can enjoy four limited edition cup designs — each of which springs to life with its own augmented reality (AR) effect on Instagram from Facebook, helping to make the holiday season a little more magical.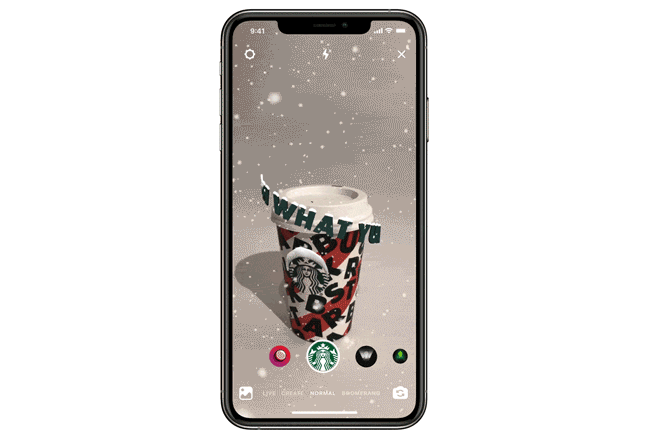 Sharing their holiday-themed cups on social media is already a tradition for many jolly coffee drinkers, and AR effects let Starbucks add a new layer of fun and interactivity to the experience. To join the fun, open Instagram, navigate to the Starbucks profile, and click on the effect gallery (the third button from the left). Select an AR effect, then click "try it" to open your camera. Next, point the camera at one of the holiday cups and watch as the magic unfolds. You can capture photo or video of the experience and share it to your Instagram Story — don't forget to tag @Starbucks to share your shots.
Starbucks built its holiday-themed AR effects using Facebook's Spark AR platform, including new computer vision technology that lets the camera identify which of the four cups it's looking at to trigger the correct effect. Target tracking lets the camera track the cup's location within its field of view and anchor the AR content onto it. A select number of Starbucks locations will also feature special signage to remind patrons to try the tech out in person.
Augmented reality helps people share special moments with family and friends in new and interesting ways. With the holidays approaching, we're excited to work with Starbucks to spread some cheer across Instagram. Now, the outside of your cup is as fun as the deliciousness inside it.