By Antigone Davis, Head of Global Safety
We're recognizing World Suicide Prevention Day by letting people know about the tools and resources we have developed for people who may be at risk.
Throughout September, we'll connect people with information about supportive groups and suicide prevention tools through ads in News Feed. We are also launching a new section of our Safety Center with additional resources about suicide prevention and online well being. People can access tools to resolve conflict online, help a friend who is expressing suicidal thoughts or get resources if they're going through a difficult time. We've offered tools like these, developed in collaboration with mental health organizations, for more than ten years. It's part of our ongoing effort to help build a safe community on and off Facebook.
Because of the relationships people have on Facebook, we are in a unique position to help connect those in distress with friends who can show support. Mental health experts say these connections can be helpful in preventing suicide, and we see it happen in a variety of ways.
People's friends are in the best position to know when they're struggling – and speed is critical – so they can reach out directly through things like comments on a post. As we recently shared, there are cases where the combination of technology — recognizing patterns in people's comments on posts — and the compassion of people in our community can help prevent harm.
People can also reach out to Facebook when they see something that makes them concerned about a friend's well-being. We have teams working around the world, 24/7, who review reports that come in and prioritize the most serious reports like suicide.
For those who reach out to us, we provide suggested text to make it easier for people to start a conversation with their friend in need and also provide information and resources for how to best handle the situation. We provide the friend who has expressed suicidal thoughts information about local help lines, along with other tips and resources. Thanks to over 80 partners around the world, the resources people see are specific to where they are located.
We take other steps, such as working with suicide prevention partners to collect phrases, hashtags and group names associated with online challenges encouraging self-harm or suicide. We offer resources to people that search for these terms on Facebook. We also remove content that violates our Community Standards, which don't allow the promotion of self-injury or suicide.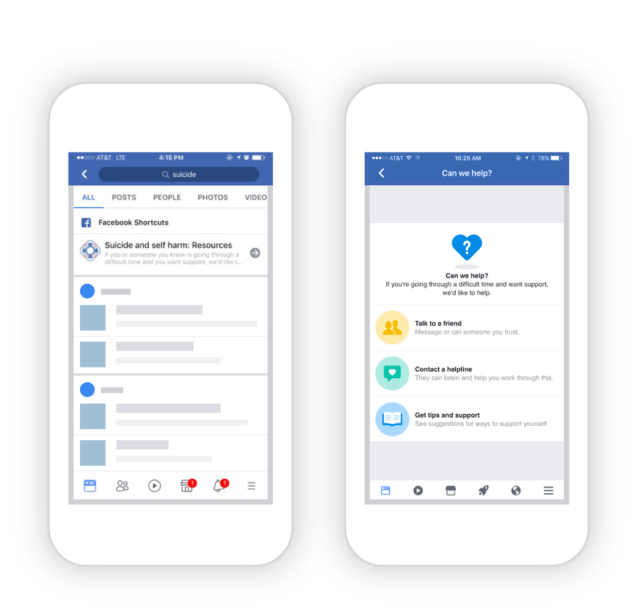 With the help of our partners and people's friends and family on Facebook, we hope we can continue to support those in need.
---
---