By Connor Hayes, Product Manager
Update on August 15, 2017:  Over the past few months, we've seen people use the Facebook Camera and its creative effects to show friends and family what they're up to. Today, we're rolling out new ways to capture and share moments with the Facebook Camera on iOS and Android devices:
Live: Go live from the Facebook Camera and use Camera's creative effects for Facebook Live, too. When live, your video will appear in your Story to the audience you've selected. You can go live in just your Story or choose to also create a Post to your Timeline. Learn more here.
GIF: Bring pictures to life by creating 2-second looping videos from the Facebook Camera. You'll be able to share to News Feed, your Story or Direct.
Text: Make text updates more visual with full-screen text posts that include a colored background with text on top. You'll be able to share to News Feed, your Story or Direct.
Originally published on March 28, 2017: 
We want to make it fast, fun and easy for people to share creative photos and videos with whomever they choose, for however long they choose — and the more we share with each other, the more open and connected our community can be. Today we're starting to roll out a new camera with effects and two additional ways to share the photos and videos you take.
Camera Effects: Let Your Camera Do the Talking
Starting this week on iOS and Android, you can tap on the camera icon on the top left corner of the Facebook app or swipe right from News Feed to try out the new in-app camera. The Facebook camera is packed with dozens of effects like masks, frames and interactive filters that you can apply to your photos and videos. Reactive effects let you interact with dynamic objects — like falling snow — and style effects apply an artistic filter to your video in real time, letting you turn your everyday selfie into a Picasso-style work of art.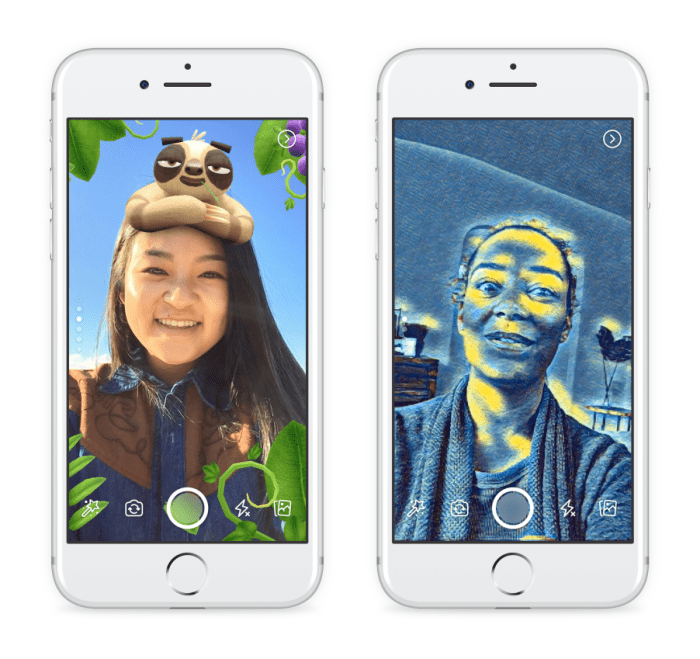 We're also partnering with brands to create masks for upcoming movies Alien: Covenant, Despicable Me 3, Guardians of the Galaxy Vol. 2, Power Rangers, Smurfs: The Lost Village and Wonder Woman.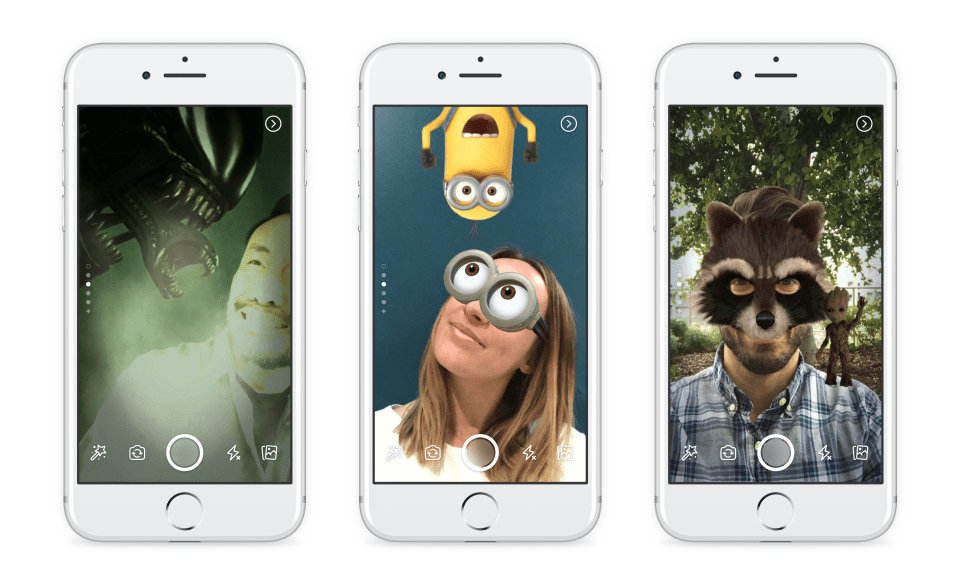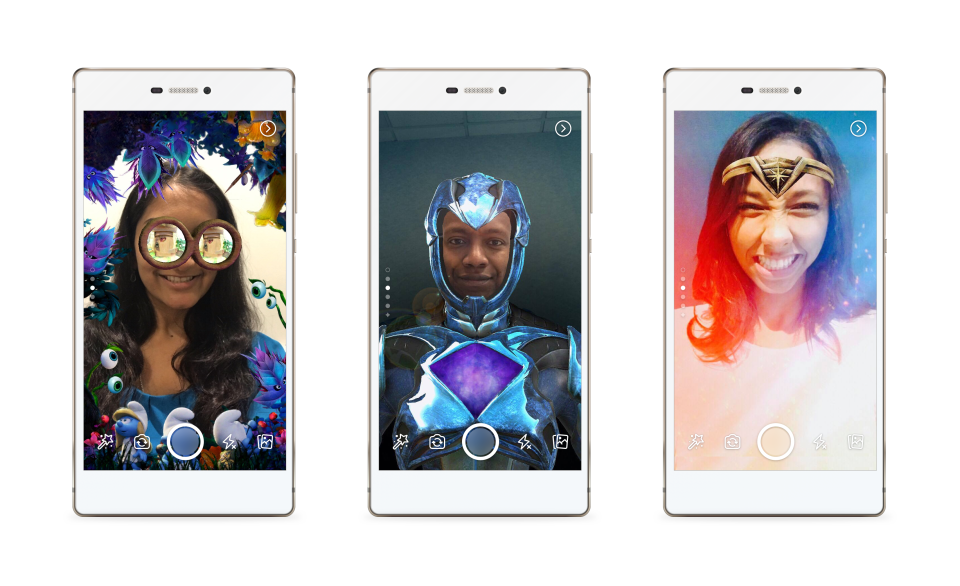 Additionally, we're including guest art from visual artists like Douglas Coupland and Hattie Stewart. We'll regularly refresh the creative effects in the camera to give you fun new effects to explore.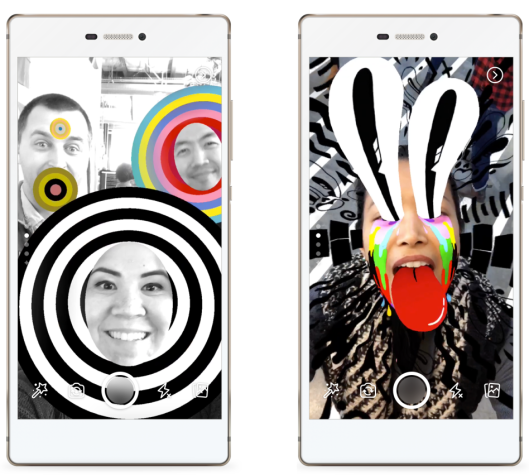 Stories: Show Friends What You're Up To 
The Instagram community has shown us that it can be fun to share things that disappear after a day, so in the main Facebook app we're also introducing Facebook Stories, which lets you share multiple photos and videos as part of a visual collection atop News Feed. Your friends can view photos or videos from your story for 24 hours, and stories won't appear on your Timeline or in News Feed unless you post them there, too.
To add to your story, tap on the "Your Story" icon in the Stories bar at the top of News Feed.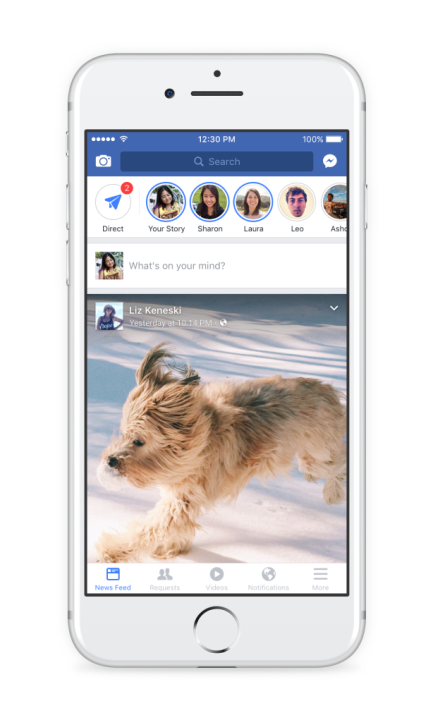 Direct: Easily Share With Exactly Who You Want
In addition to sharing to your Story, we know you may want to share your photos and videos with specific friends. We've also added Direct, an option that's designed for sharing individual photos and videos with specific friends for a limited time.
When you send a photo or video via Direct, your friends will be able to view it once and replay it or write a reply. Once the conversation on the photo or video ends, the content is no longer visible in Direct.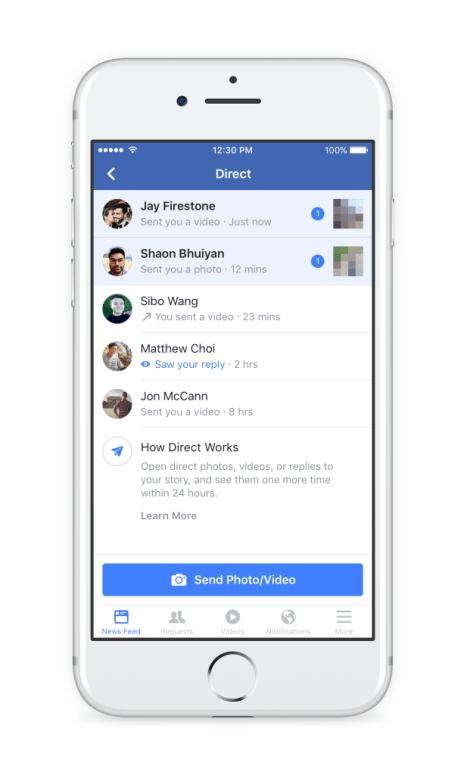 Over the coming months, we plan to introduce new ways for the Facebook community to create their own frames and effects that can be used on any photo or video created with the new Facebook camera. Our goal is for the camera to be a home to hundreds of dynamic and fun effects that give you new ways to connect with friends, family, and your community.
We hope that with the new Facebook camera, Stories and Direct, it will be easier than ever to see the world through each other's eyes, and we can't wait to see the photos and videos you create. In the meantime, here's one of my own in my tropical island disguise, hiding from work with my cat Ebi.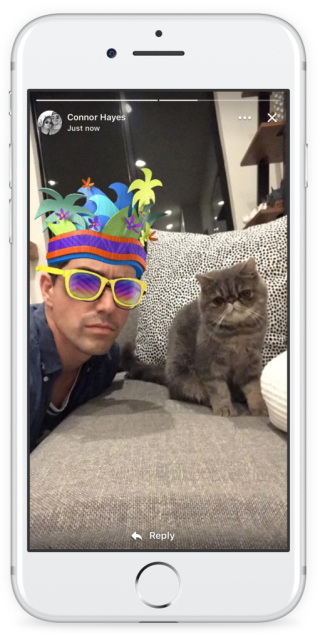 ---
---