By Sami Tas, Software Engineer, and Ta Virot Chiraphadhanakul, Data Scientist
As we work to improve News Feed, we make updates to the algorithm that help make sure you are seeing the most relevant stories at the top of your feed. We want to make sure that everyone who uses News Feed can understand what updates we're making and the thinking behind them. That's why we continue to publish News Feed FYI blog posts to explain major updates and how we're working to get better at showing you the stories that matter most to you.
The actions people take on Facebook—liking, clicking, commenting or sharing a post—are some of the main factors we consider to determine what to show at the top of your News Feed. We've learned that honing in on how to value these signals helps make sure we show you the most relevant content.
As part of our ongoing effort to improve News Feed, we ask thousands of people every day to rate their experience and tell us how we can improve what they see when they check Facebook. People also take story surveys where they see two stories that could be in their News Feed and answer which they'd most want to see. We compare their answer to the order we would have put these stories in their News Feed. If the story picked is the one News Feed would have shown higher up, that's a good sign that things are working well. If the story picked is the one we would have put lower down, this highlights an area for improvement.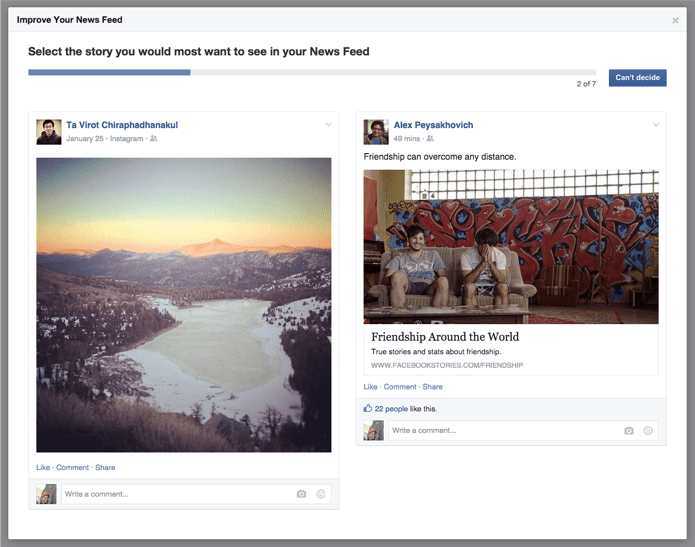 Viral Stories
Sometimes stories on Facebook go viral, where millions of people see the same video, photo, or other post. It's hard to predict when or why posts go viral. Sometimes this happens because lots of people are really interested in seeing that particular post. However, sometimes a post goes viral and many people tell us that they weren't interested in seeing it, despite lots of people liking, sharing and commenting on it.
One example of a type of viral post that people report they don't enjoy seeing in their News Feed are hoaxes. If there is a viral story about a hoax, it can get a lot of reshares and comments, which would normally help us infer it might be an interesting story. However, we've heard feedback that people don't want to see these stories as much as other posts in their News Feed.
We survey tens of thousands of people every day, and for the story surveys, we ask them if they prefer a particular viral post to another post. With this update, if a significant amount of people tell us they would prefer to see other posts more than that particular viral post, we'll take that into account when ranking, so that viral post might show up lower in people's feeds in the future, since it might not actually be interesting to people. With the hoaxes example, if the majority of people taking the survey say they would rather see another story in their feed than the viral hoax story, then we'll infer the story might not be as interesting, and show the viral story lower down in people's feeds in the future.
If there is a viral story that people do choose to see in the survey, there will be no change to how it is ranked. As viral posts are typically anomalies, and not an important part of distribution for Pages, we don't think this change will impact your Page's distribution.