Valentine's Day inspires many people to share stories about relationships and to show love, both on and off Facebook. This Valentine's Day, the Facebook Data Science team is showing their love for data through a series of relationship-related posts. Here's a collection of original research on the nature of relationships and other Valentine's Day topics that the team has explored this week.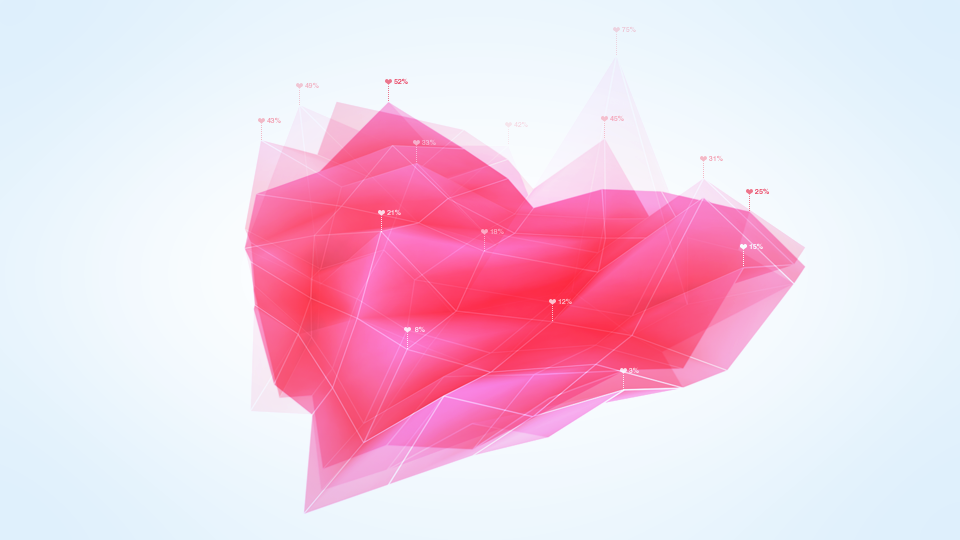 Love and Religion
A look at people in relationships on Facebook who have listed their religion, revealing that interfaith relationships are rare in most countries, especially among married couples and older people.
The Age of Love
An exploration of age differences between people in relationships around the world, finding that among opposite-sex couples, males are consistently 2-5 years older than females, and these differences are higher for same-sex couples.
Looking for Love 
The team identified the best cities for single people measured along three dimensions: percentage of single people, probability of relationship formation, and single female-to-male ratio.
The top five cities (among the top 50 population centers) by percentage of single people are:
1. Detroit, MI
2. Los Angeles, CA
3. New York, NY
4. Miami, FL
5. Memphis, TN
The top five cities in terms of largest probability of relationship formation for a single person:
1. Colorado Springs, CO
2. El Paso, TX
3. Louisville, KY
4. Fort Worth, TX
5. San Antonio, TX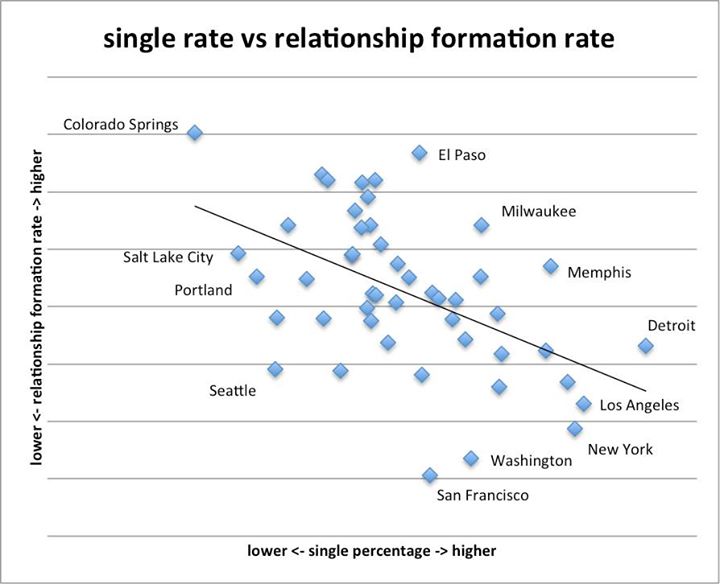 This chart shows an inverse correlation between percentage of singles in these cities and relationship formation.
Most single females per single male:
1. Memphis, TN
2. Jacksonville, FL
3. Fort Worth, TX
4. Charlotte, NC
5. Richmond, VA
Most single males per single female:
1. San Francisco, CA
2. San Jose, CA
3. Seattle, WA
4. Salt Lake City, UT
5. San Diego, CA
We considered only people on Facebook in the US age 21+ and sourced anonymized, aggregated data over a one month time frame for Looking for Love. Probability of relationship formation is the likelihood a single person will enter a relationship in a city based on the number of people who have changed their relationship status from single to in a relationship during the month. Data used in all posts is anonymized and aggregated. Stay tuned for more to come on the Data Science [https://www.facebook.com/data] Page on Valentine's Day and the day after. 
Top Restaurant Check-ins
Facebook also compiled popular Valentine's Day hotspots based on check-ins over the past few years to help singles and couples find a great restaurant in 10 US metropolitan areas:
Atlanta
1. The Varsity
2. TWO Urban Licks
3. Rays on The River
4. The Sun Dial Restaurant, Bar & View
5. Gladys Knight & Ron Winans Chicken and Waffles
6. Atlanta Fish Market
7. Metro Cafe Diner
8. Canoe Restaurant
9. Chops Lobster Bar
10. Kevin Rathbun Steak
Boston
1. Blue Dragon
2. Salvatore's
3. Top of the Hub
4. Tokyo Japanese Steak House
5. Mare Boston
6. Grill 23 & Bar
7. da Vinci
8. FiRE+iCE Boston
9. The Vault
10. Mooo Restaurant
Chicago
1. Siena Tavern
2. Brazzaz Official Site
3. Carnivale
4. Grand Lux Cafe
5. Billy Goat Inns
6, Cafe Babareeba
7. Weber Grill Restaurant
8. Connie's Pizza
9. Ginos East of Chicago
10. Las Tablas Restaurant
Houston
1. El Tiempo Cantina Navigation
2. The Hay Merchant
3. BB's Cafe
4. Brady's Landing Restaurant
5. Chama Gaucha Brazilian Steakhouse
6. Del Frisco's Double Eagle Steak House
7. Américas
8. Pappas Bros
9. Cavatore Italian Restaurant
10. the breakfast klub
Las Vegas
1. Rio Carnival World Buffet
2. Eiffel Tower Restaurant
3. Mariscos Las Islitas
4. Rhythm Kitchen Seafood & Steaks
5. Top of the World
6. Mon Ami Gabi – Las Vegas
7. Sushi Samba Palazzo Hotel Las Vegas
8. The Wicked Spoon
9. Serendipity 3
10. Diablo's Cantina
Los Angeles
1. The Stinking Rose – Beverly Hills
2. KATSUYA
3. La Barca Grill & Cantina
4. Luminarias Restaurant
5. LA Prime
6. Il Cielo Restaurant
7. Bottega Louie Restaurant and Gourmet Market
8. Lawry's The Prime Rib, Beverly Hills
9. The Abbey Food & Bar | West Hollywood
10. Rock N Fish LA Live
Miami
1. Barton G. The Restaurant
2. The Rusty Pelican Restaurant in Miami
3. Smith & Wollensky
4. Joe's Stone Crab Restaurant
5. Panorama Restaurant
6. Cobb Cinebistro
7. Anacapri On Ponce
8. GreenStreet Cafe
9. Sugarcane Raw Bar Grill
10. Red Fish Grill
New York City
1. Ainsworth Park
2. Sushi Mikasa
3, Dallas BBQ
4. Pio Pio Restaurant
5. Don Coqui Astoria
6. El Rodeo Guzman
7. Ben & Jack
8. New Corner Restaurant
9. Flo Lounge Restaurant
10. 54 Below
San Francisco
1. Stock in Trade
2. Yoshi's San Francisco
3. Thanh Long
4. The Stinking Rose
5. Espetus Churrascaria
6. Rosamunde Sausage Grill
7. Franciscan Crab Restaurant
8. Sutro's At The Cliff House
9. Kincaid's
10. The Spinnaker
Washington, DC
1. Clyde's Restaurant
2. Bravo! Bravo!
3. Coco Cabana Bar & Grill
4. Phillips Flagship
5. The Park at Fourteenth
6. Mi Rancho Restaurant
7. Ben's Chili Bowl
8. Woodmont Grill
9. Vinoteca DC
10. Ray's The Steaks
These are the top 10 most popular restaurants in each city based on volume of Facebook check-ins and increase in Facebook check-ins during the week of Valentine's Day over the past four years. Restaurants with more than ten locations nationwide are excluded, and only Facebook check-ins within a 10 mile radius of city centers are considered.
—-
Celebs Celebrate on Facebook
Many public figures including actors, models and singers shared their Valentine's Day plans and memories with fans on Facebook, often using the hashtag #MyValentine. Here are a few standouts:
By Mandy Zibart, Carolyn Thomas and Dustin Cable, Facebook Consumer Communications, and Facebook Data Science.