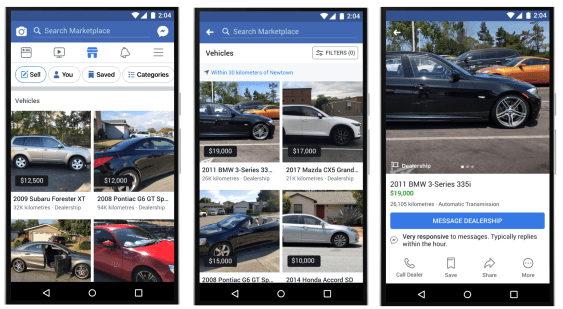 Friday 9th November – Facebook Marketplace, a place on Facebook to discover, buy and sell goods, is expanding its vehicles category in Australia to make it easier for people to buy used cars on Marketplace and help local dealerships reach more customers.
Marketplace is emerging as one of the most popular places to buy vehicles online and with this experience, car shoppers on Facebook in Australia can now:
Browse used car inventory from auto dealerships through listing partners
Find what they're looking for by filtering listings by year, make, model, mileage, vehicle type and transmission
Communicate with select dealerships in real-time via Messenger
Christine Chia, Head of Marketplace Partnerships, APAC at Facebook said: "People are already using Facebook to find their next car; in fact vehicles is one of the most popular categories on Marketplace. That's why today we're making this experience even better for car shoppers in Australia — by working with leaders in the auto industry, we're expanding our used car inventory to give people more options to choose from, as well as helping local dealerships reach even more customers."
This experience is launching today and will become available across Australia over the coming weeks.
Facebook's Marketplace listing partners say:
"Facebook Marketplace is a new destination for dealers to market their inventory and the carsales Distribution Service is designed to simplify the process of getting inventory where our dealer customers want it to appear." Ryan Svaghi, Product & Experience Director, carsales.com Ltd
"This is a great development for Drive, our used car partners and Aussie car buyers. Facebook Marketplace will make it even easier for Aussie car buyers to find their perfect used car and through Drive (and our integration as a Facebook Marketplace listing partner), our used car dealers will be able to connect with even more potential customers. It's a real win, win." Chris Polites, CEO of The Drive Network.
"Integrating with Facebook Marketplace allows us to reach buyers where it's most convenient for them and provide another source of quality enquiries for dealers. This integration aligns perfectly with our own recent introduction to the Australian market providing a great opportunity to both dealerships and car shoppers. We know our counterparts at Autotrader in the US have experienced great success with Facebook Marketplace and we're excited to have the opportunity to replicate that here in Australia." Thomas Jung, Head of Autotrader.
"We are proud to be a Facebook Marketplace listing partner and help dealers connect their inventory to Marketplace. Our digital marketing team can also setup a Facebook Page and support them with driving leads from platforms like Facebook. We can deliver this fast because we are Australia's largest independent automotive data aggregator with a full range of integrated services including photography, websites, and digital marketing." Michael Sommerton , Dealer Solutions
"This upgraded vehicle experience on Facebook Marketplace will benefit both the auto industry and consumers. Marketplace provides dealers with the opportunity to engage one-on-one with potential customers who are already using Facebook to search for their next car. For car shoppers on Facebook, it's an easy-to-use platform with which they are very familiar. With refined local search functionality and the option of connecting directly to dealers through Messenger, Marketplace empowers consumers and makes dealer engagement more natural." Gavin Cox, Chief Commercial Officer, AdTorque Edge
"This upgraded vehicles experience on Facebook Marketplace will allow dealers to list their stock to a wide audience, in an environment where the customer is comfortable and familiar. We believe this will revolutionise the selling and buying experience!" Bec Jeffery, Head of Marketing, I-Motor.
"The used car shopping experience on Facebook Marketplace is a real game changer. From the moment a prospect sees a vehicle, thanks to Messenger the conversation between a dealer and a customer is now instant. The integration of EasyCars with Marketplace and Messenger will be a real revolution for our dealers and we're really excited about what's ahead." Julie Peksis, Director, EasyCars.
END
Notes to Editors
About Marketplace Vehicles Partners
carsales.com.au
carsales.com Ltd (ASX: CAR) is the largest online automotive, motorcycle and marine classifieds business in Australia. Attracting more Australians interested in buying or selling cars, motorcycles, trucks, caravans and boats than any other classified group of websites.
Together with its subsidiaries employing more than 600 people in Australia, carsales.com Ltd develops world leading technology and advertising solutions that drive its business around the world.
The carsales.com Ltd. network has operations across the Asia Pacific region and has interests in leading automotive classified businesses in Brazil, South Korea, Mexico, Chile, Argentina and Colombia.
Find out more at www.carsales.com.au
Drive Network
Drive is Australia's leading source of automotive news, reviews and articles and has over 1000 accredited new and used car dealers across Australia. Find your next new or used car today with the help of Drive's concierge service.
Autotrader
Autotrader believes that deals that benefit buyers and sellers make everything better – for everybody. It's why Autotrader is the automotive marketplace where everyone wins. For buyers, Autotrader provides support and guidance to help them make smarter purchase decisions. For dealers and private sellers, Autotrader markets vehicles more effectively while connecting them directly with buyers.
To boost buyer confidence we include a dealer's location, name, a photo of the sales manager, their dealership rating out-of-five, and buyer reviews. This allows buyers to get to know a dealer before they contact them.
With the Kelley Blue Book Price Advisor we're building a platform to provide transparent pricing information. That helps align buyers and sellers on price when it comes time to negotiate.
Search and filtering options allow buyers to find the car they want faster, on any device.
Autotrader is Australia's newest automotive marketplace having launched October 2018.
For more information visit autotrader.com.au
Dealer Solutions
Dealer Solutions is a national automotive solutions provider specialising in data aggregation, modular software and online based solutions, including dealership websites, online inventory distribution, SEO & SEM strategies, lead management software and vehicle photography services in the Australian marketplace. Dealer Solutions is proud to be a part of the Cox Automotive Australia alongside CarsGuide, Manheim Auctions Australia, Manheim Auctions New Zealand, Sell My Car, Xtime, Autotrader and Kelley Blue Book. As a part of the international Cox Automotive Inc based in Atlanta in the United States, using our local expertise we are able to leverage products and services from our global counterparts for the benefit of our clients and the Australian market.
AdTorque Edge
AdTorque Edge is the leading specialist full-service marketing business in Australia. The combination of two industry-leading agencies, AdTorque Strategic Services & Edge Online Consulting, the team has been delivering a full suite of innovative and measurable marketing solutions to the automotive, leisure and lifestyle industries since 2005.
With offices in Sydney, Melbourne, New Zealand, Singapore, and the Philippines, our staff are passionate about our clients' businesses and ensuring they get the results they want.
We offer custom-built websites, and digital and traditional advertising, along with marketing technology product solutions such as call attribution, social review management, photo editing, stock locators, and an analytics and attribution dashboard.
The company prides itself on working collaboratively with clients as a trusted advisor to produce campaign results that generate higher quality leads, and that drive customers through the door and vehicles off the lot.
i-Motor
i-Motor drives online business!Established in 2008, i-Motor is a digital marketing company specialising in the Automotive Industry. i-Motor prides itself on developing brand compliant and SEO optimised websites with true adaptive responsive design. With an emphasis on innovating and personalising dealer websites, as well as providing stock inventory solutions, i-Motor is made up of a talented team of automotive professionals, marketing specialists and software developers all striving with one end goal in mind; helping dealers generate leads through digital methods.
EasyCars
EasyCars by Jeal has been making life easy for the Australian automotive industry for more than forty years. Offering a fully integrated, locally developed Dealer Management System, EasyCars is focused on delivering software solutions that help car dealers stay ahead of technology change. Using the latest developments and trends, EasyCars is a state of the art, web-based platform being used to transform how automotive business operates. EasyCars is currently integrated into close to 800 dealers nationwide.