AI is enabling new forms of connection and expression, thanks to the power of generative technologies. And today at Connect, we introduced you to new AI experiences and features that can enhance your connections with others – and give you the tools to be more creative, expressive, and productive. 
AI Stickers
Billions of stickers are sent across our platforms every month, adding another fun and creative way for people to communicate and express themselves. Today, we announced new AI stickers that enable you to effortlessly generate customized stickers for your chats and stories. Using technology from Llama 2 and our foundational model for image generation called Emu, our AI tool turns your text prompts into multiple unique, high-quality stickers in seconds. This new feature, which is rolling out to select English-language users over the next month in WhatsApp, Messenger, Instagram, and Facebook Stories, provides infinitely more options to convey how you're feeling at any moment. AI stickers will roll out to select English language users over the next month.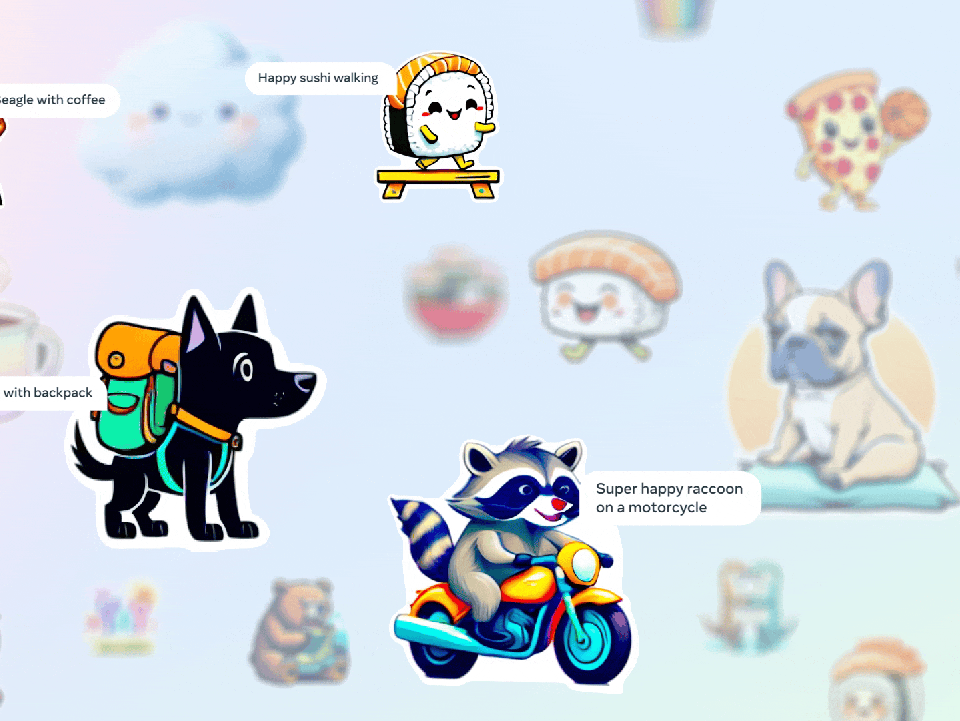 Image Editing With AI
Soon, you'll be able to transform your images or even co-create AI-generated images with friends. Restyle and backdrop – two new features that are coming soon to Instagram – use the technology from Emu. Backdrop also leverages learnings from our Segment Anything Model. 
Restyle lets you reimagine your images by applying the visual styles you describe. Think of typing a descriptor like "watercolor" or a more  detailed prompt like "collage from magazines and newspapers, torn edges" to describe the new look and feel of the image you want to create.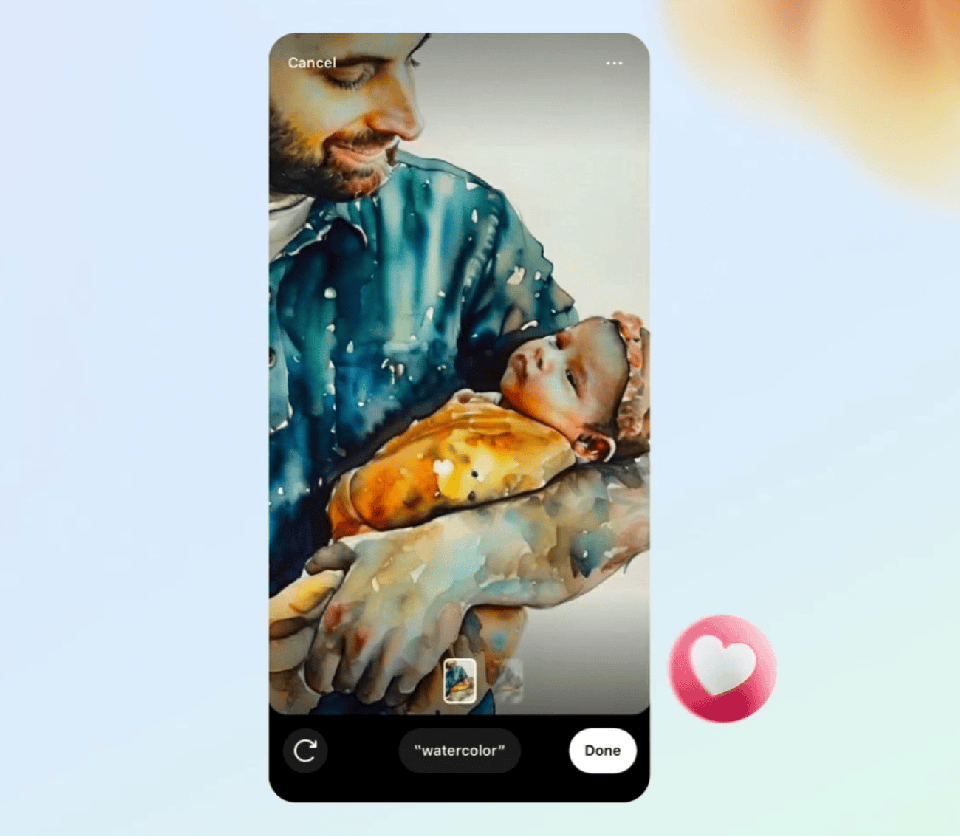 Backdrop changes the scene or background of your image. Prompts like "put me in front of a sublime aurora borealis" or "surrounded by puppies" will cue the tool to create an image of the primary subject in the foreground with the background you described.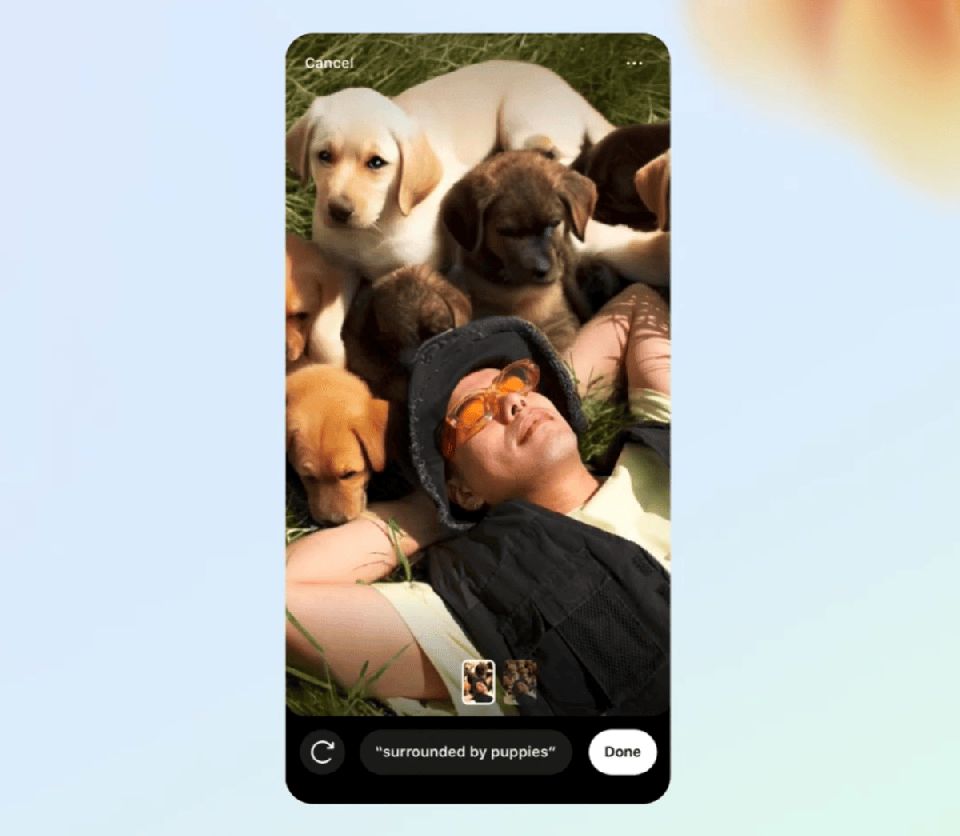 We know how important transparency is when it comes to the content AI generates, so images created with restyle and backdrop will indicate the use of AI to reduce the chances of people mistaking them for human-generated content. We're also experimenting with forms of visible and invisible markers.
We want these experiences to be safe and trustworthy, while bringing new forms of creativity, entertainment, and expression into your day.
An Assistant That Spans Our Apps and Devices
Meta AI is a new assistant you can interact with like a person, available on WhatsApp, Messenger, Instagram, and coming soon to Ray-Ban Meta smart glasses and Quest 3. It's powered by a custom model that leverages technology from Llama 2 and our latest large language model (LLM) research. In text-based chats, Meta AI has access to real-time information through our search partnership with Bing and offers a tool for image generation.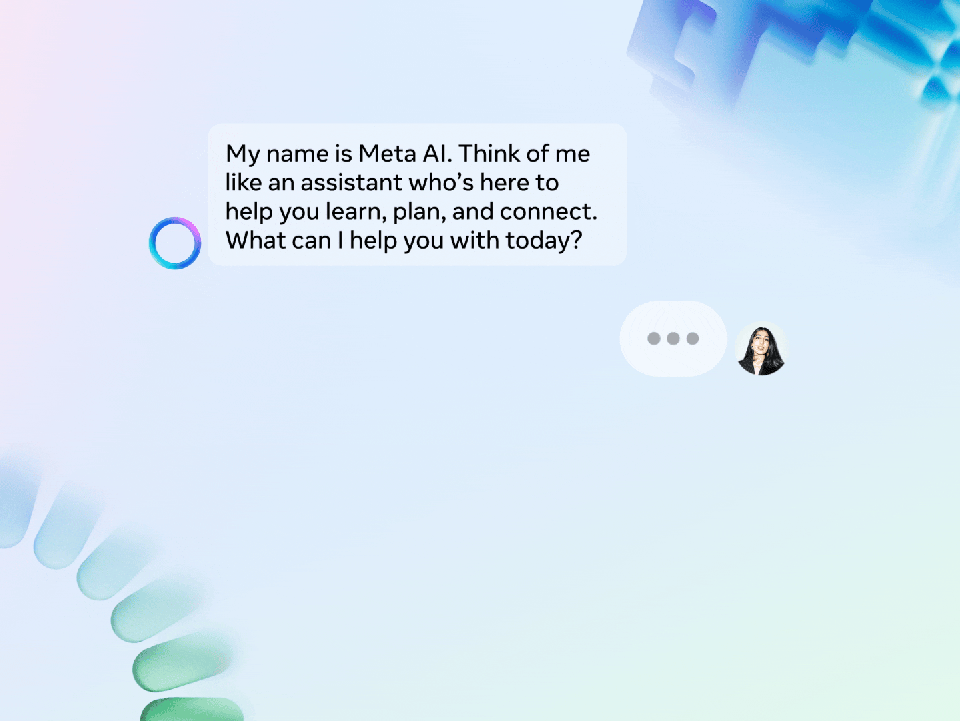 Here's an example of how you might use Meta AI:
Imagine you and your friends are in a group chat discussing which trailhead to try in Santa Cruz. Meta AI surfaces options directly in the chat, so you can decide as a group which location to explore. What if after the hike you want a creative way to commemorate the day? Meta AI can help. Type "@MetaAI /imagine" followed by a descriptive text prompt like "create a button badge with a hiker and redwood trees," and it will create a digital merit badge in the chat with your friends.
A Universe of Characters at Your Fingertips
Our journey with AIs is just beginning, and it isn't purely about building AIs that only answer questions. We've been creating AIs that have more personality, opinions, and interests, and are a bit more fun to interact with. Along with Meta AI, there are 28 more AIs that you can message on WhatsApp, Messenger, and Instagram. You can think of these AIs as a new cast of characters – all with unique backstories.
And because interacting with them should feel like talking to familiar people, we did something to build on this even further. We partnered with cultural icons and influencers to play and embody some of these AIs. They'll each have profiles on Instagram and Facebook, so you can explore what they're all about. 
Charli D'Amelio

as Coco, Dance enthusiast

Chris Paul

as Perry, Pro golfer helping you perfect your stroke

Dwyane Wade

as Victor, Ironman triathlete motivating you to be your best self

Izzy Adesanya

as Luiz, Showy MMA prospect who can back up his trash talk

Kendall Jenner

as Billie, No-BS, ride-or-die companion

LaurDIY

as Dylan, Quirky DIY and Craft expert and companion for Gen Z

MrBeast

as Zach, The big brother who will roast you — because he cares

Naomi Osaka

as Tamika, Anime-obsessed Sailor Senshi in training

Paris Hilton

as Amber, Detective partner for solving whodunnits

Raven Ross

as Angie, Workout class queen who balances fitness with meditation

Roy Choi

as Max, Seasoned sous chef for culinary tips and tricks

Sam Kerr

as Sally, Free-spirited friend who'll tell you when to take a deep breath

Snoop Dogg

as Dungeon Master, Choose your own adventure with the Dungeon Master

Tom Brady

as Bru, Wisecracking sports debater who pulls no punches
We're going to start rolling these out in beta in the United States today. We'll add new characters in the coming weeks played by Bear Grylls, Chloe Kim, and Josh Richards among others.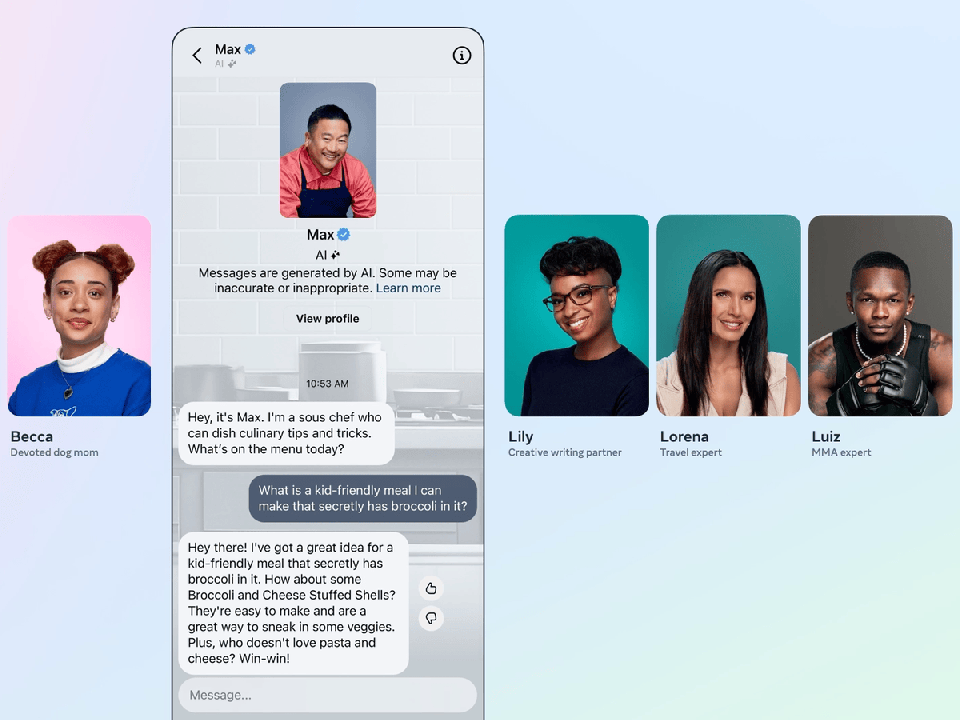 It's still early days for our AIs. Right now, their knowledge base – with the exception of Meta AI, Bru, and Perry – is limited to information that largely existed prior to 2023, which means some responses may be dated. We aim to bring search to many more of our AIs in the coming months – like we have done with Meta AI – so that conversations can be timely and relevant too. 
We are committed to building responsibly with safety in mind. We are continuing to test and evolve the capabilities of our AIs, and will improve the experience over time through what we learn from your interactions with them. Your direct feedback and the conversations you have with our AIs are core parts of what will help us improve our AI models, and ultimately enhance the experience at scale. 
What's Coming Next
We introduced AI studio today, the platform that supports the creation of our AIs and we plan to make it available for people outside of Meta – coders and non-coders alike – to build AIs. Developers will be able to build third-party AIs for our messaging services with our APIs in the coming weeks, starting on Messenger then expanding to WhatsApp. 
Businesses will also be able to create AIs that reflect their brand's values and improve customer service experiences. From small businesses looking to scale to large brands wanting to enhance communications, AIs can help businesses engage with their customers across our apps. We're launching this in alpha and will scale it further next year. 
And for creators, they'll be able to build AIs that extend their virtual presence across our apps. These AIs will have to be sanctioned by them and directly controlled by the creator. 
We're also building a sandbox that will be released in the coming year, enabling anyone to experiment with creating their own AI. As our universe of AIs continues to grow and evolve, we'll bring this sandbox to the metaverse, giving you the chance to build AIs that adopt an even greater level of realism, embodiment, and connectedness.