Update on November 9, 2023 at 9:00AM PT:
Parental supervision tools are now available globally on Facebook, in addition to Instagram, Messenger, and Horizon Worlds. Parents can access Facebook supervision via Settings to see insights like time spent, schedule breaks for their teens and access expert resources on managing their teens' time online. We're also adding more supervision features to Messenger, including giving parents the ability to set scheduled breaks and view their teens' blocked contacts. 
Update on August 30, 2023 at 9:00PM PT: 
Parental supervision tools on Messenger are now available globally. 
Originally published on June 27, 2023 at 2:00AM PT:
Parental Supervision Tools on Messenger
Today, we're announcing parental supervision tools on Messenger. Now parents and guardians can access Messenger supervision tools and resources from leading experts to support their teens through the Meta Family Center. Parental Supervision on Messenger is available in the US, UK, and Canada today, with plans to expand to more countries around the world in the coming months. 
These tools allow parents to see how their teen uses Messenger, from how much time they're spending on messaging to providing information about their teen's message settings. These tools do not allow parents to read their teen's messages. 
Specifically, our first set of parental supervision tools on Messenger will allow parents and guardians to:
View how much time their teen spends on Messenger

View and receive updates on their teen's Messenger contacts list, as well as their teen's privacy and safety settings

Get notified if their teen reports someone (if the teen chooses to share that information)

View who can message their teen (only their friends, friends of friends, or no one)   and see if their teen changes this setting

View who can see their teen's Messenger stories and get notified if these settings change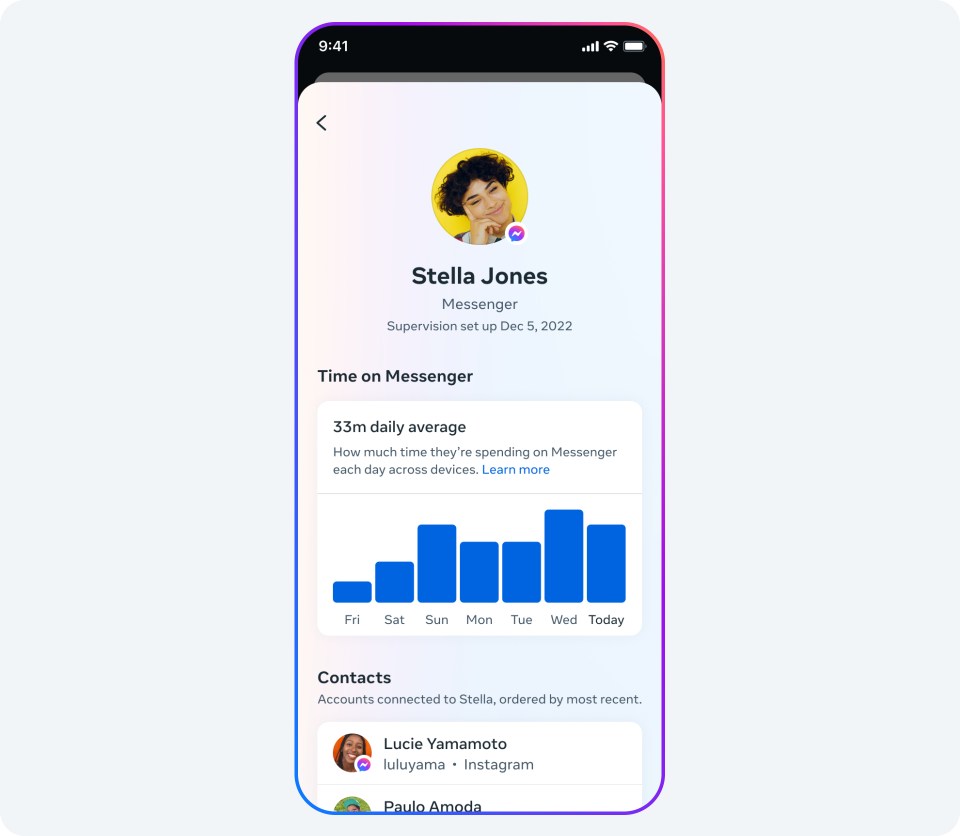 Over the next year, we'll add more features to Parental Supervision on Messenger so parents can help their teens better manage their time and interactions, while still balancing their privacy as these tools function in both unencrypted and end-to-end encrypted chats. 
Today's update is part of our ongoing work to establish Family Center as one central place where parents and guardians can find resources and tools to help manage their teens' experiences across Meta technologies, and strengthen the dialogue between parents and teens about their online lives.
Testing New Messaging Privacy Features
We want to protect people from unwanted interactions in Instagram DMs, and these protections are especially important when it comes to teens. We already show Safety Notices when adults who have shown potentially suspicious behavior message teens, and we restrict people over 19 years old from sending private messages to teens who don't follow them. We're now testing additional features to limit how people can interact with and message others who don't follow them: 
Before being able to message someone who doesn't follow them, people must now send an invite to get their permission to connect. People can only send one invite at a time and can't send more until the recipient accepts the invitation to connect. 

We'll limit these message request invites to text only, so people can't send any photos, videos, or voice messages, or make calls, until the recipient has accepted the invite to chat. These changes mean people won't receive unwanted photos, videos, or other types of media from people they don't follow.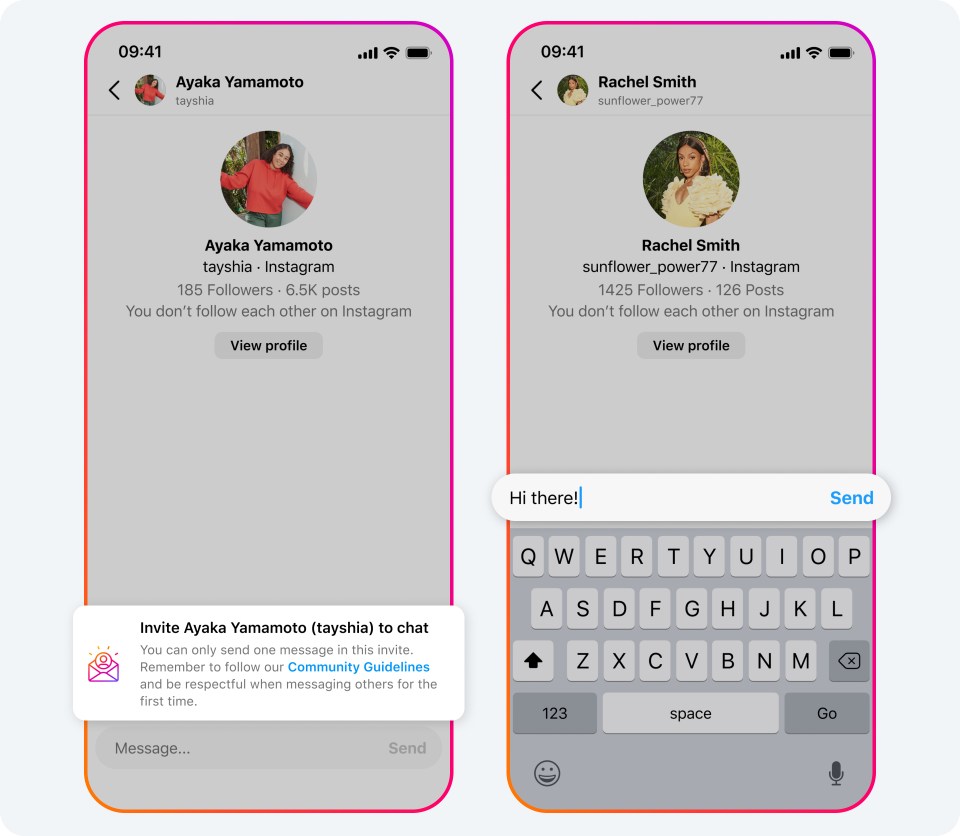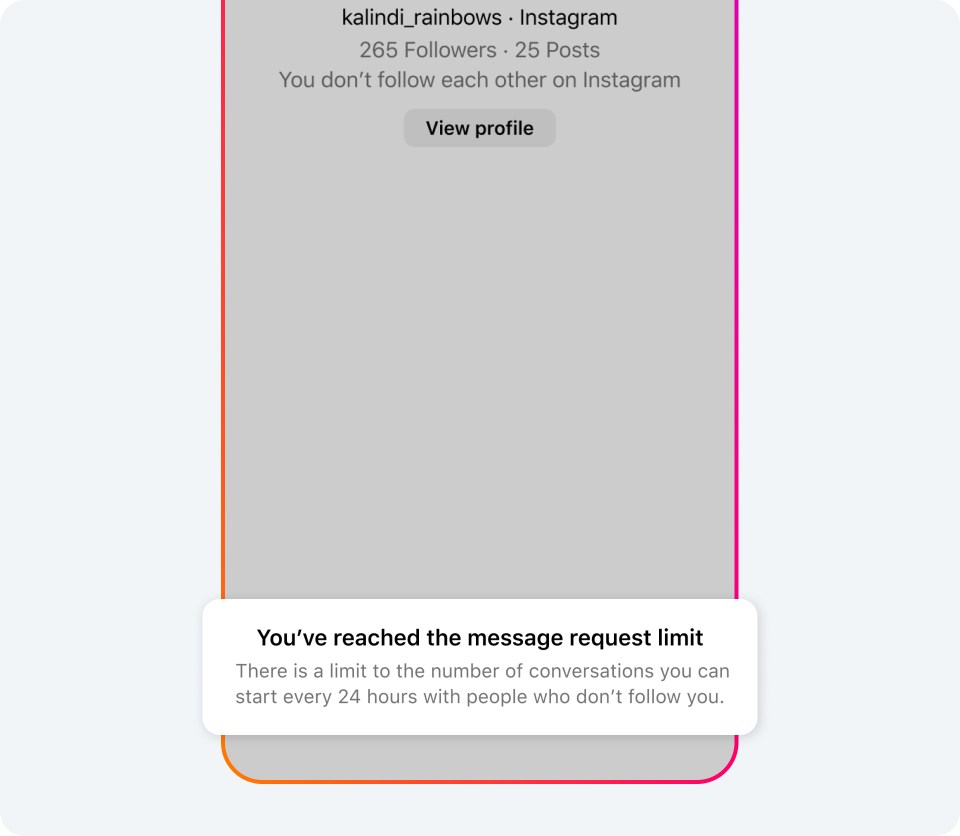 Nudging Teens to Manage Their Time on Facebook and Instagram
We want teens to feel good about the time they spend on our apps, which is why we've built features like Take a Break on Instagram. Soon, teens will also see a notification when they've spent 20 minutes on Facebook, prompting them to take time away from the app and set daily time limits. We're also exploring a new nudge on Instagram that suggests teens close the app if they are scrolling Reels at night.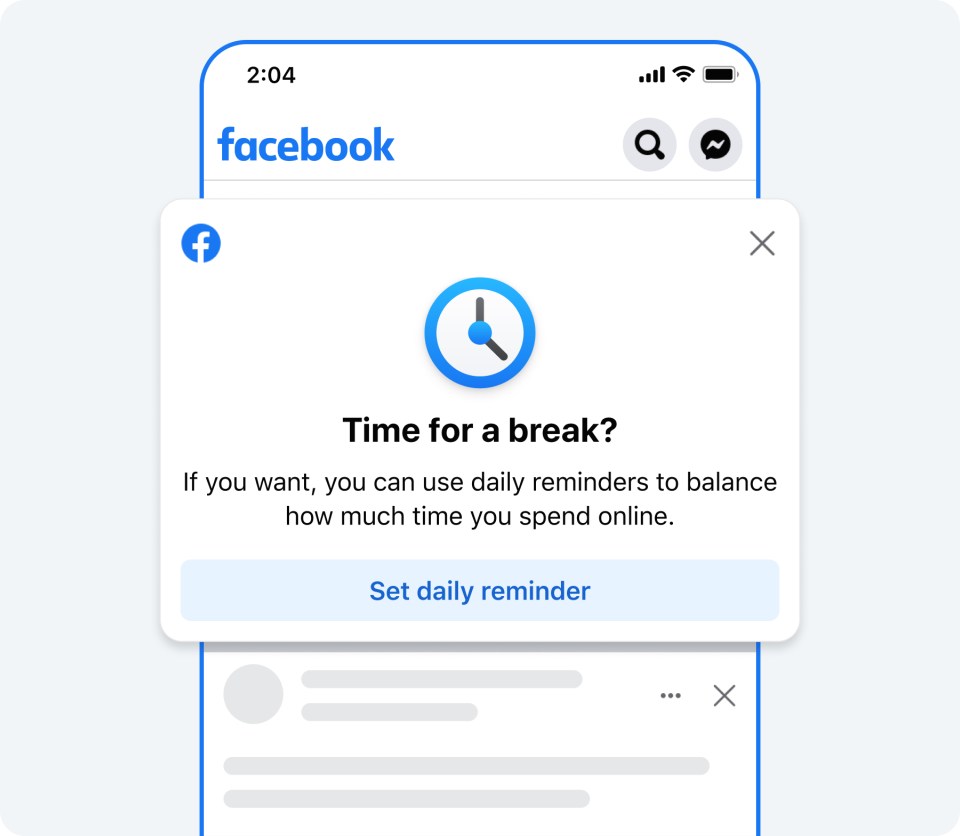 In January, we introduced Quiet Mode on Instagram, a new feature to help people focus and to encourage them to set boundaries with their friends and followers. For example, when you turn on Quiet Mode, you won't receive any notifications, your profile's activity status will change to let people know you're in Quiet Mode, and we'll automatically send an auto-reply when someone sends you a DM. We're making Quiet Mode available to everyone on Instagram globally in the coming weeks.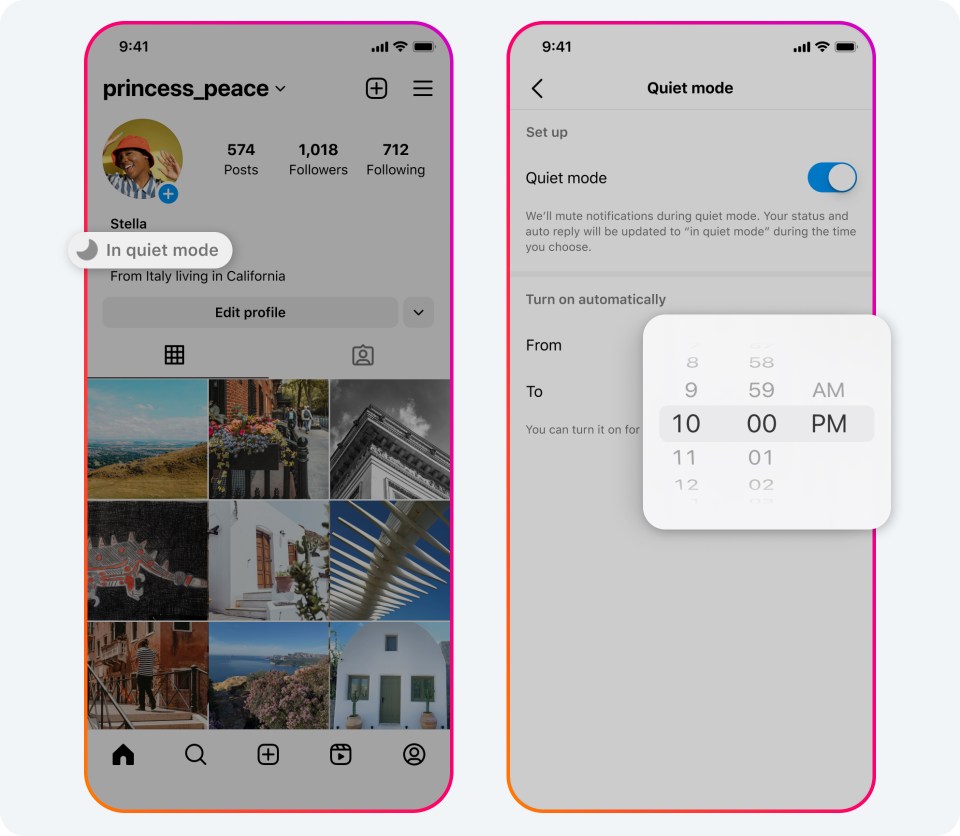 Additional Parental Supervision Features on Instagram
We've added additional tools to Parental Supervision on Instagram to give parents more visibility into their teens' experiences on the app and to prompt teens to have conversations with their parents with new notifications. These updates include:
A new notice to teens after they've blocked someone. The notice encourages teens to add their parents to supervise their Instagram account as an extra layer of support. Through this notice, we're meeting teens at specific moments to remind them how they can benefit from parental guidance when it comes to  navigating their online interactions. 

In addition to seeing which accounts their teen follows and is followed by, parents will now be able to see how many friends their teen has in common with those accounts. This will help parents understand how well their teen knows these accounts, and help prompt offline conversations about those connections.

More ways for parents to customize which notifications from Parental Supervision on Instagram they want to receive and how often they receive them.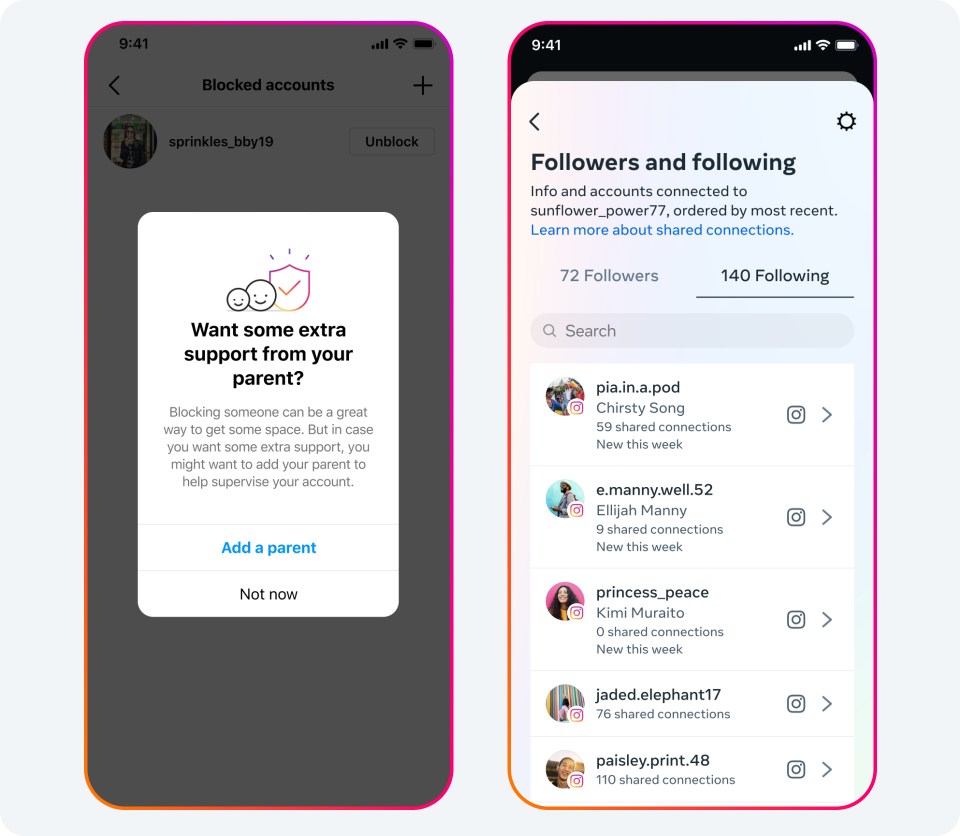 Today's updates were designed to help teens feel in control of their online experiences and help parents feel equipped to support their teens. We'll continue to collaborate with parents and experts to develop additional features that support teens and their families.