We're expanding our test of Meta Verified to India after seeing good results from our early testing in several countries globally. We'll also continue honoring verified badges that were granted previously based on existing criteria.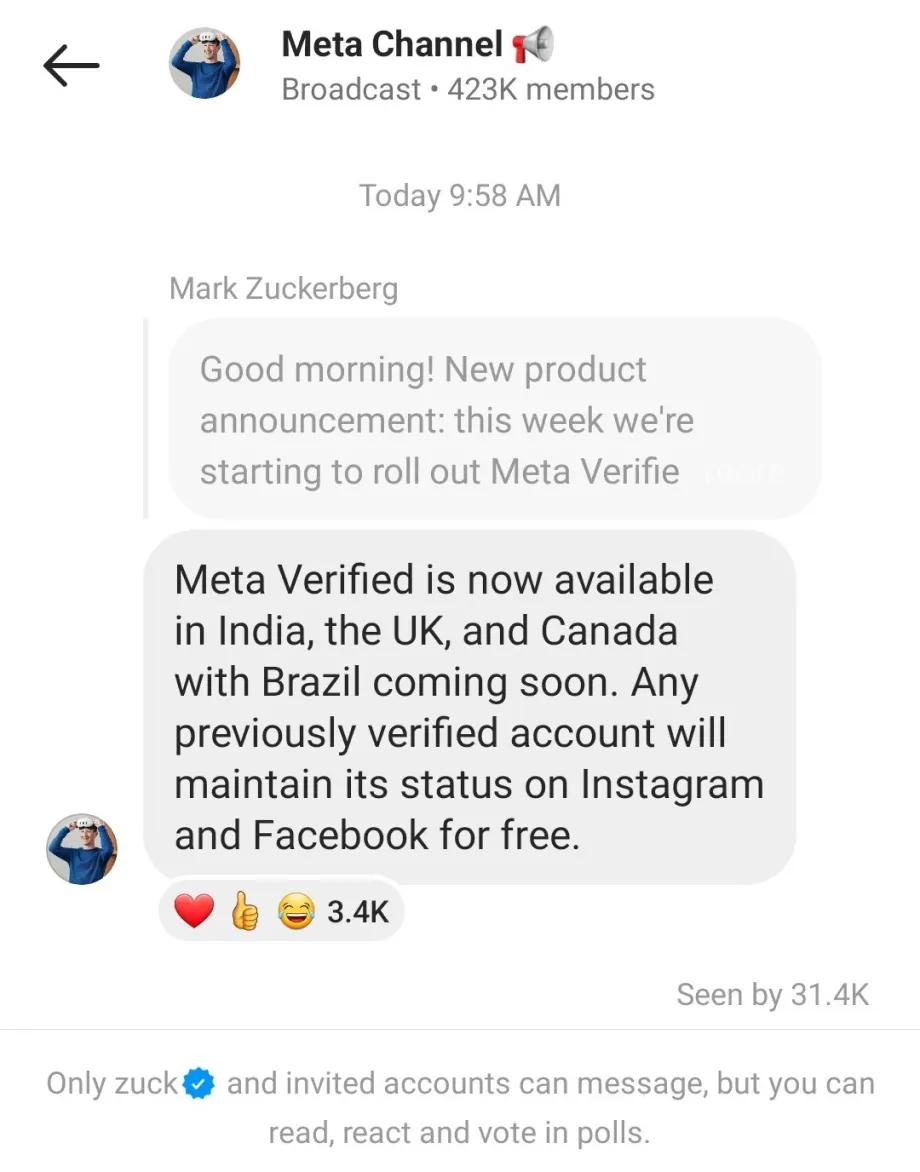 To help up-and-coming creators grow their presence more quickly on our apps, in February we announced that we'll begin testing a new offering called Meta Verified. It is a subscription bundle on Instagram and Facebook that includes a verified badge that authenticates your account with government ID, proactive account protection and access to account support. Since our initial test of Meta Verified in Australia and New Zealand, we've made a few adjustments based on learnings, including the removal of increased reach for additional test countries. This continues to be the approach for India. We're exploring elements to add to the subscription as we roll out to more places and will share more when we're ready.
Some of the top requests we get from creators are for broader access to verification and account support. Since last year, we've been thinking about how to unlock access to these features through a paid offering.
With Meta Verified in India, you'll get:
A verified badge

, confirming you're the real you and that your account has been authenticated with a government ID.¹

More protection from impersonation

with proactive account monitoring for impersonators who might target people with growing online audiences.  

Help when you need it

for common account issues. At the moment, support is available in English only, but it will be extended to include Hindi as well in the coming months.
Meta Verified is available for direct purchase on Instagram or Facebook in India starting today.² People can purchase a monthly subscription for ₹699 on iOS and Android.³ In the coming months, we'll also introduce a web purchase option for ₹599 a month.4
Honoring Existing Verified Badges
We'll also retain the verified badge for accounts that were verified before the introduction of Meta Verified. These accounts passed through a set of criteria to confirm their authentic presence and may be more susceptible to impersonation than the average user.  So, it's important we maintain the verified badge to protect their accounts and the people that engage with them. 
Long term, we want to build a subscription offering that's valuable to everyone, including creators, businesses, and our community at large. As part of this vision, we are evolving the meaning of verified accounts on our apps so we can expand access to verification and more people can trust that the accounts they interact with are authentic.
Building Safety from the Beginning
It's important to feel confident that your identity and accounts are safe and that the people you're interacting with are who they say they are. That's why we've built a series of checks into Meta Verified before, during and after someone applies. 
To be eligible, accounts must meet minimum activity requirements, such as prior posting history, and applicants must be at least 18 years old.

Applicants are then required to submit a government ID that matches the profile name and photo of the Facebook or Instagram account they're applying for. 

Meta Verified subscriptions will include proactive monitoring for account impersonation.
We're also committed to continuous monitoring and review of reported violations, as well as taking swift action against those who try to evade our systems. 
Creator Reactions from India
"I think Meta Verified is quite a valuable proposition and is here to speed up the process of building a strong presence on Instagram and Facebook. For emerging creators who're stretching the realms of the creator economy in India, this will provide a seal of legitimacy and security." – Sahil Purakait (@sahilpurkait_), Delhi based creator with 124k followers.
"For the longest, I've been wanting the verified badge. Account support is also a very common and frequent request from creators like me. Meta Verified, I feel, meets both these needs and I'm looking forward to it. I feel this provides more permanence to our presence on Instagram and Facebook, and can be the foundation to us building a large and loyal following." – Sameer Quraishi (@sameerquraishi__), Noida based creator with 256k followers.
"The introduction of Meta Verified is a game changer for hard working content creators like me, as it provides an essential layer of authentication. With this, I can finally establish and protect my unique identity, ensuring that my culinary creations are rightfully attributed and celebrated." – Fenn Shalom Roy (@foodozers), Chennai based creator with 382k followers.
1. Where available, some subscribers may be required to submit a selfie video as part of the authentication process.
2. The rollout begins today, and will be available to all who meet the eligibility criteria over the next few weeks.
3. Businesses are not eligible to apply for Meta Verified at this time.
4. People interested in purchasing on web can sign up to the waitlist through the Facebook web Account Center to be informed when web purchasing is available.