As part of a month-long editorial endeavour, we are kicking off a partnership with Arabic podcast network Sowt. We'll spotlight inspiring community leaders from the Arab diaspora to speak about how they have been using our apps – Facebook, Instagram and WhatsApp – for acts of kindness, charity, fundraising and donations during the month of Ramadan.
Online communities can be a lifeline when people can't be physically close. With the help of Sowt, we are highlighting positive stories from throughout the region, helping to bring social solidarity to life. Each episode to be featured on the With Positivity podcast, hosted by Rania Kurdi, will highlight a different digital community. Some of those set to be featured include FoodBlessed, a non-profit organization in Lebanon that tackles food poverty, while addressing and raising awareness on food waste; Missing Children, a NGO in Egypt for missing children that is calling on members to donate to orphanages around Egypt; and SAWA for Development and Aid in Lebanon, which works with Syrian refugees to help them restore the dignity, agency and ownership of their lives.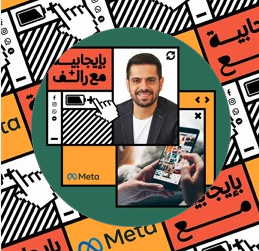 "Podcasts are an excellent way to communicate with online communities. That is why we worked with Facebook MENA to highlight great examples of online communities and the positive power of community organizing. Throughout MENA, citizens rely on social media for news and staying connected, and through this podcast, we found some really good examples of the positive impact online communities can have. As a leader in digital audio production, we're proud to work with a leading technology company to help bring people closer together."
—Ramsey Tesdell, CEO, Sowt Media
Every year, across the Arab world, the holy month of Ramadan brings about a change in how people live, the deeds they do and how they give back to one another. Over the last year, we have seen communities come together to give back to others through good deeds and acts of kindness. In fact, more than 6.5 million people living in Turkey and MENA joined Ramadan-related groups created in 2020 – including Facebook Groups, Pages and NGOs calling for solidarity to collect donations for those in need. 
To tune into Sowt, visit the podcast website or listen to it on Spotify, SoundCloud, Castbox and Deezer.