June is Pride month in the US and many parts of the world. Visibility for our community is really important and this month is always a great opportunity to amplify LGBTQ+ communities, a celebrated part of Facebook across our platforms. It's the people within these communities and our allies who make Pride what it is. 
Historically when I've posted about LGBTQ+ issues, and as a member of the community myself, I've personally faced homophobic abuse on our and other platforms, but year by year that has declined as our hate moderation tools have become more advanced and effective. But blocking hateful comments doesn't fix what's in people's hearts. We believe what does that is giving people the power to build community and make their voices heard to change hearts and minds.
I'm excited to share the work we're releasing for Pride Month across the Facebook family of products. Some of these efforts celebrate this month specifically but many will be live year-round, continuing to make our platforms a place where LGBTQ+ people can share their voices, build community and bring the world closer together.
Mental Health and Well-Being Resources
To support LGBTQ+ well-being on our platforms, in Europe, the Middle East and Africa, we're partnering with non-governmental organizations (NGOs) and experts to discuss mental health, share resources and showcase inclusive Facebook communities. 
In Poland, people can follow these conversations on the Campaign Against Homophobia (KPH) NGO page and in LGBTQ+ groups. And in Germany, we're partnering with Pride Berlin to launch a Messenger chatbot with information about LGBTQ+ communities and inspiring creators, as well as NGOs that offer counseling.
Throughout the month, local policy organizations and NGOs will share resources supporting LGBTQ+ communities. Check out accounts like @pflag, @empoweringpi, @mpjinstitute, @Utopia PDX, Utopia WA and more, and visit the Instagram Guides tab for new guides.
Supporting LGBTQ+ Business Owners
On Facebook and Instagram you'll find curated #Pride collections from businesses founded by and supported by LGBTQ+ communities. For example, you can discover limited-edition face decals by Euphoria makeup artist Donni Davy in collaboration with Face Lace, with a portion of proceeds going to Trans Lifeline and an exclusive Dragun Beauty 'Pride Pack' by Nikita Dragun — both available with in-app checkout.
You can also participate in Live Shopping Fridays on Facebook, with Pride-themed events from brands like Sephora (June 11) featuring products from LGBTQ+ founder brands and Zox (June 18), showcasing wristbands that benefit the Trevor Project.
In the US, you can tune into an event on June 23 offering live networking and training resources for LGBTQ+-owned small businesses, in partnership with the National LGBT Chamber of Commerce (NGLCC). Similar training programs, partnerships and educational resources will be available in Brazil, Mexico, the UK and France as well. 
Celebrating With New Pride Features
Starting today, we're offering Pride-themed avatars, post backgrounds on the Facebook app, as well as stickers for feed and Stories.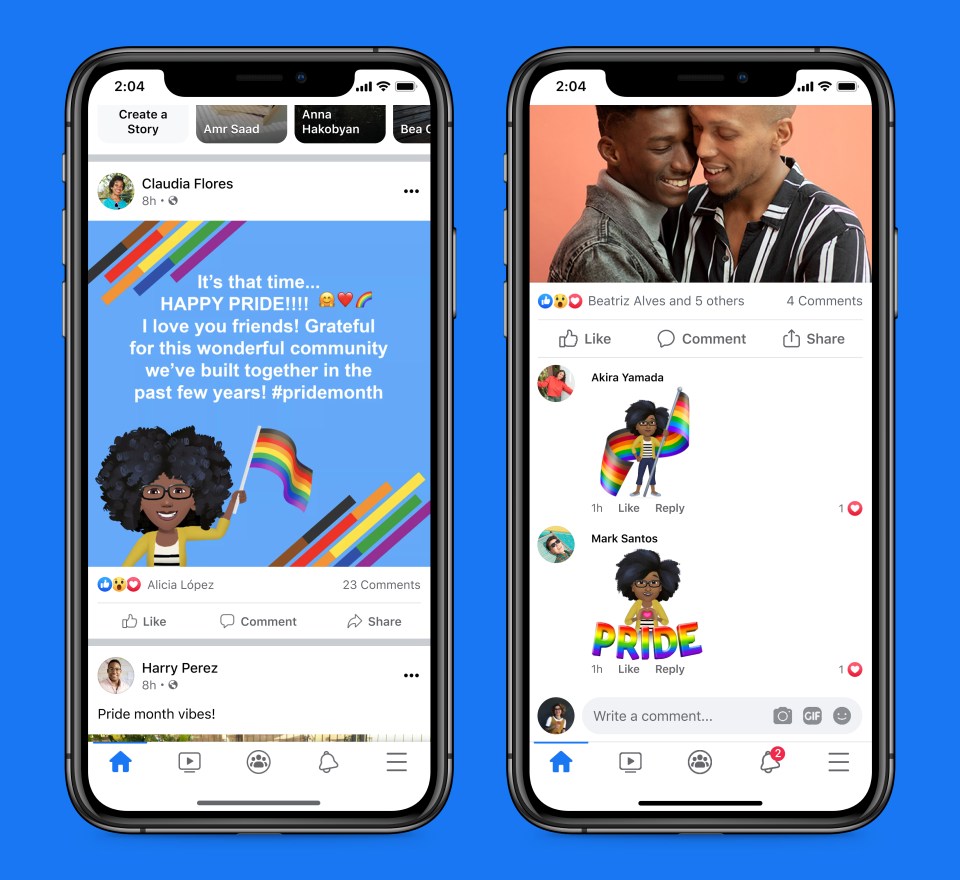 We've partnered with Berlin-based artist Jasmina El Bouamraoui (EL BOUM) to create this year's Pride logo for the Facebook app. Their perspective and dedication to depicting non-binary and diverse communities is shown through vibrant colors, block shapes, and distinct textures that are meant to highlight the authenticity and confidence of each character.
We're also launching a custom hashtag feed for #Pride that will elevate content from groups, publishers and public figures. And we've added new Pride backgrounds and chat themes on Messenger and Messenger Kids. 
Additionally, in partnership with three global LGBTQ+ illustrators, we're adding new Pride stickers on Instagram, including stickers for gender non-conforming, asexual, trans and gender-fluid identities. And rainbow-colored hashtags are back on Instagram for Pride Month! We've also partnered with GLAAD again this year to update our list of popular hashtags — such as #genderfluid, #pridefamily and #gayvisibility — used throughout the LGBTQ+ community. When you use one of these hashtags in a Story, your Story ring will turn rainbow while the photo or video is live for 24 hours.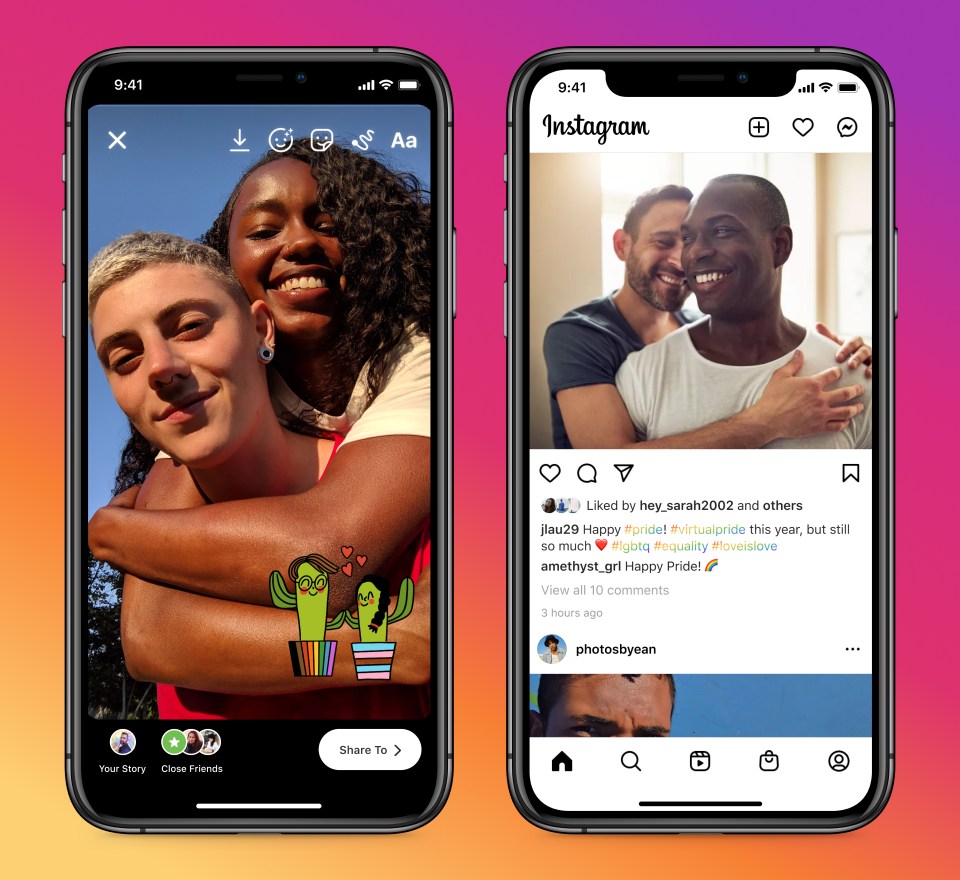 Amplifying LGBTQ+ Voices
Throughout the month, we'll also take people on a Pride tour around the world, showcasing creators, artists and trailblazers.
In Latin America we've partnered with top LGBTQ+ outlets (@divadepressão and @escandala) to co-produce "Share with Pride," a talk show series on Instagram featuring six inspiring stories of LGBTQ+ creators. And on June 5, we'll host an interactive art installation in São Paulo. You can go to the Brazil Facebook app page and generate cues in real time that will trigger the painting of an entire building wall with the Pride flag. 
And across Asia, we'll host Facebook Live sessions with LGBTQ+ creators in Australia, Taiwan, Thailand and the Philippines to discuss issues facing their communities.
In the US, tune into Facebook Watch on June 4 for "Pride On! Kehlani & Larray's Excellent Pride Ride" to see Grammy-nominated R&B superstar Kehlani and digital creator Larray travel around Los Angeles to capture how people are celebrating Pride Month this year. Watch with friends on Facebook Watch or through Messenger's Watch Together feature.
And on Instagram in the US, we're spotlighting LGBTQ+ youth creators and allies from around the world and featuring discussions with inspiring members of LGBTQ+ communities, including Lady Shug and more!
We'll also debut a 'More Together' TV spot featuring Emmy award-winning actress and transgender advocate, Laverne Cox. The ad showcases the full spectrum of LGBTQ+ communities and spotlights LGBTQ+ Facebook Groups. Globally, more than 25 million people on Facebook are part of at least one of the 34,000 public groups that support LGBTQ+ people.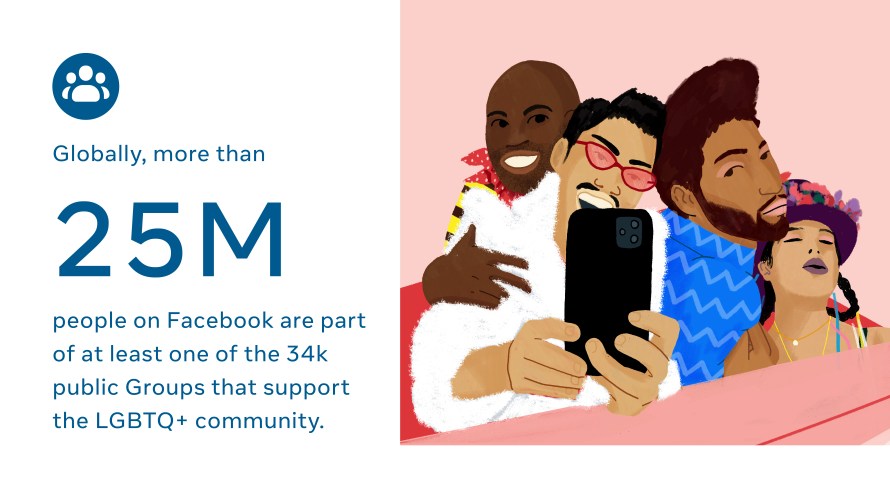 Moreover, we're partnering with PFLAG and SAGE to share resources for coming out conversations via Portal, and highlighting Pride-focused content from RuPaul's Drag Race All Stars Season 5 winner, Shea Couleé, and diversity advocates, Team 2 Moms. Also on Portal, you'll find a new video that celebrates how technology has redefined the ways we connect. The video, "Coming Out," airing on TV and digital channels later this month, shows an adult son reacting to the revelation of his dad's sexuality.
Check out our social channels for resources, partner content and uplifting stories of intersectionality, allyship, advocacy and community. @facebookapp, @facebook,  Facebook Watch, LGBTQ@Facebook, @instagram, @instagramforbusiness, @creators, @shop, @design and @messenger.