Update on January 5, 2021 at 1:33PM PT:
Following the Georgia runoff elections, Georgia will re-join the existing nationwide pause on social issue, elections and political ads.
Originally published on December 15, 2020 at 11:30AM PT:
We are maintaining our temporary pause for ads about social issues, elections or politics in the US. However, in recent weeks we've heard feedback from experts and advertisers across the political spectrum about the importance of expressing voice and using our tools to reach voters ahead of Georgia's runoff elections. We agree that our ad tools are an important way for people to get information about these elections. So we have developed a process to allow advertisers to run ads with the purpose of reaching voters in Georgia about Georgia's runoff elections. 
Starting tomorrow, Wednesday December 16 at 9AM PT, we will begin enabling advertisers who are authorized to run ads about social issues, elections or politics to run ads specifically in Georgia. We will prioritize onboarding advertisers with direct involvement in these elections, including the campaigns, state and local elections officials, and state and national political parties. Advertisers who have previously completed the authorizations process to run these types of ads and have a need to run them for these elections, can learn more here. We will reject ads that target locations outside of Georgia or that are not about the elections for violating our Advertising Policies. And, we will continue to prohibit any ad that includes content debunked by third-party fact-checkers or delegitimizes the Georgia runoff elections. 
Applying Our Playbook for Protecting Elections and Empowering Voters in Georgia
We're also helping people register and vote in Georgia by putting reliable information at the top of Facebook and Instagram. This included information about how and when to register ahead of last week's deadline, and how to request a mail ballot. Starting this week, we're showing people how to find polling place times and locations for early voting, followed by how to return their mail ballots, then how to vote on Election Day. Our notifications link to the Georgia Secretary of State's website and are available in English and Spanish on Facebook and Instagram, as well as several additional languages on Facebook.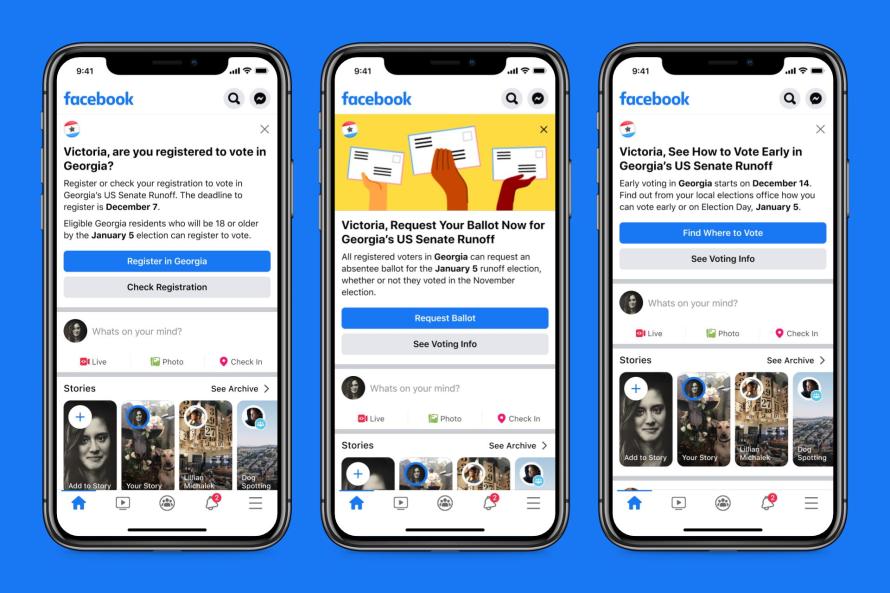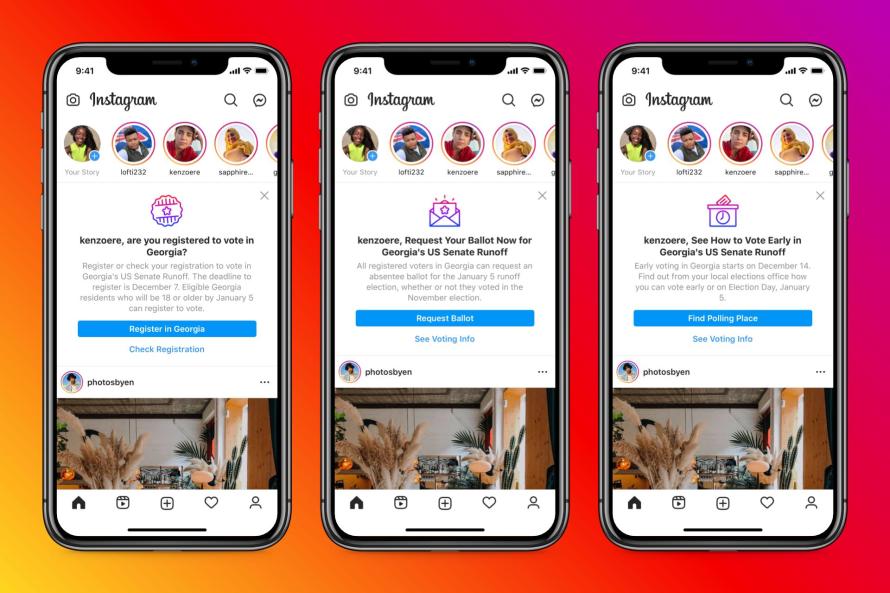 We will also label content that tries to delegitimize voting in these elections. This includes content with claims like, "vote-by-mail leads to fraud." When we become aware of content like this, we will add a label to it from the Bipartisan Policy Center with accurate information that addresses the underlying claim. And, if someone goes to share the content we have labeled, they will first see a message directing them to our Voting Information Center, which provides reliable election information.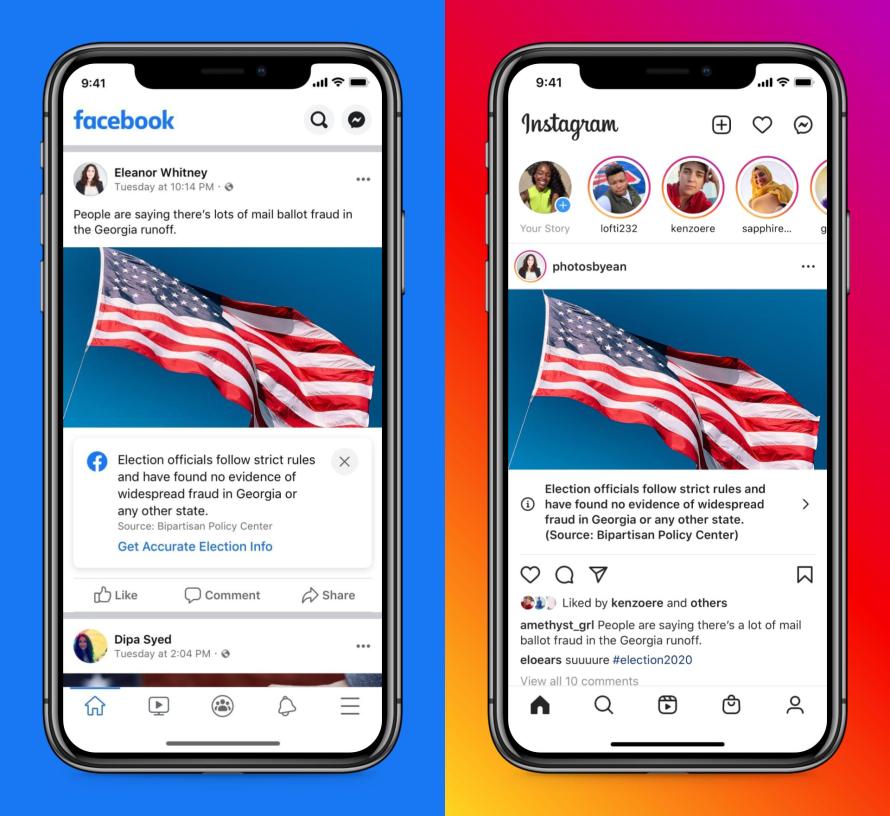 Finally, we are deploying the teams and technology we used in the general election to fight voter suppression, misinformation and interference in the Georgia elections. This includes:

Running our Elections Operations Center for the Georgia runoffs, to monitor and respond to threats in real time.

 

Stopping influence operations by taking down coordinated networks of inauthentic accounts, Pages and Groups that seek to manipulate the public debate.

Working with state election authorities to identify and stop potential instances of voter suppression.

Providing our Voting Alerts tool to state and local election officials in Georgia to send notifications about the election to people on Facebook in their jurisdiction.

Enforcing our voter interference policies through a combination of AI and human review to find and remove content which breaks our rules.

Applying warning labels in both Spanish and English to content that our fact-checking partners rate false or partially false.

Protecting the accounts of election officials from harassment and other threats, in addition to our Facebook Protect

program, which offers security tools and additional protections to safeguard the Facebook and Instagram accounts of campaigns, elected officials, federal and state political party committees, and staff.