By Sarah Clark Schiff, Product Manager at Facebook
It's important that people know more about the ads they see — especially those that reference political figures, political parties, elections, and legislation. That's why we're making big changes to the way we manage these ads on Facebook and Instagram. We've rolled out these changes in the US, Brazil, and the UK, and next, we're taking our first steps towards bringing transparency to ads related to politics in India.
This is key as we work hard to prevent abuse on Facebook ahead of India's general elections next year.
Get Started with Authorizations Today
Now anyone who wants to run an ad in India related to politics will need to first confirm their identity and location, and give more details about who placed the ad. The identity and location confirmation will take a few weeks so advertisers can start that process today by using their mobile phones or computer to submit proof of identity and location. This will help avoid delays when they run political ads next year.
Advertisers can download the latest Facebook app and visit Settings to get started.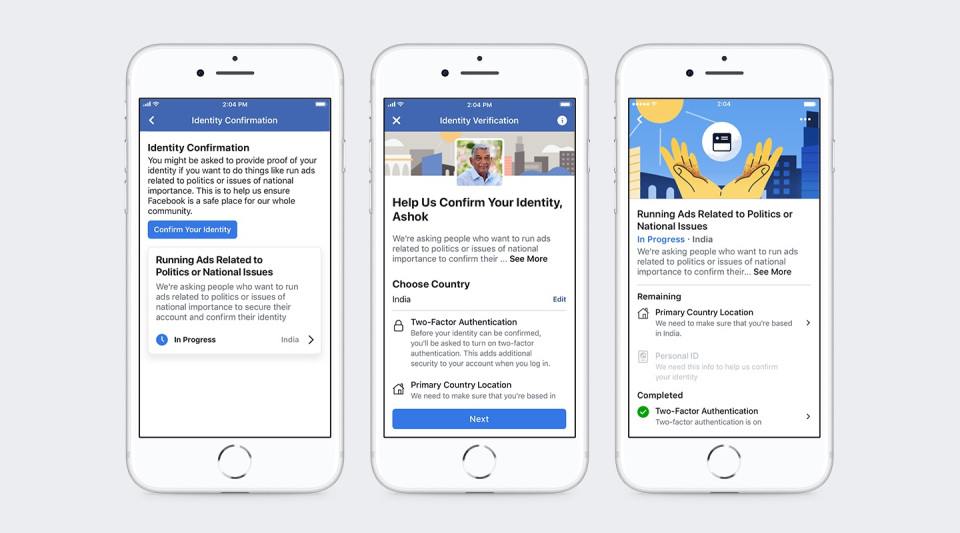 Looking Ahead
Early next year, we'll start to show a disclaimer on all political ads that provides more information about who's placing the ad, and an online searchable Ad Library for anyone to access. This is a library of all ads related to politics from a particular advertiser as well as information like the budget associated with an individual ad, a range of impressions, as well as the demographics of who saw the ad.
At that time, we'll also begin to enforce the policy that requires all ads related to politics be run by an advertiser who's completed the authorizations process and be labeled with the disclaimer. We will not require eligible news publishers to get authorized, and we won't include their ads in the Ad Library.
By authorizing advertisers and bringing more transparency to ads, we can better defend against foreign interference in India's elections.
Update on February 7, 2019: 
Bringing More Transparency to Political Ads in India
By Shivnath Thukral, Public Policy Director, India and Sarah Clark Schiff, Product Manager
We're committed to creating a new standard of transparency and authenticity for political advertising on Facebook and Instagram. Ahead of India's general elections, we're making big changes to ads that reference political figures, political parties, elections and ads that advocate for or against legislation. We first announced these plans back in December, when advertisers were able to begin authorizations on mobile — verifying their identity and location to run political ads. Starting today:
People will begin to see political ads with "Published by" or "Paid for by" disclaimers that have been specified by advertisers. This will give people more information about who's responsible for the ads they see.
People can access a searchable Ad Library to learn more about ads related to politics, including range of impressions and spend and demographics of who saw the ad.
In the coming weeks, people will start seeing the country locations of the people managing Pages that run political ads to better understand the origin of the Page.
Ad Disclaimer
Political ads will include a "Published by" or "Paid for by" disclaimer provided by advertisers at the top of the ad. We've used the "Paid for by" disclaimer when rolling out this feature in other countries and have added the "Published by" disclaimer in India as it's more consistent with local political advertising.
For the disclaimer, authorized advertisers can name themselves, a Page they run or another organization as the entity behind the ad. If they name another organization, we'll also require additional credentials — like a phone number, email and website OR a Media Certification & Monitoring Committee Certificate from India's Elections Committee. This is to help make sure the organization cited is authentic.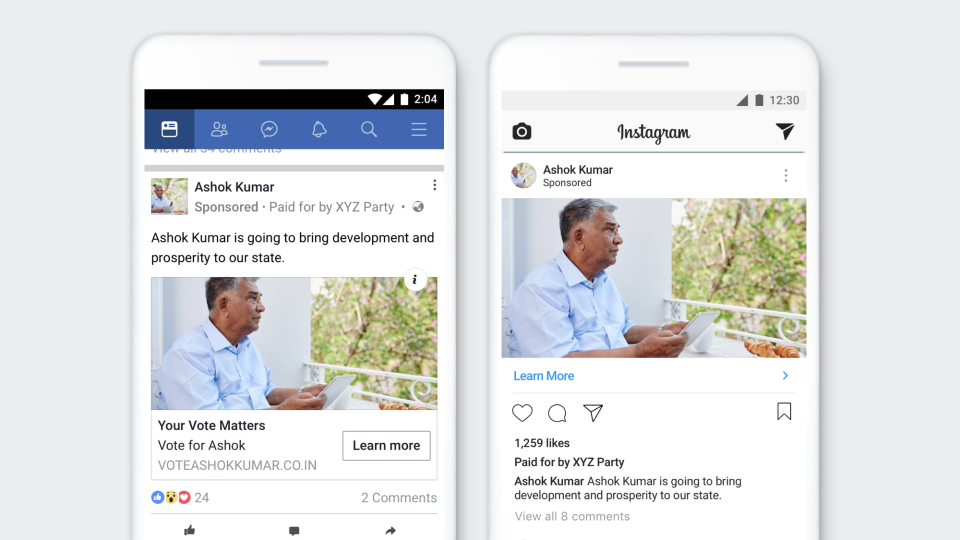 Ad Library
When a person clicks on the disclaimer, they'll be taken to a searchable Ad Library where they can see the ad's creative, start and end date, and performance data, including range of impressions, range of spend, and information about who saw the ad, like age, gender and location across India. The disclaimer credentials will also appear in the Ad Library. The Ad Library archives political ads for up to seven years and is available to anyone, regardless of whether they are logged into Facebook or not at facebook.com/ads/archive. In March, India will also have its own Ad Library Report, which helps more easily view insights about the ads in the library.

Enforcement and How to Report Ads
Enforcement of these new features and the Political Ads policy begins February 21. At that point, only advertisers who have completed authorizations and disclosed who's responsible for an ad will be allowed to run political ads in India. We will remove political ads running without a disclaimer in News Feed and will place them in the Ads Library.
Our systems won't catch every political ad that runs — so reports from others will be key. If people come across an ad and think it should include a disclaimer, they can tap the three dots at the top right-hand corner of the ad, and select "Report ad." If we find the ad relates to politics, we'll remove it and add it to the Library, where it will be accessible for seven years. News publishers who are members of or appear in recognized industry groups and lists — or who have been validated by official sources in India — are not subject to the authorizations, transparency and enforcement requirements provided by the policy.
More Page Transparency
We also want people to know more about the Pages running these ads. This month, we'll start showing the primary country location of the people who manage Pages running or paying for political ads in India. This information can be found in the Page's "Info and Ads" section, along with all the ads the Page is currently running, even if they're not targeted to you.
We are also making it harder for people to administer a Page in India using a fake or compromised account. In the coming weeks, people who manage Pages with a large audience in India will need to secure their account with two-factor authentication and confirm their primary country location to be able to continue to post to their Pages.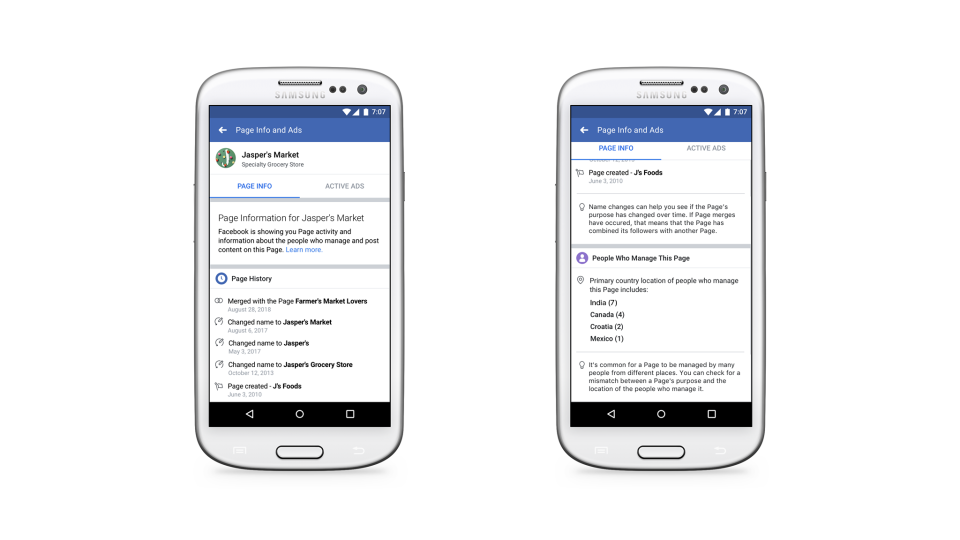 By increasing transparency around ads and Pages on Facebook, we hope to increase accountability for advertisers, help people assess the content they're seeing and prevent future abuse in elections.