By Naomi Gleit, VP Social Good
People around the world use Facebook's charitable giving tools to support a neighbor who lost everything in a fire, bring critical care to a child battling cancer, help nonprofits bring food to those in need, and so much more.
Today we're announcing that people have raised over $1 billion on Facebook for nonprofit and personal causes, helping to raise awareness and make an impact in their communities around the world. We're also bringing nonprofit fundraising tools to Canada and Australia. And for Giving Tuesday on November 27, 2018, with our partner PayPal we are matching donations up to a total of $7 million for all US-based nonprofit fundraisers happening on Facebook that day.
$1 Billion Raised
We are continually inspired by the many ways people support the causes and people that mean a lot to them. Since we introduced charitable giving tools in 2015, people have raised over $1 billion on Facebook through Facebook Fundraisers and Donate Buttons, and over 20 million people have either donated to or started a fundraiser on Facebook. Our nonprofit community also continues to grow, and there are now over 1 million nonprofits in 19 countries that can receive donations directly through Facebook.
With fundraisers both big and small, people have made a lasting difference in their communities. Here are examples of some of the incredible impact we've seen from Facebook Fundraisers:
Expanding Our Fundraising Tools
To help more people support the causes they care about, we are expanding our nonprofit fundraising tools to Canada and Australia, where people can now create fundraisers for over 100,000 Canadian and Australian-based charities, enabled by our partnership with the PayPal Giving Fund. Our nonprofit and personal fundraising tools are now available in 20 countries.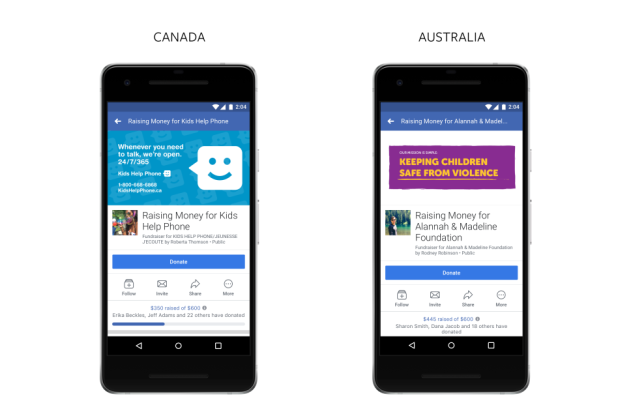 $7 Million in Matching for Giving Tuesday 2018
Every year on Giving Tuesday, people come together on Facebook to support and champion the causes they believe in by donating and fundraising. This year, we've expanded our partnership and commitment to provide the largest match in the history of Giving Tuesday. With our partner PayPal, we are matching up to a total of $7 million in donations made on Facebook to eligible US nonprofits. Fundraiser and nonprofit matching limits apply — for more details, see here. All donations made to nonprofits through Facebook Payments are 100% free of fees. Also, for the first time, we're hosting a Giving Tuesday event from our Facebook Page to share updates and fundraiser stories from across the community.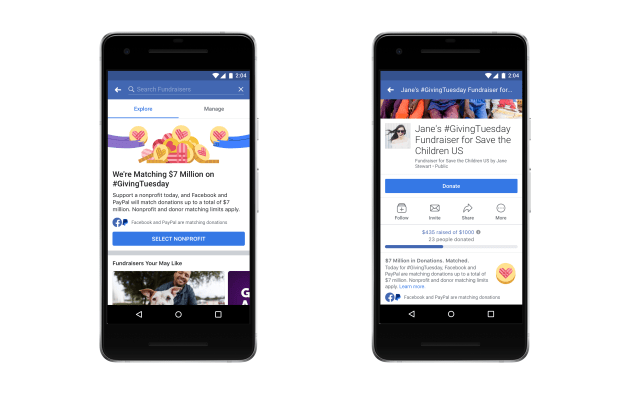 Finally, we want to celebrate and express our gratitude to the community of people and organizations who have used our tools to support the causes they care about, making a meaningful and lasting impact in their communities. None of this would be possible without people in our community who passionately support and raise awareness for the causes and people they care about. We can't wait to see the impact we can continue to make together.