By Anthea Watson Strong, Product Manager for Local News and Community Information
Update on September 13, 2019 at 9:15AM PT:
Today In is now available in more than 6,000 cities and towns across the US, including many "news deserts." More information for publishers is available on Facebook for Media.
Originally published on November 28, 2018 at 8:00AM PT:
We're making it easier for people to find news and information from their local towns and cities. Today we're announcing the expansion of a new local section on Facebook called "Today In" and starting a test for local alerts from relevant government pages.
Today In connects people to local news and information about their community. It is now available in over 400 cities in the US, and we have launched our first international test in Australia. In addition, we have started testing Today In in communities located in news deserts, places that have low supply of local news and community information, by supplementing with relevant content from surrounding areas.
Earlier this year, we started testing Today In after we did research in which over 50% of people told us they wanted to see more local news and community information on Facebook — more than any other type of content we asked about. The research showed that people wanted both what might be traditionally understood as local news — breaking news or information about past events like city council meetings, crime reports and weather updates — as well as community information that could help them make plans, like bus schedules, road closures and restaurant openings.
Today In aggregates local news and community information in a separate section within the Facebook app. People who live in a city where Today In is currently available can visit this section directly, and they can choose to turn on local updates to start seeing a collection of local news more regularly in their News Feed.
We've seen that people value Today In for helping them stay informed about what's happening nearby, finding information that directly impacts their day, and discovering ways to support their local community through events or volunteer opportunities.
According to one user, Tina, from Peoria, Illinois:
"I use [Today in Peoria] every day. That's the first thing I do in the morning. I work a lot of hours…my phone is always on me, and it's how I find out about everything going on in town — news, current events, everything. It's very handy. It's my go-to for anything and everything."
To learn more about how and why we built Today In, see our Inside Feed story.
Local Alerts from Government and First Responder Pages
In addition to expanding the availability of Today In, we're running a test with over 100 local government and first responder Pages to help them communicate time-sensitive and need-to-know information to people on Facebook.
People tell us it is important to receive timely, local updates in situations that directly affect them or that require them to take action, such as major road closures, blackouts or natural disasters. The local alert label appears in News Feed and Today In, and we are also testing notifications, which participating Pages can target to people who live in the affected areas.
During Hurricane Florence, 17 first responder pages posted 73 local alerts, providing critical updates to people living in the path of the storm. The City of Charlotte Government is one of our first partners to test local alerts:
"During Hurricane Florence, we saw the power of the local alerts functionality seconds after applying the tag. Increased engagement, especially shares, with our critical messages played an invaluable role in helping keep our community safe. Being able to reach all of our followers and residents in the immediate area during a crisis or major event is a game changer."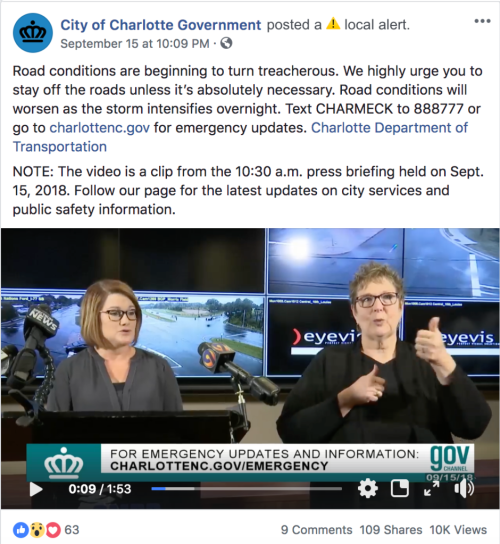 Local government Pages participating in the test can mark their posts as local alerts at their discretion. Pages can post up to 35 local alerts over a rolling 30-day period, and can mark a post as a local alert for up to six hours. This will not affect the ranking of posts in News Feed. Local alerts on Facebook are not meant to replace emergency alert systems.
Today In Availability
We hope to expand this new section for local news and community information more broadly soon. (Updated on August 13, 2019 at 1:36PM PT to remove link to an outdated map.)
If you live in one of the cities where Today In is available, you can find this section in the Facebook app by tapping the menu (☰) and then tapping on "Today In." You also have the option to change your Today In city.
You can also opt in to receive regular updates from Today In, including collections of local news in your News Feed. If you want to receive these updates, visit the Today In section to opt in or tap the "Turn on" button if you see a notice about local updates in your News Feed.