By Jessica Leinwand, Public Policy Manager
As part of our ongoing efforts to prevent people from misusing Facebook during elections, we're broadening our policies against voter suppression — action that is designed to deter or prevent people from voting. These updates were designed to address new types of abuse that we're seeing online.
We already prohibit offers to buy or sell votes as well as misrepresentations about the dates, locations, times and qualifications for casting a ballot. We have been removing this type of content since 2016. Here is an example: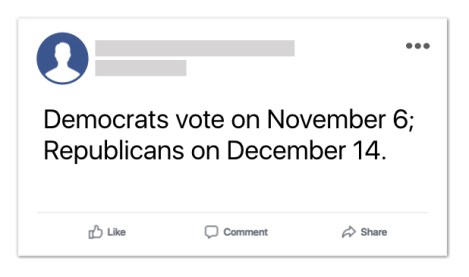 Last month, we extended this policy further and are expressly banning misrepresentations about how to vote, such as claims that you can vote using an online app, and statements about whether a vote will be counted (e.g. "If you voted in the primary, your vote in the general election won't count."). We've also recently introduced a new reporting option on Facebook so that people can let us know if they see voting information that may be incorrect, and have set up dedicated reporting channels for state election authorities so that they can do the same.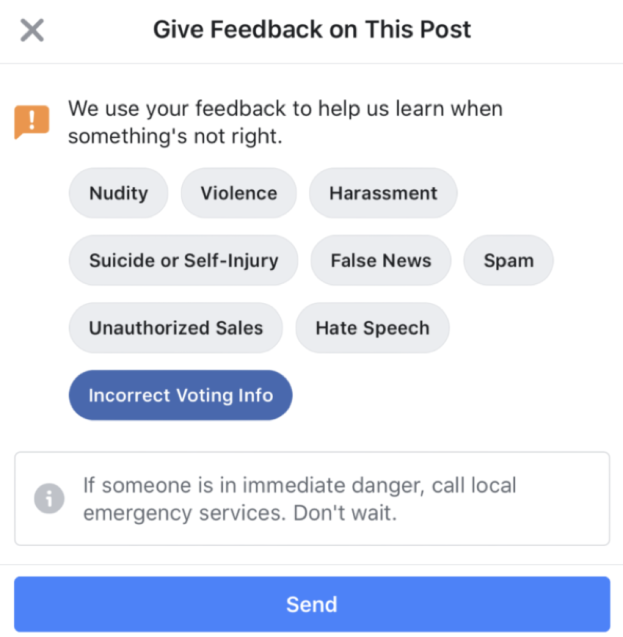 People can now let us know if they see "incorrect voting info" on Facebook
We recognize that some posts that are reported to us may require additional review. For example, we're unable to verify every claim about the conditions of polling places around the world (e.g. "Elementary School Flooded, Polling Location Closed"). In these cases, we will send content to our third-party fact-checkers for review. Content that is rated false will be ranked lower in News Feed, and accompanied by additional information written by our fact-checkers (what we call, Related Articles) on the same subject.
Expanding our policy is just one of the steps we're taking to strengthen the integrity of elections around the world. We're also getting better at detecting and removing fake accounts and increasing transparency across political and issue ads on the platform. You can read more from our CEO Mark Zuckerberg about our work on elections here.