By Deborah Liu, VP, Marketplace
Facebook Marketplace was introduced in 2016 as a place for people to buy and sell within their local communities. It has grown to be a place where people around the world can discover things they love, connect with people locally, launch a business, and earn a living.
Today, more than one in three people on Facebook in the US use Marketplace every month for everything from new shoes to baby gear to cars and apartments.
As we celebrate Marketplace's two-year anniversary, we thought we'd take a moment to share some of the updates we're making to the product, including new features that use artificial intelligence (AI).
Buy and Sell Faster Thanks to AI
We believe AI can fundamentally change the way people shop, and are excited about the potential opportunities and value it can bring to buyers and sellers.
Behind the scenes AI is making Marketplace more efficient and personalized for buyers, as well as helping sellers connect with more potential buyers, faster. AI can automatically improve the quality of photos and translate listings and Messenger conversations.
Today, we're introducing new features that use AI for price range suggestions and auto-categorization. What does this mean exactly? Here's an example: if you wanted to sell your home office chair, Marketplace could use AI to help you sell it even faster by suggesting you price it between $50-75 based on what similar chairs recently sold for. It will also automatically categorize the chair as "furniture" based on the photo and description, so that you don't have to.
We're also testing camera features that could use AI to recommend products you might be interested in. Say you liked your friend's headphones and wanted your own; you could snap a photo of the headphones and Marketplace's AI technology could recommend similar listings for sale nearby.
In the future, AI could help simplify tasks like completing an outfit or home design project. For example, you could upload a photo of your living room and get suggestions on furniture to buy based on your layout and size.
More Shopping Options at Your Fingertips
In addition to adding new AI features, we've added a variety of content from businesses including cars, home rentals, home services as well as shopping and deals from e-commerce merchants.
Today, vehicles is one of the most popular categories for Marketplace globally, alongside furniture and electronics. Since introducing car listings from local dealerships one year ago, Marketplace has become one of the top destinations for people to buy and sell used cars. And I'm one of them. In fact, my family just sold our car to a man who is planning to use it to help grow his small business.
Building a Safe, Trusted Community
When it comes to shopping online, it's important to have confidence in the people and businesses you're buying from. That's why we've invested in features that create a safer and more trusted community, including:
Detecting and Removing Inappropriate Content: Thanks to our AI technology, we are working to detect and remove items that violate our policies by analyzing the images, content, and context within a listing.
Buyer and Seller Ratings: Buyers and sellers can now rate each other to signal whether they had a good or bad experience, as well as leave feedback on where they can improve such as response time, friendliness and reliability. In addition to helping people make more informed decisions on who to transact with, community ratings help create a better experience by promoting good behavior.
More Robust Reporting Tools: Our community helps us make buying and selling better for everyone by reporting content that doesn't belong on Marketplace. If you see an item for sale that you believe violates our Commerce Policies, you can easily report the listing. You can also report buyers and sellers if you see activity that you think shouldn't be on Facebook.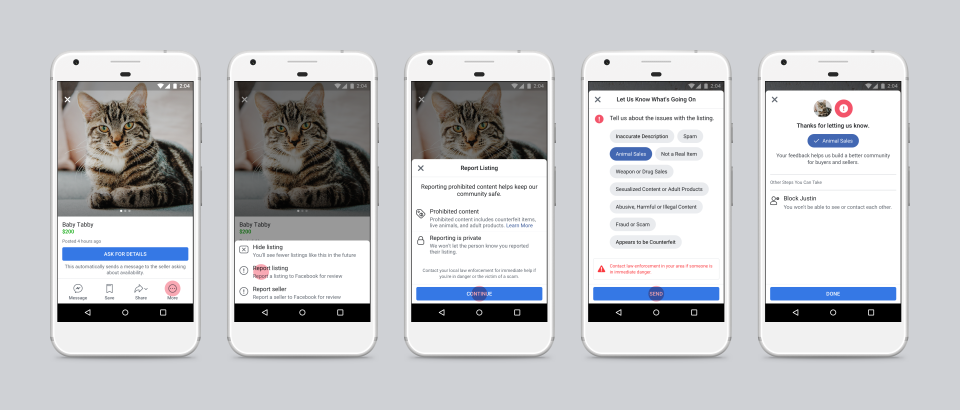 We're continuously exploring ways that could help people make more informed decisions on who to buy and sell with, like badges for buyers and sellers who have confirmed their identity and features that make it easier for sellers to select a nearby public place to meet in person. To learn more about how to buy and sell safely on Marketplace, please visit this link.
We're Just Getting Started
Looking back on the past two years, we're so inspired by people around the world using Marketplace to do amazing things. Stories from people like Ron Rudolph in Minnesota, who bonded with his family and community after losing his wife to cancer by selling birdhouses for a cause. Or Alisa Herrera-Hayman in New Zealand, who uses Marketplace to strive towards a zero-waste lifestyle and help the environment by shopping secondhand. Or the many parents in my local community I've connected with who share the same interests as me.
We'll continue working to deliver new product features to discover, buy, and sell the things you love. So whether that's shopping locally secondhand, finding new items from popular brands, or getting exclusive deals from retailers in time for the holidays, expect to see more from us.
You can start buying and selling on Marketplace by going to Facebook.com/Marketplace.
---
---