Mike Hogan, Product Manager, Civic Engagement
Every day, people use Facebook to engage with their elected officials and make their voices heard on issues they care about. Over 25 million people in the US now follow at least one of their elected officials on Facebook. And in the past month alone, over 4 million people in the US commented on, reacted to, or shared a post by one of their elected officials, including 1.5 million that interacted with a state or local elected official. As part of our effort to foster civically-engaged communities on Facebook, we've developed tools to help people learn about different candidates and get information on when and where to vote ahead of Election Day. Today, we are unveiling a new tool, Candidate Info, which lets people hear directly from their federal, state, and local candidates on why they're running for office, what policy issues they care about, and what they hope to accomplish if elected.
Facebook first began sharing information on candidates ahead of Election Day in 2016. In 2017, we launched Town Hall, which allows people to easily find and contact their elected officials. In developing these products, we learned that what people value most is hearing directly from candidates in their own words. This feedback informed our new Candidate Info tool, which will show both information about the candidates as well as videos created by the candidates themselves. Starting today, people will be able to watch candidates in their region respond to the following prompts in four short videos:
Introduce yourself to voters and tell people about the office you're running for.
What is your top policy priority, and why are you the right person to work on it?
What makes you most qualified to represent your district?
What is the most important goal you hope to accomplish in office and how do you plan to get it done?
These videos will make it easier for people to learn about and compare different candidates — and they'll also be able to see the candidates' Facebook Pages or profiles as well as the political ads on Facebook that are associated with that campaign. The videos can be accessed via News Feed and from "2018 Election" in the mobile menu of the Facebook app.
In addition to helping people learn about the candidates on their ballot, we are also providing information about where to vote through our vote planning tool. And, as in past years, when people visit Facebook on Election Day, they will be able to share with their friends that they voted.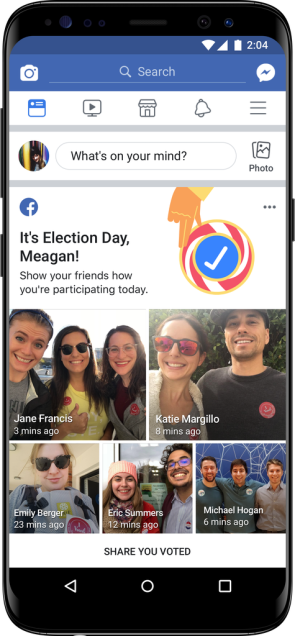 We are constantly working to improve our tools to help people engage with candidates and elected officials in meaningful ways on Facebook. At the same time, we're working hard to prevent bad actors from interfering with elections on Facebook. Over the past year, we've more than doubled the team working on safety and security to 20,000 people, introduced unprecedented transparency requirements for political and issue advertising, greatly improved our ability to detect and quickly remove fake accounts, and stepped up our efforts to fight false news and misinformation.

---
---