By Arti Kulkarni, Product Manager
Update on December 10, 2018 at 2:00AM PT: Today we're introducing the Ad Library Report for ads related to politics in the UK. The report will be released weekly, and will help you more easily view insights about the ads in the Ad Library. You can access the report by selecting "United Kingdom" in the drop-down menu here or through the Ad Library landing page.
Read more about how we're helping to prevent foreign interference in UK elections with the launch of the Ad Library in the UK.
Originally Published on October 23, 2018: 
Today we're introducing the Ad Archive Report for ads in the US related to politics and issues of national importance. It's available to anyone regardless of whether you're a Facebook user or not.
This report will help you more easily find information such as the total number of ads and spend in the archive; searchable tables to find exact spend by advertiser; as well as top keywords searched. It will also provide the Page name; "Paid for by" disclaimer; total number of ads from a particular advertiser; and a link to those ads in the archive. The report is updated weekly and can be accessed through the home page of the Archive. It will be downloadable soon.
Aside from Facebook and Instagram spend for ads related to our election integrity efforts and getting out the vote – totaling over $12M dollars and also housed in our Ad Archive – here are the top spenders: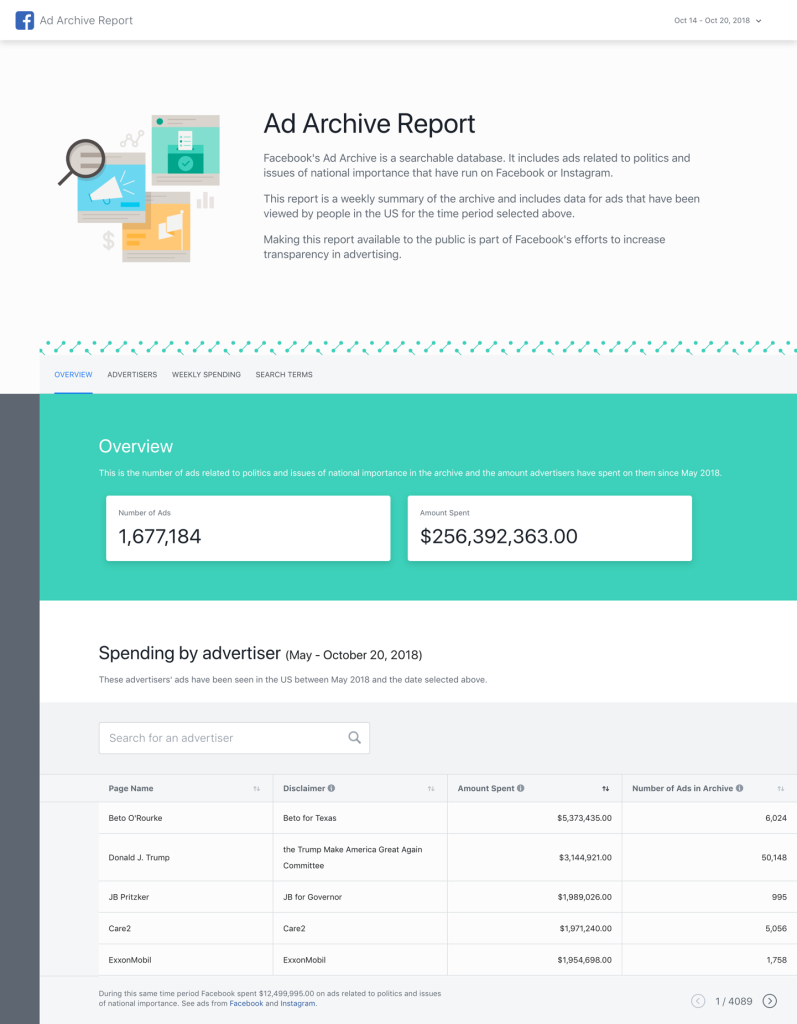 You can start your own search in the Ad Archive, which houses ads for up to seven years and is also now accessible to anyone.
We're also encouraging deeper analysis of the Ad Archive by offering an API. Please fill out the form if you're interested, and we'll reach out after this initial test with a few groups of academics, publishers and researchers. And don't forget to check out other Facebook tools, like Town Hall, to learn more about your local, state, and national elected officials.