By: David Marcus, VP of Messaging Products
When we opened the Messenger Platform in 2016 we set out to provide tools for businesses and developers to connect with people in a way that was personal and productive. Over the past two years, we've been humbled by the tremendous growth on the Messenger Platform, with businesses large and small using Messenger to build incredible messaging experiences and drive business outcomes at scale. To date, there are over 300,000 active bots on Messenger, and over 8 billion messages are exchanged between people and businesses each month; that's 4x the amount of messages exchanged since just last year.
While we're thrilled with this growth, we recognize that none of it would be possible without the people who propel us; the heroes of the platform who are building experiences for the 1.3 billion people who use Messenger every month. Today, there are 200,000 developers actively building experiences, forging connections between people and the brands they love and bringing real value to their everyday lives.
This value has come to life in the form of one-to-one experiences that have delighted customers while driving tangible business results, as well as through chat extensions, which have enabled businesses to enrich people's conversations with their friends and loved ones by making it simple to share content and collaborate.
Today, I'm thrilled to announce the next step in the evolution of the Messenger Platform: the ability for brands to incorporate augmented reality into their Messenger experiences.
AR for the Messenger Platform
With this launch, businesses large and small can leverage the Camera Effects Platform to easily integrate AR into their Messenger experience, bringing the virtual and physical worlds one step closer together. So, when a person interacts with your business in Messenger, you can prompt them to open the camera, which will be pre-populated with filters and AR effects that are specific to your brand. From there, people can share the image or video to their story or in a group or one-to conversation or they can simply save it to their camera roll.
Blending AR effects and messaging solves a real problem for people shopping online. There are so many situations where we need to visualize a product before we feel comfortable buying it. We often seek input from our friends and family before making a purchase. This feature — launching in closed beta — leverages the nature of messaging to help people get valuable, instant feedback about purchases, customizations, and more, without ever needing to set foot in a store. This feature is the latest addition for the Facebook AR Studio, which powers expressive and immersive experiences across our family of apps.
At launch, the following brands will be launching AR effects for their Messenger experiences: ASUS, Kia, Nike, and Sephora. ASUS will be bringing the "unboxing experience" to life with the ability to get a deeper look at phone features and functionalities, and Kia will give people looking to buy a car the opportunity to customize and get up close and personal with the Kia Stinger. Nike is using Messenger to drop a new pair of sneakers, giving people an exclusive sneak peek at them through a curated and visual red carpet experience. And Sephora is making trying on new makeup easier than ever with a selection of looks to try on and share.
Visual messaging has already proven itself to be a powerful way for people to connect with each other; in 2017 alone people shared over 500 billion emoji(nearly 1.7 billion every day) and 18 billion GIFs in Messenger. We're excited to see how this enhances connections between people and the brands they love, while delivering business outcomes at scale.
If you're a business interested in incorporating AR effects into your Messenger experience, you can sign up for our waitlist here and be notified when this feature becomes more broadly available.
M Translations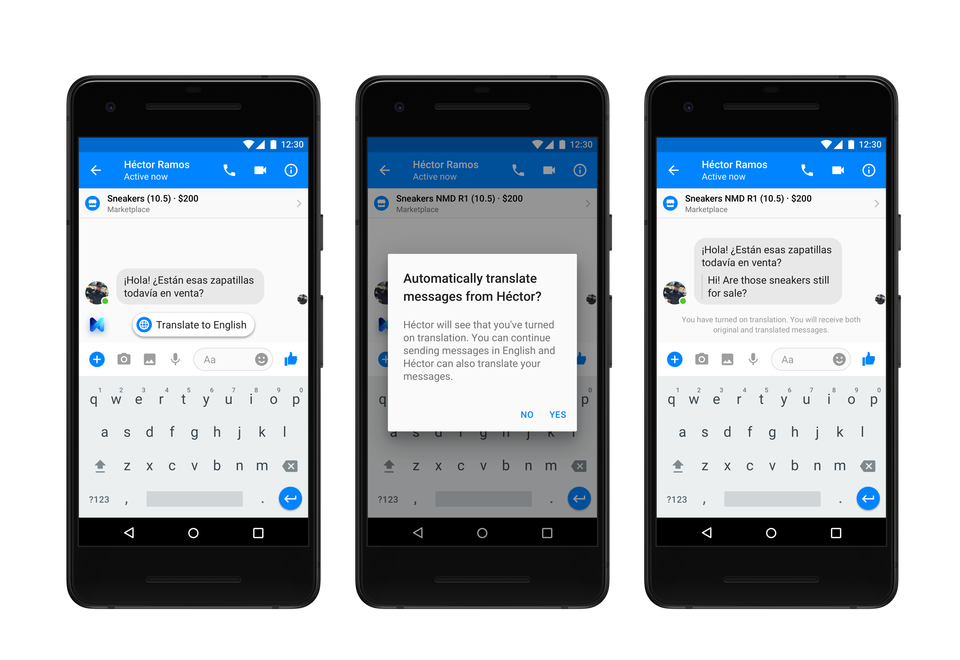 One of the key differentiators for people and businesses using Messenger is the ability to connect and reach people around the world. That's why today we're also thrilled to announce that buyers and sellers in Marketplace will be able to communicate across languages with M suggestions for translations. Now when people connected through Marketplace receive a message in a language that is different from their default language in Messenger, M will ask them if they want to translate the message. This will help drive commerce between buyers and sellers despite language barriers. At launch, translations from English to Spanish (and vice-versa) will be available in Marketplace conversations taking place in the US.
We plan to expand this feature and gradually roll out M suggestions for translations to people using Messenger in the US in the coming weeks, and as we continue to iterate and improve upon the translation experience in Messenger we will launch this functionality in additional languages and countries.
We can't thank enough the businesses and developers that continue to build on the Messenger Platform and amaze us and their customers with unique and engaging experiences. In two short years, we've seen the platform go from zero to where we are today, and we still feel like we're just getting started. Messenger is gaining momentum at scale as we continue to invest in new platform features and improve existing ones thanks to the feedback from our community. We can't wait to see how businesses and brands will leverage these tools going forward.