By Asha Sharma, Head of Product, Social Good
Every day, people start Facebook Fundraisers to support the causes that matter to them. Today, we're announcing new features to make your fundraisers more impactful:
People can pledge to match donations to their nonprofit fundraiser. This is a first of its kind tool in online fundraising that's now available in the US and will soon expand internationally.
We're also announcing new categories for fundraisers for personal causes so people can raise funds for more social good causes across family, faith, travel, and volunteering.
In the coming weeks, we're eliminating the platform fee on all fundraisers for personal causes, helping maximize their support.
Matching Donations to Your Nonprofit Fundraiser
People often pledge to match donations to their Facebook Fundraisers, and we wanted to make that easier. David Smith lost his sister in a car accident in 2013, and this year for his birthday, he started a fundraiser for Mothers Against Drunk Driving (MADD). He told family and friends that if he could raise $100, he would match their contribution. People rallied around the cause and raised $2,360 — more than 10x his original goal.
We want to help everyone to meet and exceed their fundraising goals through matching donations. Now people who create fundraisers can pledge to match donations up to the amount they choose, from $5 to $2,500, helping them build momentum for their cause.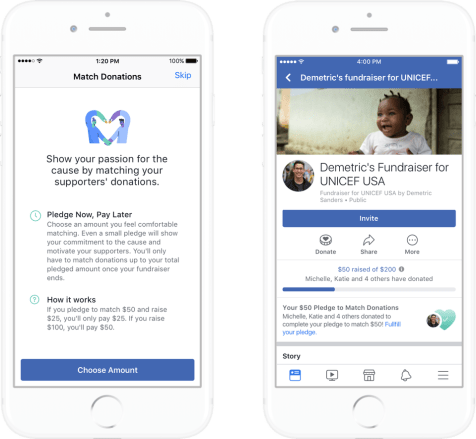 More Ways to Make an Impact for Personal Causes
People on Facebook have raised money for many personal causes, including loved ones who need critical surgery, teachers needing school supplies for their students, and families in need after losing everything in a fire. We've added more categories for fundraisers for personal causes to give people more options to raise critical funds for themselves, a friend, or something or someone not on Facebook.
Based on feedback from our community, we're adding fundraiser categories for family (like adoption or new baby supplies), faith (like missions or religious community events), travel (like educational trips or travel for medical needs), and volunteering (like volunteer programs or supplies) causes. We've already seen examples of people using these new categories, like Lauren Pyskoty who started a fundraiser to support her first mission trip and raised $1,328. These are in addition to existing categories for personal fundraisers: community projects/groups, sports/competitions, education, medical, pets/animals, personal emergency, crisis relief, and memorial/loss.
We're inspired by the many ways people have come together to support one another. In the coming weeks, we're eliminating the platform fee on all fundraisers for personal causes, so that people can maximize their fundraising support. There will still be a small fee charged for payment processing and applicable taxes.
To create a fundraiser for a nonprofit or a personal cause, visit facebook.com/fundraisers or tap the Fundraisers bookmark on your Facebook app. You can choose the cause you want to support, share why it's important to you, and follow the steps to set up your goal.
We know people care a lot about the organizations and causes they support. We're grateful for their passion and for the feedback that helps us build better tools to help them reach their fundraising goals.
---
---