By the Messenger and Facebook Games teams
What a difference a year makes. Just over a year ago, we launched games on Messenger and introduced the Instant Games platform to developers, enabling them to build customized gaming experiences for both Messenger and News Feed. When we first launched, we had 20 games available in just 30 markets. Now, we have over 70 games from more than 100 developers available worldwide. This progress is exciting, but even more than that, we've been thrilled at the response over the last year from both the people playing and the developers building.
Games are an authentic extension of the connection people feel in Messenger — a fun, interactive and powerful way to connect to people you chat with daily or friends and family who live far away. It's with this spirit we're introducing two new features to Instant Games that will help you engage and connect with those you care about in new and different ways.
First, we're launching live streaming, which will start to roll out today, to gamers who love to share their playthroughs and engage in a little smack talk. The new live streaming capability via Facebook Live makes it simple for people to play and share their experiences with those who love games on Messenger. It's easy to get started: while playing a game, tap the camera icon located in the upper right corner of the game. Once selected, you can choose the audience you want to broadcast to and add a short description to say something about your video. To start recording, just press the "Start Live Video" button. Once the broadcast ends the video will be published to your Page or profile so that fans and friends who missed it can watch at a later time. You can remove the video post at any time, just like any other post.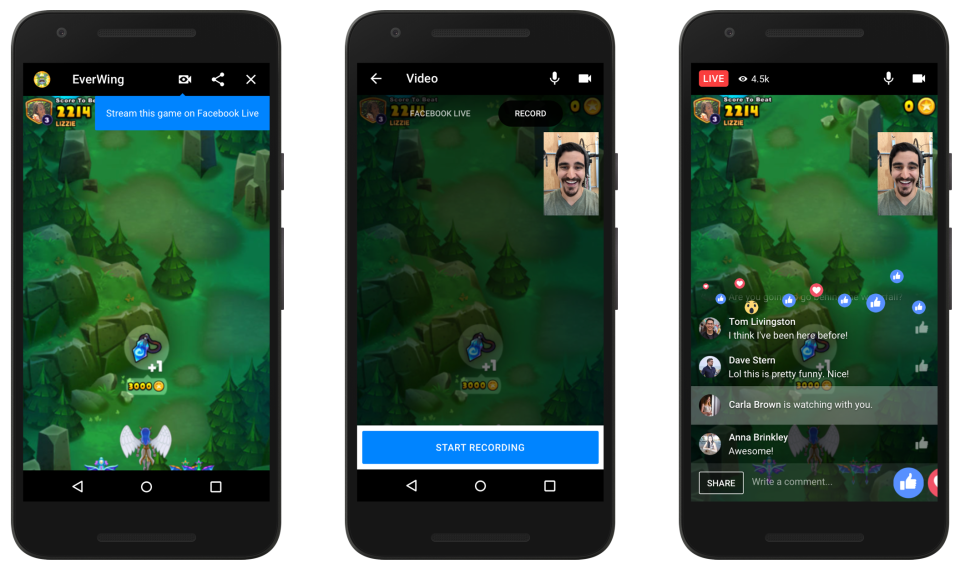 Video chats are a great way for people to connect, discuss and share moments with each other when text just isn't enough. Over 245 million people video chat every month on Messenger, with the option to use fun effects and capture pictures of their moments together. We're excited to begin a test soon that will enable people to play games with each other while video chatting. When this feature is introduced early next year, Words With Friends from Zynga will be the first game to use it and allow friends to watch each other's reactions as they run up the score.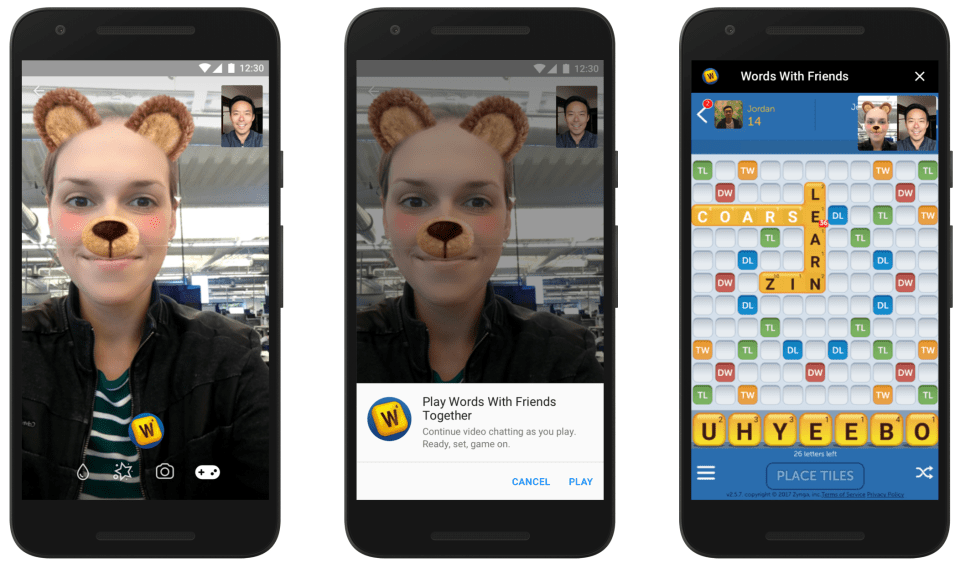 We're also thrilled to welcome a handful of new games coming soon that all have one thing in common — they're some of the world's most popular game franchises of all time, reimagined for the Instant Games platform.
Launching globally in early 2018 is none other than Angry Birds, a new game built for Messenger that will feature classic gameplay with an exciting new way to challenge friends. Angry Birds will join the recently launched Tetris®, which includes beloved features like marathon mode and the ability to play with friends in Messenger group chats. Both games are built by CoolGames, an Instant Games platform developer.
In the coming weeks and months, we'll have even more epic games launching on Messenger:
Sonic Jump from SEGA, developed by SEGA HARDlight, will introduce a new, arcade style adventure to Messenger, featuring classic Sonic enemies, power-ups and traps as players challenge friends to see who can jump the farthest. Sonic Jump is rolling out now in select regions and will launch globally in the coming weeks.
Disney Tsum Tsum, published by LINE and launching in 2018, will bring beloved Disney characters to Messenger as players collect, connect and pop Tsum Tsum based on the popular Disney Tsum Tsum plushes.
GungHo Online Entertainment, Inc., makers of the hit game Puzzle & Dragons, will launch a new casual puzzle game for both existing Puzzle & Dragons fans and new players to enjoy.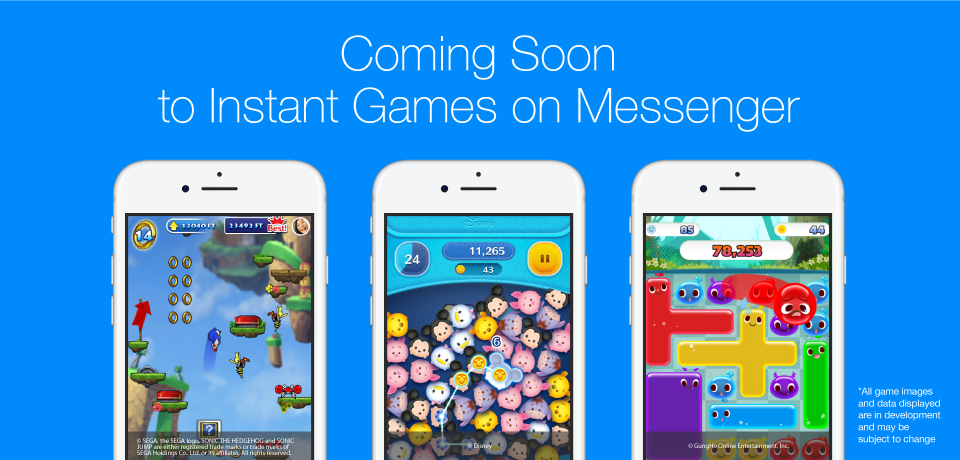 Finally, after a year of incredible gaming experiences, we asked a few of our game developer partners to share their favorite facts since launching their game on Messenger…check it out: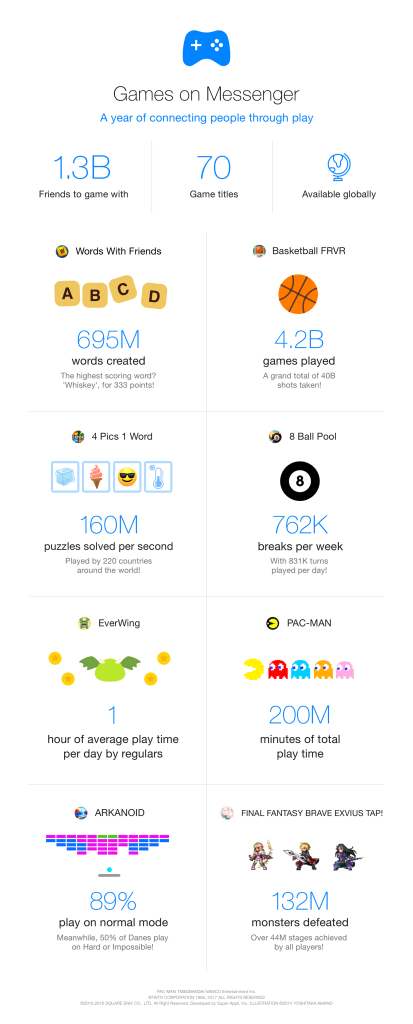 We're so glad that people are embracing the amazing experiences game developers are building for Instant Games. To the people who continue to enjoy, share, compete and challenge themselves and their friends to games on Messenger, thanks for playing and game on.
---
---