By the Messenger Team
December 3rd 2017 marks the 25th anniversary of the first SMS text message ever sent. In case you were wondering, it was a simple greeting dispatched by software engineer Neil Papworth. Cell phones were much larger, and connection times were much longer. Since that pivotal moment, technology has changed, and alongside it the art of conversation has evolved immensely. Billions of people now use messaging as their preferred way to connect with the people and businesses they care about, from sending a note to tell someone you miss them to sharing an inside joke; from wishing someone a happy birthday to saying you're thinking of them during a tough time.
We know messaging is more important than ever. In fact, 80 percent of adults and 91 percent of teens message every day, according to a recent study we commissioned. With more technology in our hands, we have the ability to connect and share with people across the globe – more than any other generation.
At Messenger, we believe in the power of messages to make meaningful connections. We believe in their power to engage and unite the people who make use of them. With this study, we wanted to dig deeper into how our global conversation has evolved and get a glimpse of where it is going, plus understand if some commonly believed myths were true. What we found is that messaging turns out to be not a wedge, but instead a bridge bringing us closer together.

Now let's explore some of the key trends and takeaways from the study.
More Devices Lead to More Communication
Some believe that the digital age has its tradeoffs in communication. But our study reveals that the diverse toolkit of channels available has improved and deepened the way people connect with others.
Messaging is a core part of everyday life: 80 percent of adults (age 19-64) and 91 percent of teens (age 13-18) across the globe message every day
There has been an increase in the amount of communication over the past two years: People have increased their usage of various channels, but the top five include messaging (67 percent), social media (48 percent), email (47 percent), video chat (47 percent) and face-to-face (38 percent) communication
More modes of communication = greater social satisfaction: As modes of communication increase, people report having greater and more authentic conversations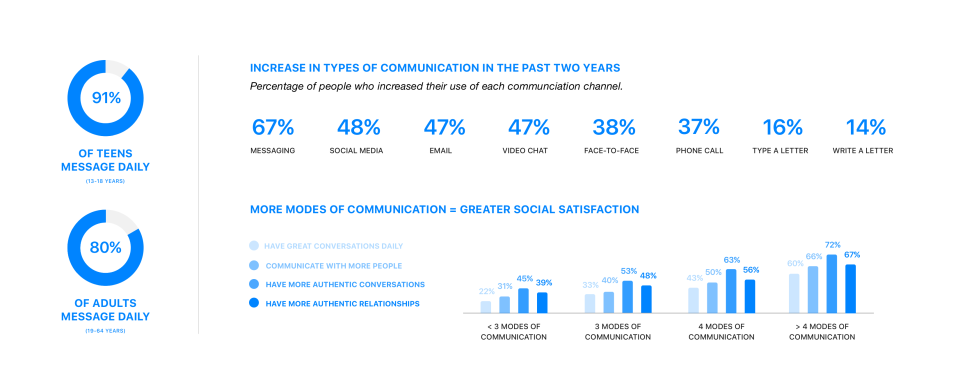 Sidebar Conversations Strengthen Relationships
Sidebar conversations – the secret non-verbal chats we have on our phones whilst in meetings, at dinners, watching TV shows – get a bad rap. Our research tells us they are on the rise and taking place around the world. Naturally, they must be serving a purpose. So what is it? We learned that the "sidebar" is drawing more people together, facilitating close relationships and promoting intimacy.
Most people admit to sidebar conversations: Most people (71 percent) have sidebar conversations, and 62 percent of those that do say messaging makes them feel closer to friends (versus 36 percent of those who don't sidebar)
Sidebar conversations are happening around the world: People across various countries and age groups indulge in sidebar conversations, with millennials (82 percent) and teens (79 percent) most likely to sidebar
Sidebars happen in social settings: Sidebar interactions occur primarily at social events and family gatherings; survey respondents cite their power to strengthen relationships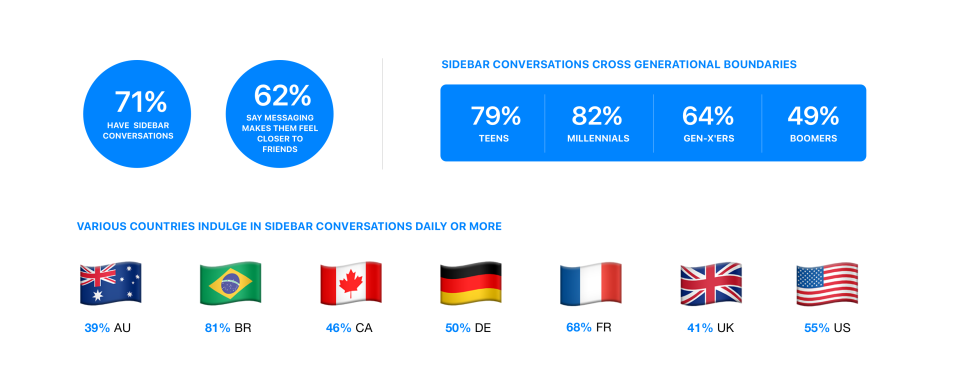 A New Language of Hieroglyphics
Human history has shown that images are worth more than words. With the rise of visual-based communication, we're returning to more visual expressions driven by a desire for intimacy in a hectic world with an urgent need to release emotions. This is reflected in a new vocabulary of emojis, GIFs and camera-based messaging, which is making us more expressive than ever before.
Visual messaging is the new universal language: Most people (57 percent) have responded to a message with a GIF, while 56 percent have sent a message using only emojis
Emojis and GIFs are ageless: 77 percent of people over the age of 55 use emojis to communicate while more than half (53 percent) use GIFs
Visual messages lead to great conversations: People who frequently communicate with visuals have more "great conversations" compared to those who don't use visuals as often

Keeping in Touch Thrives as Never Before
Many report that messaging has replaced other forms of communication in their lives. But across the world, face-to-face conversations continue to rise, suggesting that there may be a correlation between more messaging and greater in-person connections.
Messaging replaces other communication channels: Half the population reports messaging has replaced their other forms of communication; 67 percent of people are messaging more than they did two years ago
More messaging = greater in-person connection: People who message more are 52 percent more likely to be also talking face-to-face more, as compared to someone who is not messaging more
Face-to-face conversations are increasing all over the world: All markets surveyed are doing more talking in person, but Brazil (+33 percent), France (+22 percent), Germany (+21 percent) and the US (+20 percent) have seen the highest increase in face-to-face interactions

People Are Finding Their Authentic Voices
For some people – particularly those less comfortable with other forms of communication – messaging opens up doors to more authentic dialogues. Our study shows that messaging removes filters and an emotional burden. People are bolder, more impulsive and more honest when they communicate. This, the survey results suggest, leads to more authentic conversations.
Those that are messaging are having more authentic conversations and relationships: 66 percent of people who message say they have more authentic conversations; 61 percent have more authentic relationships
First comes dating app, then comes messaging: One third of people (34 percent) who started a conversation on a dating app will continue their conversation through messaging, compared to a quarter of people (26 percent) who continue conversations in person
Genuine conversations are the best conversations: For a conversation to be great, people cite it must be genuine first and foremost (64 percent), followed by thought-provoking (49 percent) and entertaining (48 percent)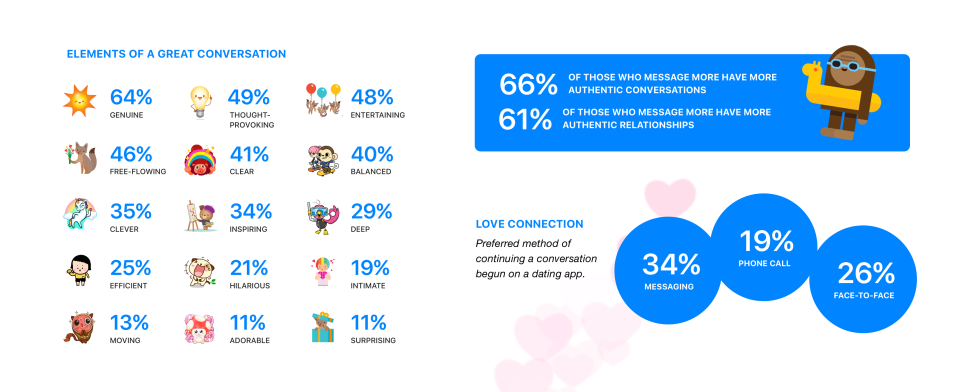 With the future of messaging looking more promising than ever, we hope you continue to use Messenger to connect with the people you care about most.
---
---