By Naomi Gleit, VP Social Good
Today at the second annual Social Good Forum, we announced new tools and initiatives to help people keep each other safe and supported on Facebook.
Mentorship and Support, a new product where mentees and mentors come together to connect and interact directly with each other and progress through a guided program developed by nonprofit organizations
Eliminating nonprofit fees, 100% of donations made through Facebook payments to nonprofits will now go directly to those organizations
Facebook Donations Fund, $50 million annual fund for 2018 to help communities recover from disaster by direct contributions and matching dollars, to increase the impact of our community's support during crises like a major natural disaster. The fund will also help more people support causes that they care about, as well as help nonprofits increase the amount raised by their supporters for campaigns like Giving Tuesday
Charitable giving tools expansion, people can now create fundraisers in places like Europe, Australia, Canada and New Zealand
Fundraisers API, the ability for people to sync their off-Facebook fundraising to their Facebook fundraisers
Community Help API, a new tool that will give disaster response organizations access to Community Help data, offering important information about the needs of people affected by crises so that they can respond
Blood donations feature, more than 4 million donors in India have signed up, expanding to connect blood banks and hospitals to donors through blood donation events, and introducing the feature in Bangladesh in early 2018
Introducing Mentorship and Support
Mentorship and Support is a new product that connects people who may need support and advice to achieve their goals with people who have the expertise and experience to help. The mentee and mentor are matched by a nonprofit partner organization and work through a step-by-step program on Facebook developed by the nonprofit organization and tailored to the needs of the mentee.
We are starting as a pilot with iMentor (for education) and The International Rescue Committee (for crisis recovery.) Our goal is to expand these tools to help connect people around a variety of causes like addiction recovery, career advancement, and other areas where having someone you can count on for support can make all the difference.
We take privacy and security very seriously, and this product is being built with both in mind. It is only available to people 18 years and older. Mentors are vetted by the partner organizations before they are matched with mentees, and people can also report issues to Facebook if they encounter problems.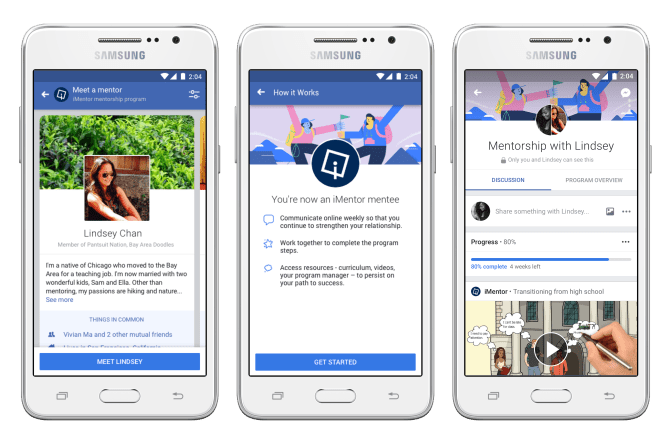 Expanding our charitable giving tools globally
Nonprofit fundraising tools (including donate buttons and nonprofit fundraisers) allow people to raise money for nonprofit organizations, and are now available in the United Kingdom, Ireland, Germany, France, Spain, Italy, Poland, the Netherlands, Belgium, Sweden, Portugal, Denmark, Norway, Austria, Finland and Luxembourg.
Personal fundraisers allow people to raise money for themselves, a friend or something or someone not on Facebook, and are now available in the United Kingdom, Ireland, Canada, Australia, Germany, Spain, Italy, Netherlands, Belgium, Portugal, Austria, Finland, Luxembourg, Sweden, Denmark and New Zealand.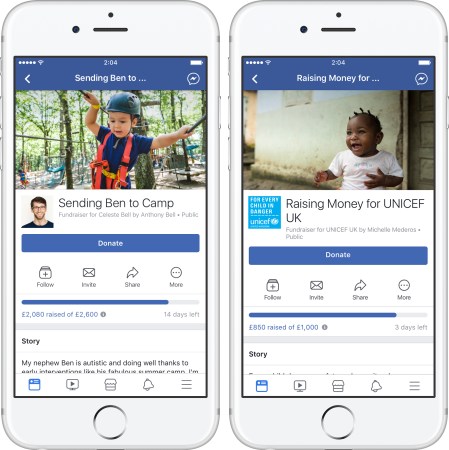 New Fundraisers API
People will be able to sync their off-Facebook fundraising efforts to Facebook fundraisers, making it easier to tell friends and family about the causes they support on and off Facebook. When people connect their off-Facebook fundraising campaign with Facebook, it creates a Facebook fundraiser that syncs with their campaign page.
Connecting to Facebook can help participants meet their goal faster by allowing them to easily reach all of their Facebook friends. Friends can share the fundraiser with others, spreading the word and reaching new donors. And donors can give in just a few taps without ever leaving Facebook. We are starting with Susan G. Komen, JDRF, National Multiple Sclerosis Society and Movember, and will be rolling this out to 500 additional nonprofits by the end of spring 2018.
New Community Help API
Earlier this year we announced Community Help, a crisis response tool where people can ask for and give the help they need to recover following a crisis. We are now introducing a Community Help API, which will give disaster response organizations access to data from public Community Help posts that can offer important information about the needs of people affected by a particular crisis. We are piloting the Community Help API with NetHope and the American Red Cross. Our hope is that this data will help organizations coordinate information and response resources as fast as possible. We plan to announce more partnerships soon.
Expanding Blood Donations Feature
In October, we launched a new blood donations feature, starting in India, to make it easier for people to donate blood. There are now more than 4 million blood donors signed up on Facebook in India. In addition to enabling people in need to connect to blood donors, our tools also allow organizations to connect to donors more efficiently. Hospitals, blood banks and non-profits can create voluntary blood donation events on Facebook, and nearby donors are notified of the opportunities to donate blood. In early 2018, we will expand blood donations to Bangladesh, where, like India, there are thousands of posts from people looking for blood donors every week.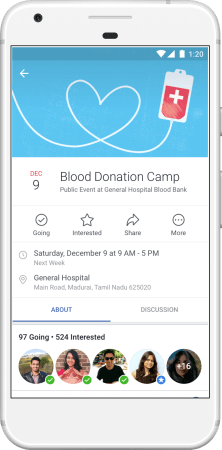 We are constantly inspired by all the good that people do on Facebook and are committed to continuing to build tools that help communities do more good together.
Downloads:
Social Good Forum Live Broadcast
Social Good Forum Event Photos
Social Good Products Screenshots & Demos
Social Good Forum One Pager