By Alex Deve
In June, we hosted our first-ever Facebook Communities Summit in Chicago with hundreds of Facebook group admins. Since the Summit, we've been busy building tools and programs that will help them grow and manage their communities, and today we're announcing several of them:
New Tools for Admins and Members
Welcome Posts: For admins, welcoming new members and making them feel supported is critical to building community. To help them introduce new members to the group, admins can now write a welcome post that will automatically tag new joiners.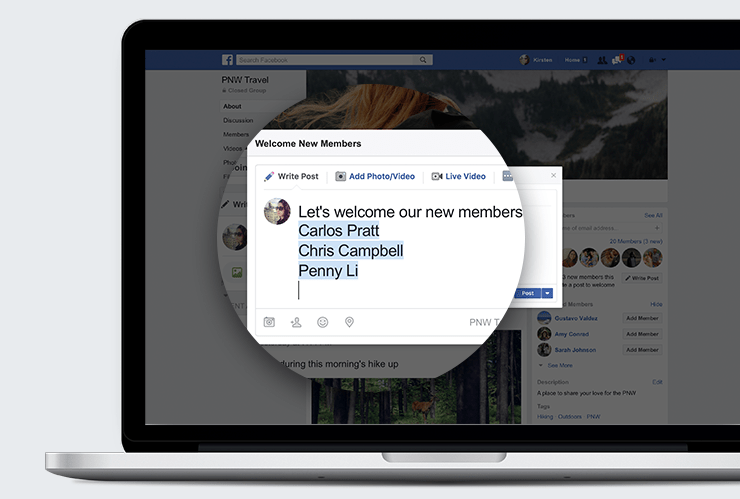 Badges: We also heard that members want ways to easily identify group leaders and other members. That's why we've also introduced badges for group admins, moderators and new members.
Member profiles: Many people also tell us they often get to know other group members by reading their group posts and visiting their profiles. To help make this easier, we're introducing a new feature called member profiles. Now, when group members click on another person's name they will be directed to a group-specific profile, based on publicly-available information like things they may share in common and a feed of that person's activity in the group.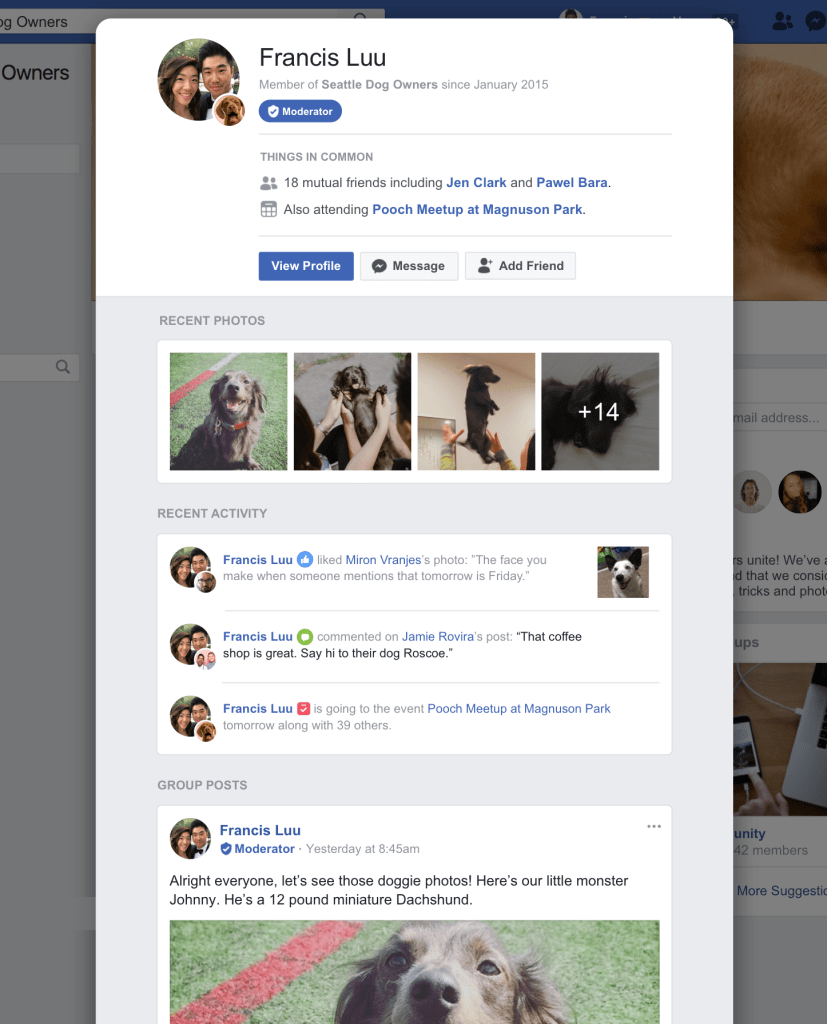 New controls: Finally, many admins spend hours each week making sure their Facebook groups stay supportive and safe, so we've built new features to help group admins grow and manage their communities.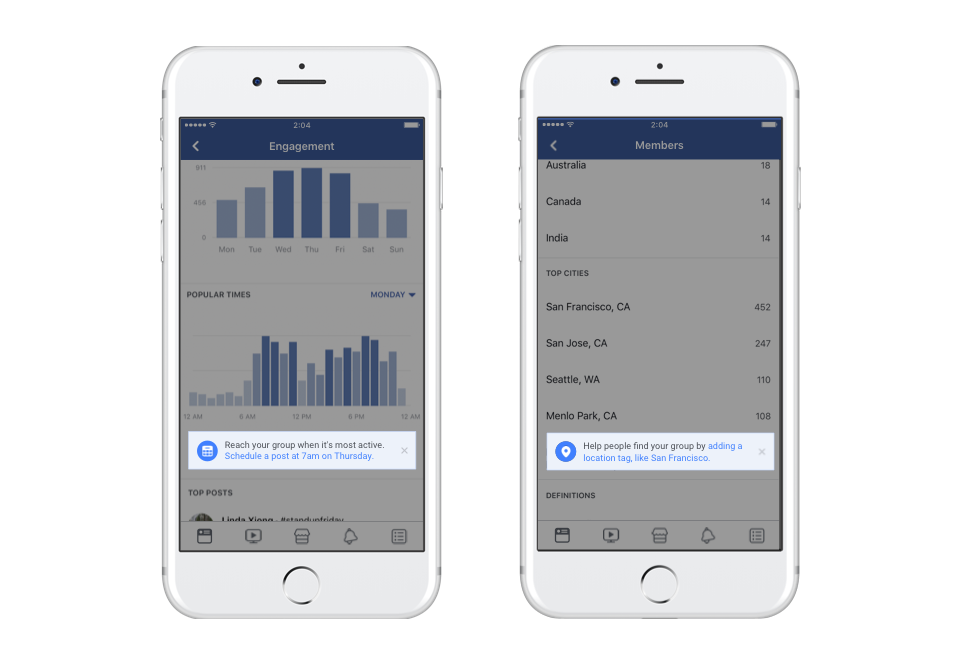 We've expanded the Group Insights tool to include helpful personalized tips, like scheduling posts at times when members are most engaged. We've also heard that conversations in even the most supportive groups can sometimes get heated, so we've created more tools for admins to manage members that might have forgotten group rules of conduct. Admins can now temporarily turn off a member's ability to comment and post, and remove members who violate their community's rules from multiple groups they manage in a single click.
Building Relationships with Group Admins
We loved getting to know group leaders at the Facebook Communities Summit, and we got to learn a lot more about the groups they manage: for example, we learned that most common categories of meaningful groups on Facebook in the US include local city and neighborhood groups, pregnancy and parenting groups, animal and pet groups, and occupation-focused groups. To give the admins of these groups more opportunities to connect with other community leaders, we started an invite-only group on Facebook where they can connect with one another and share feedback about their experiences, so we can provide the support they need to serve their communities. We're also exploring programs to help these leaders meet up in person and keep the connection going— we'll be announcing more about these new programs soon.
Leaders Inspiring Change
Since the Facebook Communities Summit, we've seen people use Facebook Groups to impact inspiring real-world change in their communities:
In their first philanthropy project, Grown and Flown Parents used their group to raise money and buy dorm supplies for 225 first-generation freshmen at the University of Texas, helping these hard-working students get off to college on the right foot.
Physician Moms Group (PMG) and Show Me Your Stethoscope rallied help in times of crisis, deploying first-response services and donations in the walk of Hurricanes Harvey and Irma, and raising over $15,000 to send food to first-responders following the Las Vegas shooting.
Mendleton is a group of more than 40,000 active duty and veteran Marines. Through dialogue and camaraderie within their group, they've worked to provide support for servicemen and have prevented more than 100 suicides to date. They've also started a non-profit called the Mendleton Foundation, committed to ending military suicide.
We've learned so much from working with group admins already, and this is just the beginning. There's a lot more work to be done and we look forward to continue building the tools they need to bring the world closer together.