By Mike Nowak, Product Director, and Guillermo Spiller, Product Manager
As Mark Zuckerberg announced today, we reached a new milestone: there are now 2 billion people connecting and building communities on Facebook every month.
This wouldn't have happened without the millions of smaller communities and individuals who are sharing and making meaningful contributions every day. Each day, more than 175 million people share a Love reaction, and on average, over 800 million people like something on Facebook. More than 1 billion people use Groups every month.
To show our appreciation for the many ways people support one another on Facebook, we will share several personalized experiences over the coming days.
Good Adds Up Video
We are launching a personalized video to celebrate bringing the world closer together. You may see your video in your News Feed or by visiting facebook.com/goodaddsup.
Celebrating the Good People Do
After someone reacts to a friend's post with Love, wishes someone happy birthday or creates a group, they will see a message in News Feed thanking them.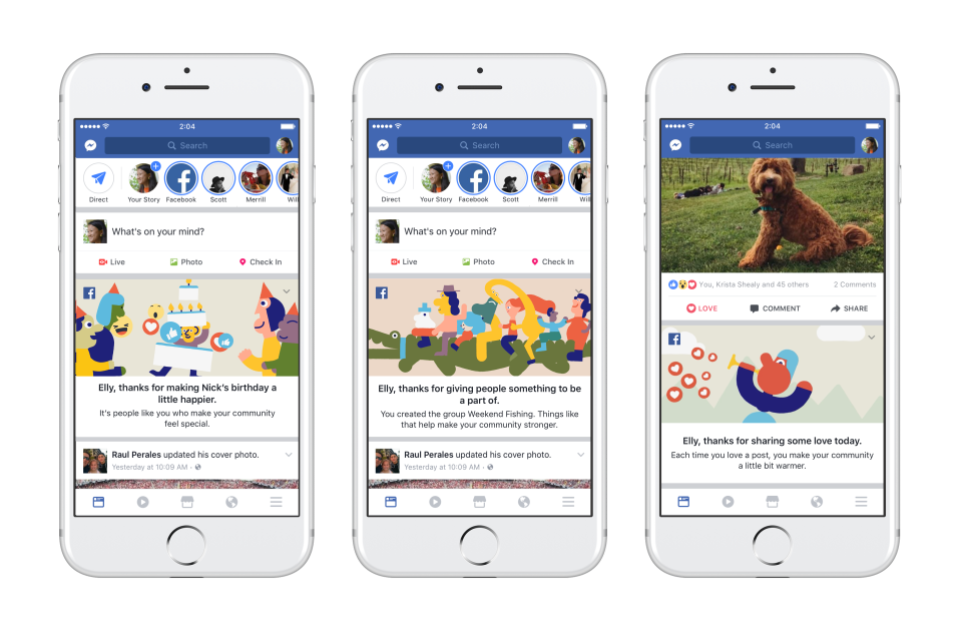 Sharing Community Stories and Impact
On facebook.com/goodaddsup, we are featuring fun facts about how people are contributing to the community. In the US, we are also sharing stories of people who inspire us. Every day, people connect with one another, contribute to their local communities and help make the world a better place.
We want to help do our part as well. As Mark mentioned last week at the Facebook Communities Summit, our mission is to bring the world closer together. Reaching this milestone is just one small step toward that goal. We are excited to continue to build products that allow people to connect with one another, regardless of where they live or what language they speak.
Thank you for being part of our global community!
---
---