By Ali Ahmadi, Product Manager, and John Angelo, Product Designer
Redesigned Trending Results Page
Starting today, we're introducing a redesigned Trending results page, which is the page you see when you click on a Trending topic to learn more about it.
You've always been able to click on a topic to see related posts and stories, but we've redesigned the page to make it easier to discover other publications that are covering the story, as well as what your friends and public figures are saying about it.
You'll be able to see the new results page on iPhone in the US, and we plan to make it available on Android and desktop soon.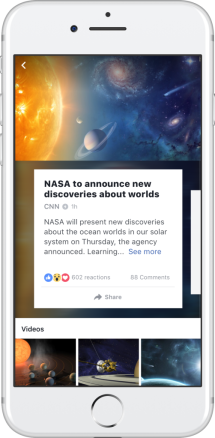 Now, when you click on a Trending topic, you'll see a carousel with stories from other publications about a given topic that you can swipe through. By making it easier to see what other news outlets are saying about each topic, we hope that people will feel more informed about the news in their region.
The stories that appear in this section are some of the most popular stories about that topic on Facebook. These stories are determined the same way as the featured headline — using a combination of factors including the engagement around the article on Facebook, the engagement around the publisher overall, and whether other articles are linking to it.
There is no predetermined list of publications that are eligible to appear in Trending and this update does not affect how Trending topics are identified, which we announced earlier this year.
Making Trending Easier to Discover On Mobile
One of the things we regularly hear from people who use Trending is that it can be difficult to find in the Facebook mobile app. We're soon beginning a test in News Feed that will show people the top three Trending stories, which they can click on to see the full list of Trending topics and explore what people are discussing on Facebook.
While most people will not see Trending in their News Feed as part of this small test, we hope that it will help us learn how to make Trending as useful and informative for people as possible. If you do see the Trending unit in your News Feed, you have the option to remove it in the drop-down menu which will prevent it from being shown to you in the future.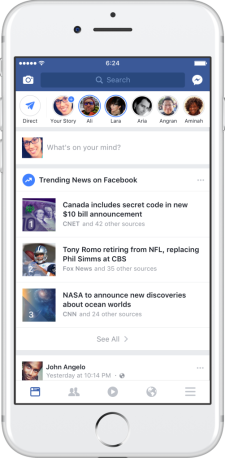 As before, we continue to listen to feedback about Trending and will keep making improvements in order to provide a valuable experience.