Choose from More than 5,000 Frames, Effects and Stickers to Make Today Your Day
By Stan Chudnovsky, Head of Product for Messenger
At the end of last year, we launched Messenger's new fast, powerful built-in camera to help make your conversations better than ever. Billions of photos and videos have been sent capturing all those heartfelt, funny and serious messages that make the Messenger community so powerful. We love seeing how much fun people are having with Messenger's new visual tools, especially our most popular art and effects like floating hearts and recently, Mardi Gras frames.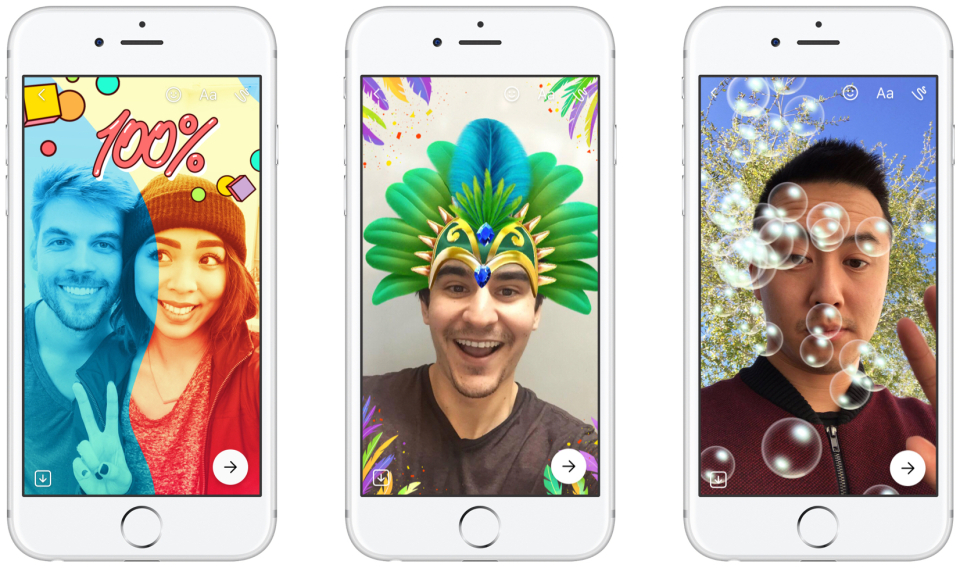 At the same time, we also began testing a way for you to share these photos and videos — as they happen — by adding to your Messenger Day, where many of your friends can view and reply to them. You're always in control of who can see your day — share it with everyone, or choose specific friends and family members on Messenger. Since everything you add disappears after 24 hours, feel free to add as often as you want. Millions of people around the world have already used Messenger Day to show what they're doing, how they're feeling and to invite friends to join them for activities — or just to chat.
Today we are starting to roll out Messenger Day globally on Android and iOS.
Here's how Messenger Day works:
First make sure you've updated your Messenger app so you have the latest version.
Open Messenger, and tap on the camera highlighted with a sun to celebrate this launch. Doing so drops you right into the full-screen camera. Or, tap the "Add to your day" button at the top of your inbox to get started.
Snap a quick selfie or take a photo or video of what's around you.
To add art and effects, tap the smiley face icon in the top right and then tap to add to your photo or video. You can also add text over your images by tapping the "Aa" icon, and you can overlay a drawing by tapping the squiggly line in the top right corner.
Once you have your photo or video the way you want it, tap the arrow in the bottom right corner. You can then add directly to your day, save it to your phone's camera roll, and/or you can choose to send it to a specific person or group of people. The photo or video that you add to your day will be viewable for 24 hours.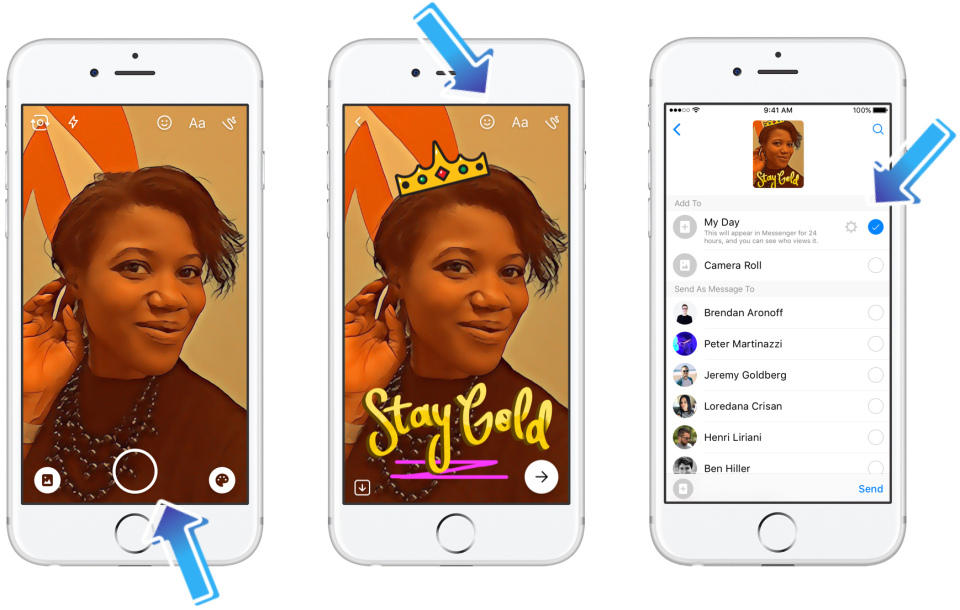 You can also add to your day from a conversation you're having with a friend or group of people. After you send a photo or video, you'll see the option to "add to your day." Simply tap that text, and you'll be asked to confirm you'd like to add it to your day.
While you're messaging with someone, you'll see if they have anything new from their day, too.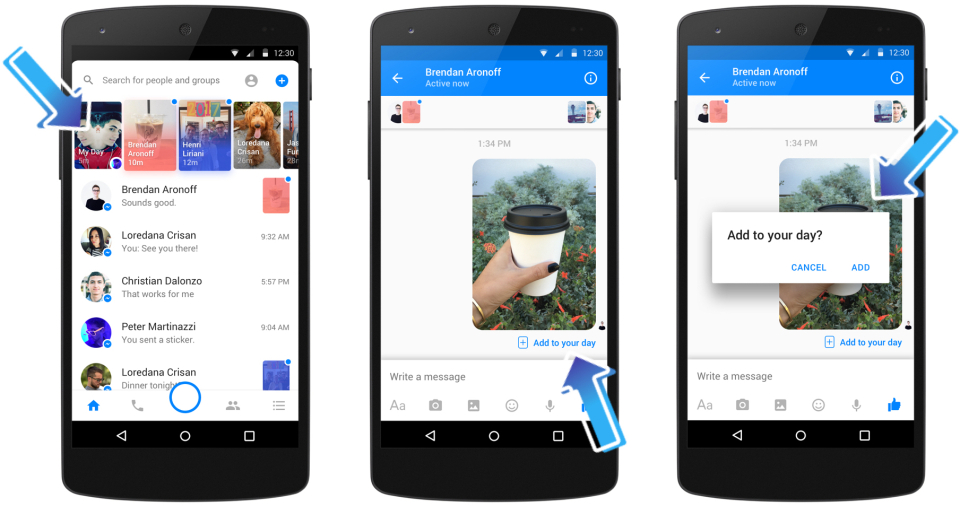 Of course it's up to you if you want to share your day with everyone you talk to in Messenger or just your closest friends and family. You can customize how you share by tapping the "more" icon and then choosing "Everyone Except" or "Custom." If you share something to your day that you decide you want to take down, just tap the image at the top of your inbox, then tap the three dots at the bottom right hand corner of your image, and then select "Delete."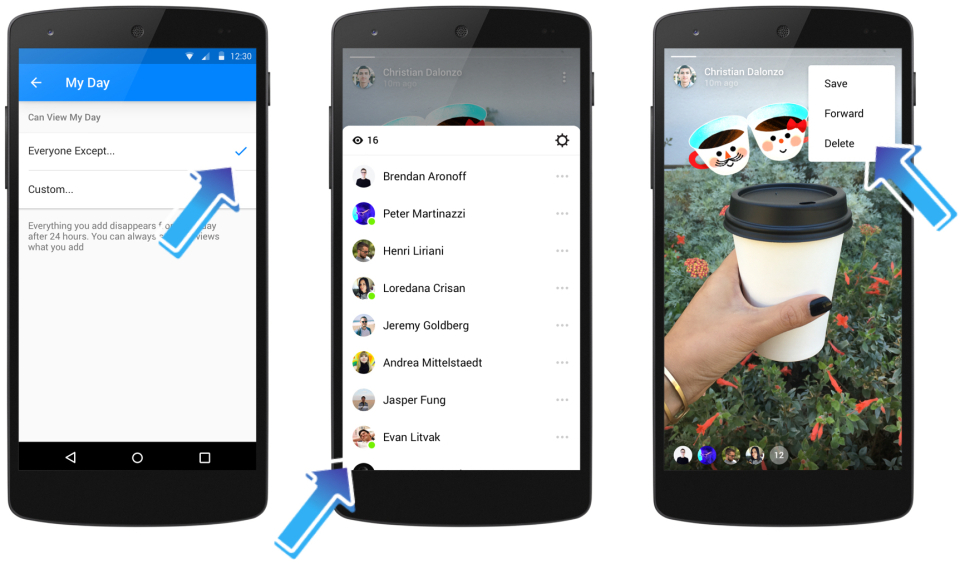 We also shared Messenger Day with a few creative users. Check out the frames they designed here:
For more information on Messenger Day, be sure to check out the Help Center.
---
---