By Maxine Williams, Global Director of Diversity
On March 8, Facebook will celebrate International Women's Day with a 24-hour around-the-world live broadcast, celebratory artwork that people may see in News Feed directing them to the experience, as well as many other ways to support the day.
Women everywhere give their all to build and support a global community that works for everyone. This is especially true when it comes to women who run businesses. We're proud that 40% of business Pages on Facebook are women-owned, a number that has increased 60% from 2015 to 2016*. When women do better, communities and economies do better. Hear more from Sheryl on the importance of the day to celebrate women's progress and achievements.
Facebook stands for bringing us closer together and aims to build, strengthen and empower a global community. We have several ways the community can show their solidarity through the many women-led and supported activities happening on Facebook Live, Pages, Groups, Events and Fundraisers.
#SheMeansBusiness 24-Hour Around-The-World Facebook Live Broadcast
Through #SheMeansBusiness, a program that Facebook launched last year to support, celebrate and empower women entrepreneurs and women-owned businesses, we will host a global Facebook Live event. For 24 consecutive hours, policy makers, female business owners, entrepreneurs, NGOs and leaders around the world will use Facebook Live to share inspiration, impart knowledge and discuss topics of women in business. The first conversation will go live on March 7 at 7:30AM PST and go around the world for a full day.
Everyone can join and start their own conversation on Facebook to celebrate female leaders, entrepreneurs, industry role models or business owners. Use the #SheMeansBusiness hashtag in all Live conversations or posts that celebrate women in business.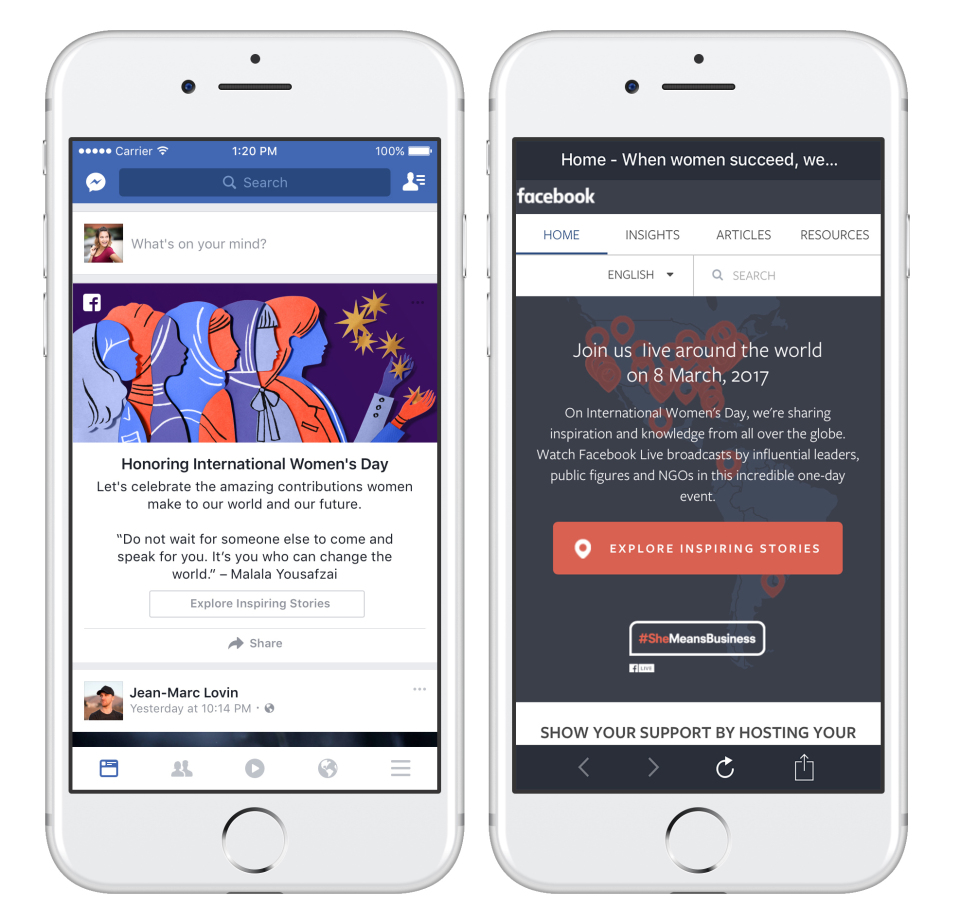 More Ways To Celebrate International Women's Day Facebook
In addition to tuning into this 24-hour event, people on Facebook can show their solidarity for International Women's Day by going live on their own, checking out a local women-led group or event, writing a supportive post, or by sharing a related video or photo.
Show support for the day by sharing the celebratory artwork you may see at the top of News Feed, or by clicking on the "Explore Inspiring Stories" button to visit the #SheMeansBusiness site.
Share a conversation on Facebook Live to celebrate women's progress and achievements.
Write a post, share a video or photo about women making a difference in all communities around the world.
Find a local International Women's Day event or discover a women-focused group that's relevant to issues close to your heart and get involved. People in over 100 countries around the world have already taken to Facebook to organize thousands of events related to International Women's Day.
In the US, start a Facebook fundraiser for a favorite nonprofit on behalf of female empowerment or add a donate button to a live video.
Thank you for joining the global conversation.
Source: Facebook Internal Data, January-December 2015 compared to January-December 2016