Today we are providing an update on some of the long-term investments we're making with our measurement partners.
From Metrics to Measurement 
Until now, our FYI posts have focused solely on updates to our metrics. But metrics—like the time recorded on an athlete's stopwatch—are only valuable if they can be mapped to a larger goal, such as an improved marathon result. The same is true for advertisers: Measurement is the process of using metrics to understand the outcomes that matter to them.
Over the last two years, advertisers have started to move from tracking intermediate metrics to measuring business outcomes such as brand affinity and sales lift. We're committed to providing the tools and partnerships to make that possible for all advertisers. We want to help advertisers effectively measure business value and outcomes, so they can purchase ads with confidence. To that end, we're expanding this channel to focus on all aspects of measurement. It will be renamed Measurement FYI and will include updates to our metrics, partnerships, products and research.
Adding More People-Based Measurement Partnerships
People are engaging with ads in more places than ever before, which leaves advertisers with two pressing measurement needs: cross-channel comparability and third-party verification. Today, we're expanding our current measurement partnerships to further address those needs and increase transparency.
Cross-Channel Comparability
In September, we kicked off our partnerships with marketing mix modeling measurement providers to help advertisers better understand their media mix across channels. Today, we're introducing the marketing mix modeling (MMM) portal where measurement partners can gather information directly from Facebook, Instagram and Audience Network on behalf of their clients. Better quality data in MMM models will support more accurate and actionable insights for advertisers who engage in cross-channel measurement and planning.
Advertisers will now be able to compare which ads — TV, digital and print — are driving their desired outcomes. Over 150 brands are already making marketing decisions based on this information.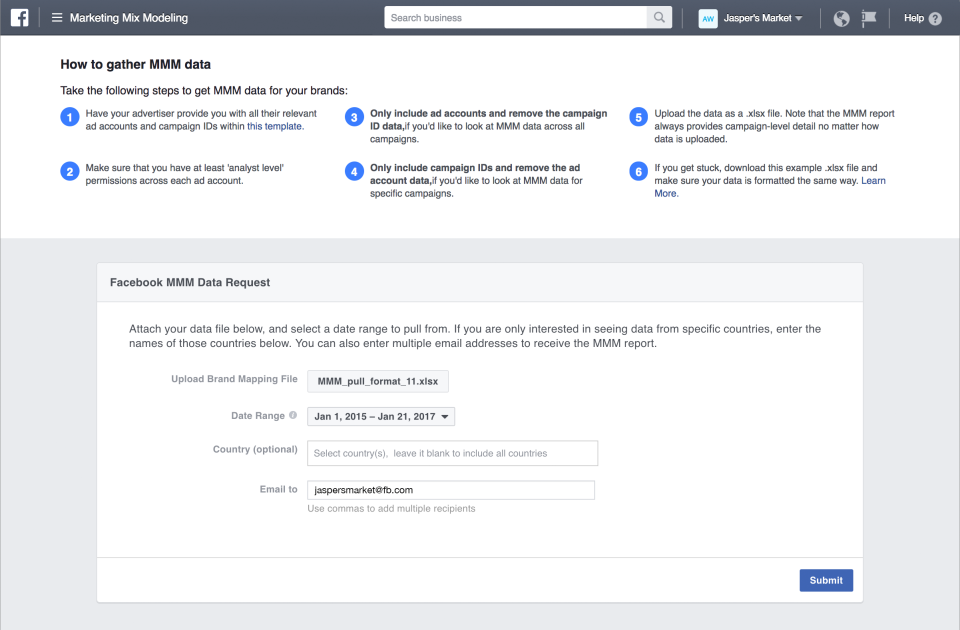 Third-Party Verification
We've made several updates to our third-party verification program.
First, we've expanded our partnership with Nielsen to enable their Digital Ad Ratings (DAR) product to measure reach and in-target performance on desktop and mobile across eight additional markets, bringing the total to 25 global markets.
Second, we're expanding our partnership with comScore, going beyond viewability to include in-target performance for Facebook properties in the US. We formed a partnership with comScore in early 2016 to enable viewability verification of our video impressions. While viewability remains an important metric, in-target reach — the metric that media plans are built around — is critical for evaluating a campaign's success. To that end, we're beginning tests with comScore to evaluate in-target reach for US audiences on desktop and mobile through their validated Campaign Essentials (vCE) product.
Third, we've made significant progress in extending our viewability measurement to more placements across Facebook's apps and services. We started with video on Facebook, then we extended to video on Instagram, and today we're extending to video on Audience Network with two partners: comScore and Integral Ad Science.
Fourth, we continue to make progress on the integrations we announced in November. We've completed the integration of display viewability on Facebook with comScore, Integral Ad Science and Moat. These partners will be able to provide metrics on when a display ad enters the Facebook screen and when the entire ad appears on the screen.
"IAS is excited to be Facebook's first partner able to measure viewability and ad fraud for display ads across desktop and mobile. Brands and agencies continue to ask for greater transparency, and this is a huge step in the right direction."
— Scott Knoll, CEO of Integral Ad Science
Lastly, we're adding a new viewability verification partner, DoubleVerify. We'll start the integration with DoubleVerify in the coming year — and when completed, it will support both video and display. With the addition of DoubleVerify, we now have 24 global third-party measurement partners available to advertisers, providing much-needed choice and flexibility when it comes to independent, third-party measurement.
Through our third-party measurement partners, advertisers are now able to verify or measure outcomes for every impression they buy on Facebook. We will continue to make investments in these integrations over the coming months to meet advertisers' needs for transparency and verification.