By Will Cathcart, VP, Product Management
Today we're announcing three updates to Trending, a feature that shows people popular topics being discussed on Facebook that they might not see in their News Feed:
Trending topics will now feature a publisher headline below each topic name
An improved system to determine what is trending
Everyone in the same region will see the same topics
These changes begin rolling out today and will be available to everyone in the US in the coming weeks. We're listening to people's feedback and will continue to make improvements in order to provide a valuable Trending experience.
Publisher Headlines
In order to provide people with more context on what is trending on Facebook, we will now display a headline from a publisher's article about that topic. This was the most requested feature addition since the last update we made to Trending in August. These are the same headlines that appear when you hover over or click on a Trending topic, but people told us they wanted these headlines directly within Trending, too.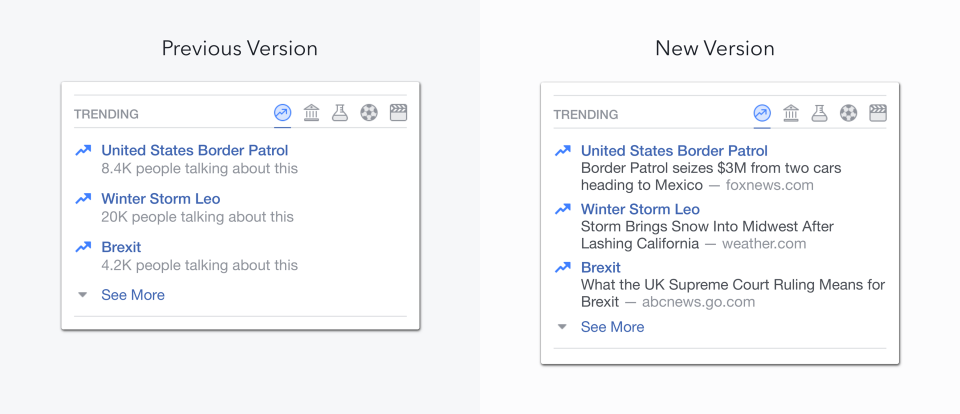 The headline that appears is automatically selected based on a combination of factors including the engagement around the article on Facebook, the engagement around the publisher overall, and whether other articles are linking to it.
Just as before, after clicking on a topic, people are taken to a personalized results page that includes additional sources and posts about the topic.
Identifying Topics
We're also updating how topics are identified as trending on Facebook.
Previously, topics may have trended due to high engagement on Facebook around a single post or article. With today's update, we will now look at the number of publishers that are posting articles on Facebook about the same topic, and the engagement around that group of articles. This should surface trending topics quicker, be more effective at capturing a broader range of news and events from around the world and also help ensure that trending topics reflect real world events being covered by multiple news outlets.
Everyone in the same region sees the same topics
Lastly, the list of which topics are trending on Facebook will no longer be personalized based on someone's interests. Everyone in the same region will see the same topics. This is designed to help make sure people don't miss important topics being discussed on Facebook that might not show up in their News Feed.
Update on April 21, 2017: These updates have now rolled out to all countries where Trending is currently available, including Australia, Canada, India and UK.
---
Some commonly asked questions about Trending:
When did you first create Trending?
We added Trending in 2014. It was designed to help people discover interesting and relevant topics being discussed on Facebook that they might not otherwise see in their News Feed.
Where is Trending available? Is it available on mobile devices?
Trending is available in the US, UK, Canada, Australia and India. Currently, it is available for Facebook on the web, and can be seen on mobile by clicking on the Search bar. Today's updates will be rolled out in the US beginning today. We hope to make them available to more countries in the future.
Do people select topics?
No. Topics are selected by an algorithm and are reviewed by a team to ensure they represent real-world events. The Quality Review guidelines can be found here.
What steps have you taken to prevent fake news from appearing in Trending?
Trending uses a variety of signals from News Feed, including when people report news as fake or spam, to help prevent fake news, hoaxes or spam from appearing in Trending. Today's update may also help prevent hoaxes and fake news from appearing in Trending because the updated system identifies groups of articles shared on Facebook instead of relying solely on mentions of a topic.