For the latest information on how to use Group Video Chat in Messenger, visit our Help Center.
As we close the year, we're thrilled to launch the most requested Messenger feature ever — the ability to video chat in groups. Group Video Chat in Messenger makes it simple and seamless to stay connected face-to-face. Starting today, Group Video Chat is rolling out to Android and iOS devices, and the desktop version of Messenger, worldwide.
More and more people use messaging in groups for lots of different reasons like keeping everyone up to date, planning a family vacation or to share a few jokes. With 245 million people making video calls in Messenger every month, now we're bringing everyone on Messenger the ability to turn group chats into face-to-face conversations no matter where you are – whether you're down the street or halfway across the world. Chatting face-to-face live as a group is perfect for those spontaneous moments when text just isn't enough… or when you have a major case of FOMO. It's the best way to share the news you just got a job (or into college), have your kids wish grandma a happy birthday, tell a funny story to the people you love or just see your friends live while wearing fun 3D masks (iOS only for now — Android coming soon) to an everyday conversation.
Here's How It Works
Group Video Chat is super easy to use (and, of course, free over Wi-Fi). You can see up to six people at a time … but don't worry if your group is a little larger because up to 50 friends can join in and choose to just listen in and join via voice, or be on camera. Once more than six people are on the call, just the dominant speaker is shown to all participants.
To get started, you'll need the latest version of Messenger. All you have to do is jump into an existing group conversation, or create a new one. Then tap on the video icon on the upper right of the screen to enter the video chat and everyone in the group will be notified. Each person can join when they are ready with just one tap. For an extra nudge, you can also directly ring just a few people or the whole group.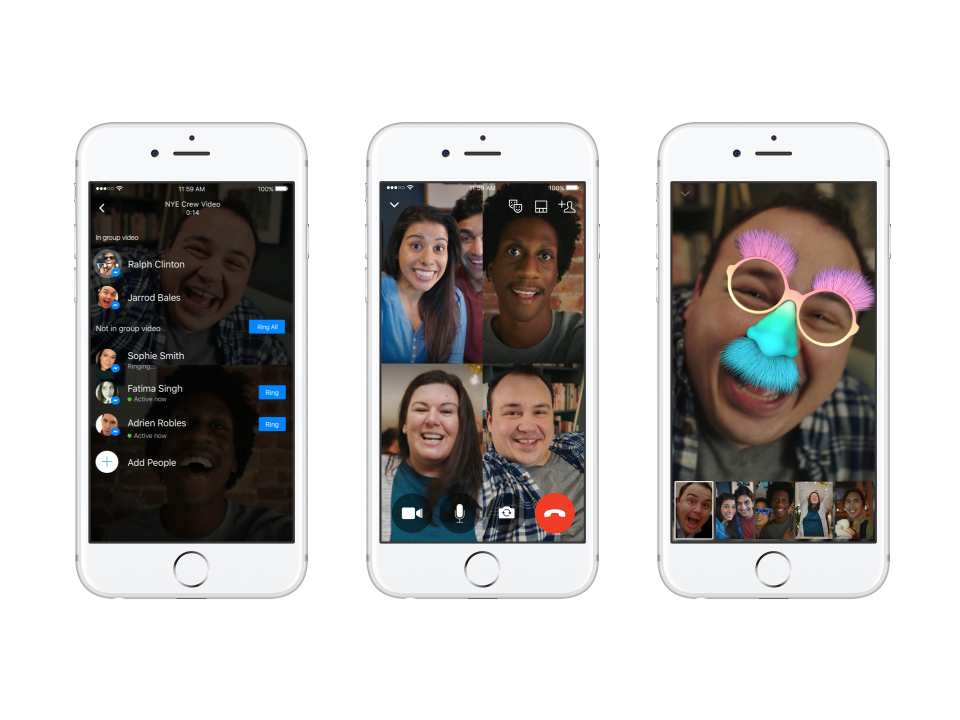 This is the time of year to tell our friends and family how much we care about them and send best wishes for the year ahead. We're delighted to bring you the ability to chat face-to-face with those who matter to you most, wherever they are. We look forward to hearing what you think.