Over the years, we've seen that people come to Facebook to share fun moments, show off costumes, and connect with friends and family on Halloween. This year, we're introducing some fun new ways to help you get into the Halloween spirit.
Masks in Facebook Live: You'll be able to try on a variety of different masks — including limited-edition Halloween-themed masks — when you're sharing live video.
Halloween Reactions: We're launching a set of limited-edition Halloween reactions that turn the Like, Love, Haha, Wow, Sad and Angry reactions into Halloween-themed symbols that come to life when you tap on them.
Introducing Masks in Facebook Live
If you're looking to share moments in real time with added flair, you will soon be able to go live on Facebook wearing a mask. We have a number of festive masks for Halloween, including a skull, an evil queen and two limited-edition masks: a pumpkin and a witch. A selection of masks will continue to be available after Halloween, so you can be creative in your Live videos any time!
Masks will be rolling out over the next few days for people using Facebook Live on iOS in the US, UK and New Zealand. In the coming months, we will make masks available to people sharing live video via Android devices and in more countries. Masks will also be available to public figures using Facebook Mentions on iOS, meaning people may see their favorite celebrities trying on masks in their live videos on Facebook.
Here's how to go live with a mask:
Tap the Live Video icon at the top of your Timeline, News Feed or Page.
Once you are live, tap the magic wand in the upper left corner of your screen.
Select the masks icon in the creative tools tray at the bottom of your screen.
Scroll through the options and tap on masks to have them automatically appear on your face when you are live.
To remove the mask, simply scroll left in the mask trap and tap the no mask sign.
Halloween Reactions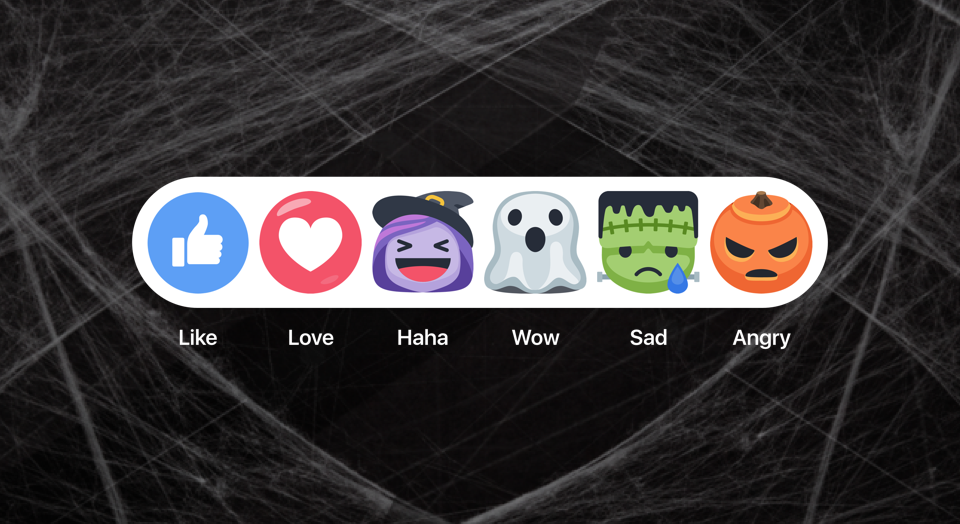 We're also launching a set of limited-edition reactions to people in a select set of countries in the days leading up to and through Halloween. From a cackling witch to express laughter, to a grimacing jack o'lantern to show anger, you'll be sure to get into the holiday spirit with these fun and playful reactions.
To use the Halloween reactions, hold down the Like button on mobile or hover over the Like button on desktop to see the reaction image options, then choose from the skeletal thumbs up (Like), the candy heart (Love), the laughing witch (Haha), the ghost (Wow), Frankenstein (Sad), or the scowling pumpkin (Angry).
Whether your Halloween style is scary or silly, we hope these features help you celebrate with friends near and far.
---
---