By Peter Martinazzi, Director of Product Management, and Lexy Franklin, Product Manager
In preparation for the coming weeks as many of us spend lots of time with friends and family, Messenger is rolling out some new features to make it easy for you to surprise and delight those you love.
Introducing Photo Magic
Today we are making Photo Magic, which has been in testing for the last month, available to more people. Feedback has been great, and we are looking forward to making it easier to share more photos, especially this time of year. Photo sharing in Messenger is growing at a fast rate. In fact, more than 9.5 billion photos are sent in Messenger each month alone. But there is still a lot of friction in sending the photos you take to your friends who are in them. Now in Messenger, after you take a picture of a friend or group of friends, if you want to, we'll help you send it immediately. You won't need to stop the fun to make sure everyone has a copy of the picture. Photo Magic will help you keep your promise to send the pictures you take without forgetting, or worse, leaving someone out. Also, we know there are times when you want to share photos privately, and Photo Magic makes it effortless to do so while still keeping you in complete control. So at a time of the year when more photos are taken than any other (last year Messenger saw hundreds of millions of photo sends on New Year's Eve), we're making it simple for you to share those happy moments.
Here's How It Works
By recognizing your Facebook friends in the photos you take (just like when tagging or sharing photos on Facebook), Messenger can create a group thread for you to share the photos with those friends in just two taps. It's fast, easy, and simple. And you can turn this feature on or off at anytime as well as control if you are recognized in your friends' photos in the timeline and tagging section of your Facebook settings. Check it out here: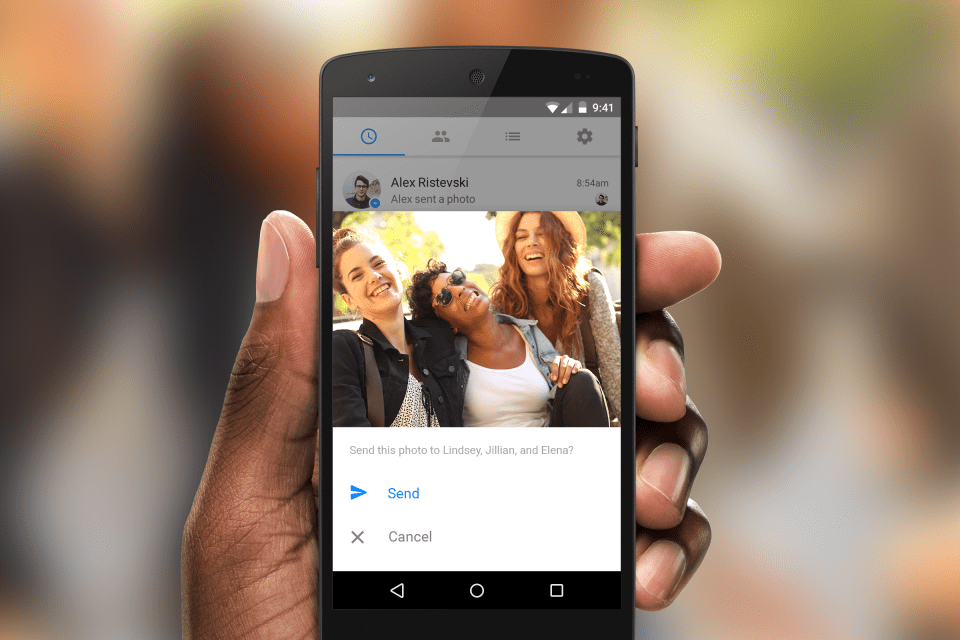 Make sure the feature is enabled (you can do this by going into your "Settings" menu in Messenger, but you'll also be prompted to try Photo Magic – you can say "Try It" or choose to "X" it out)
Once you take a photo with your friends, you'll get a reminder to send the photo to them (the photo will not be sent unless you tap Send)
If you choose not to share the photo, hit "Cancel"
Messenger Just Got Way More Customized
In addition to making it easier to send photos, we are rolling out new fun ways to customize your conversations with different people and groups. With various color choices, emoji and nicknames, now you can really make Messenger your own space. For iOS, tap on the people's names at the top of a conversation to change your family group thread to a festive red, update your mom's formal first and last name to just "Mom," or change the emoji response in your holiday meet up group from the thumbs up to something more timely, like a party hat. For Android, tap the info button in the top right. Anyone in the conversation can change the colors, nicknames and emojis as many times as they want, and when you make a change, the people you're talking to will see what updates you selected.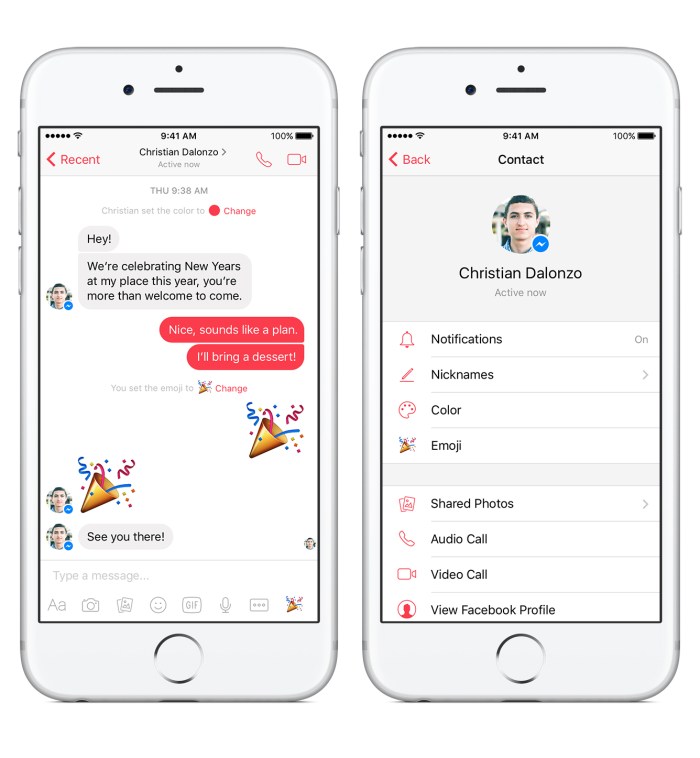 Let It Snow…
We're constantly thinking about ways to surprise and delight you and your friends. And now for the holidays, we're bringing the prettiest snowflakes to your messages. Whether you are in Alaska or Australia, you can share some winter fun, even if your current weather status isn't set to North Pole. Send a Santa, Christmas tree or snow-related sticker or emoji to a friend and watch the magic happen; it's just like being inside your own snow globe.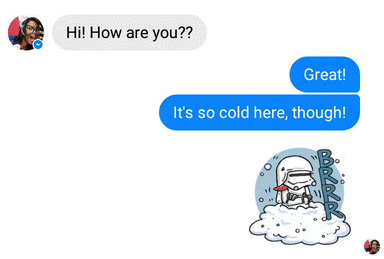 We're also bringing back the beloved snow globe effect for chat heads on Android. For a limited time this season, your friends' chat heads will appear as winter wonderlands (if you're north of the Equator, of course). Similarly, to celebrate the new year later on, your friends' chat heads will become confetti-filled.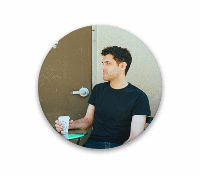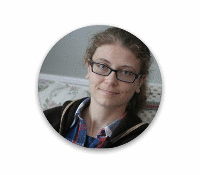 And speaking of snow – check out our Frozen sticker pack if you're feeling frosty. But if Frozen isn't for you, we didn't want to forget our new Star Wars pack that just went live last week! May the Frozen Force Be With You.
We hope you enjoy using these new features this holiday season and into the new year. From everyone on the Messenger team, happy holidays.
---
---