By Will Cathcart, VP of Product Management
Since our update last year, video has continued to grow on Facebook. It has become an integral part of how people around the world discover, watch and share videos they care about every day. Today, we want to provide another update on some of the things we've been working on over the past year, along with some of the new features you may see in the coming months.
New Immersive Video Formats
In August, we announced that public figures can share live video with their fans via Mentions, and we've seen thousands of authentic and candid live videos, from Vin Diesel to Serena Williams and many more. We rolled out 360 video on Facebook in September, enabling people to view a video from all angles right in News Feed. Star Wars and Discovery were among the first publishers to share these stunning videos on Facebook.
New Video Tests
We know people enjoy these more immersive video experiences, but we're also learning that people want to watch videos in different ways at different times. We have been testing a number of new features that give people more flexibility when watching videos, whether you're watching a video in News Feed on-the-go or sitting down to enjoy multiple videos back-to-back.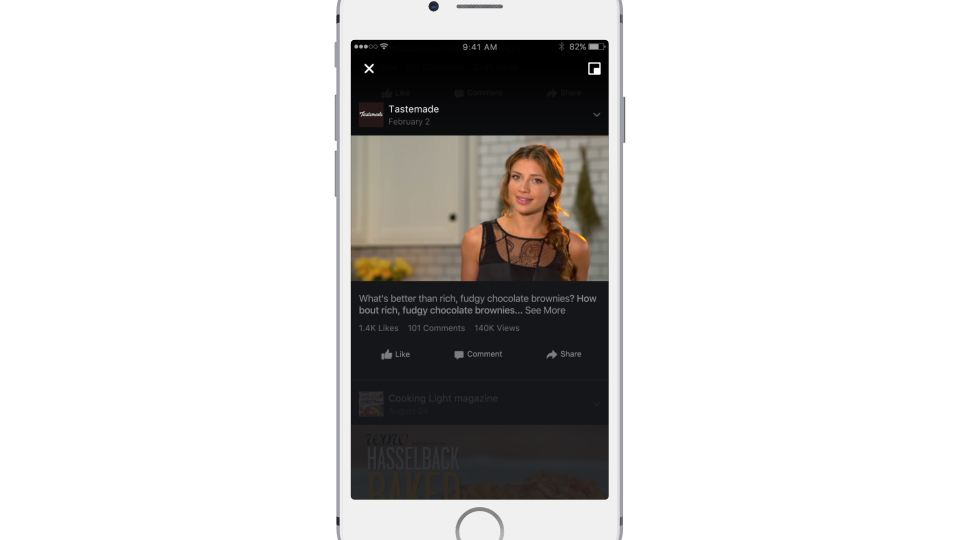 Suggested videos is one of the features we've been testing on iPhone, making it easy to discover multiple related videos in a row after you tap on a video from News Feed. While we're still in the early days of testing, we're pleased with initial results, which show that people who have suggested videos are discovering and watching more new videos. We've now rolled out suggested videos to most people on iPhone globally, and are starting to test ads within the experience. We are also starting to test this on the web, and plan to test on Android phones in the coming months.
In addition to helping people find more videos they may be interested in, we know people sometimes want to multitask while they watch videos. To make this possible, we're testing a way for people to watch a video in a floating screen while simultaneously multitasking on Facebook.
We also know that sometimes people want to watch a video, but they don't have time or aren't in a place where they can turn on sound. To make it easy to return to the videos you're interested in, we've been testing a button that allows you to save a video to watch later, which can be accessed in your "Saved" bookmark.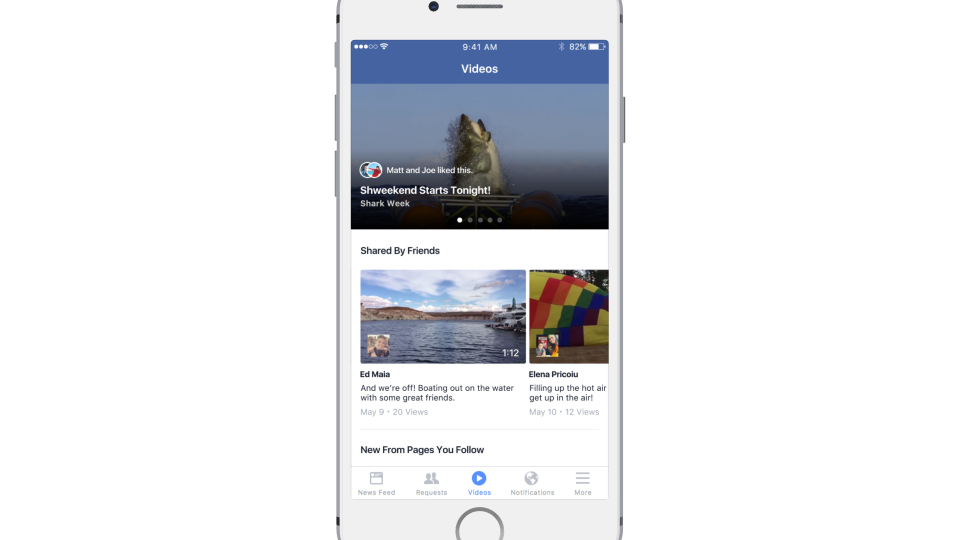 Lastly, we'll be testing a dedicated place on Facebook for people to go when they exclusively want to watch video—whether that's videos they've saved for later, or videos from friends, Pages they follow, and other video publishers on Facebook. This new videos section helps people discover, watch and share videos on Facebook that are relevant to them. It can be accessed by tapping a "Videos" icon at the bottom of the Facebook app on iPhone or in the "Favorites" section on the left-hand side of News Feed on the web. We'll be testing this with a small number of people now, so this isn't something most people will see on Facebook right away. We look forward to seeing how people use it to discover, watch and share videos with their friends.
Tools for Publishers
We've also been working on a number of features for publishers to help them better manage and control their videos on Facebook. We recently began testing new video matching technology with a set of partners, with the long-term goal of providing a comprehensive video management system for creators. We've also rolled out new video tools for Pages — like updates to Page Insights and video upload improvements — to help video publishers grow their businesses on Facebook.
The last few years have been exciting for video, and we look forward to seeing more people discover the videos that matter to them on Facebook.
---
---