By Will Ruben, Product Manager
With a phone at everyone's fingertips, the moments in our lives are captured by a new kind of photographer: our friends. It's hard to get the photos your friends have taken of you, and everyone always insists on taking that same group shot with multiple phones to ensure they get a copy. Even if you do end up getting some of your friends' photos, it's difficult to keep them all organized in one place on your phone.
To help make this easier, today we're announcing a new standalone app called Moments.
When you go to a wedding, for example, there are many people taking great photos throughout the day. You all want a quick way to share your photos with the friends who are in them, and get photos that you're in back. The same is true for smaller events too, like a kayak trip or a night out.
Syncing photos with the Moments app is a private way to give photos to friends and get the photos you didn't take. Moments groups the photos on your phone based on when they were taken and, using facial recognition technology, which friends are in them. You can then privately sync those photos quickly and easily with specific friends, and they can choose to sync their photos with you as well. Now, you and your friends have all the photos you took together.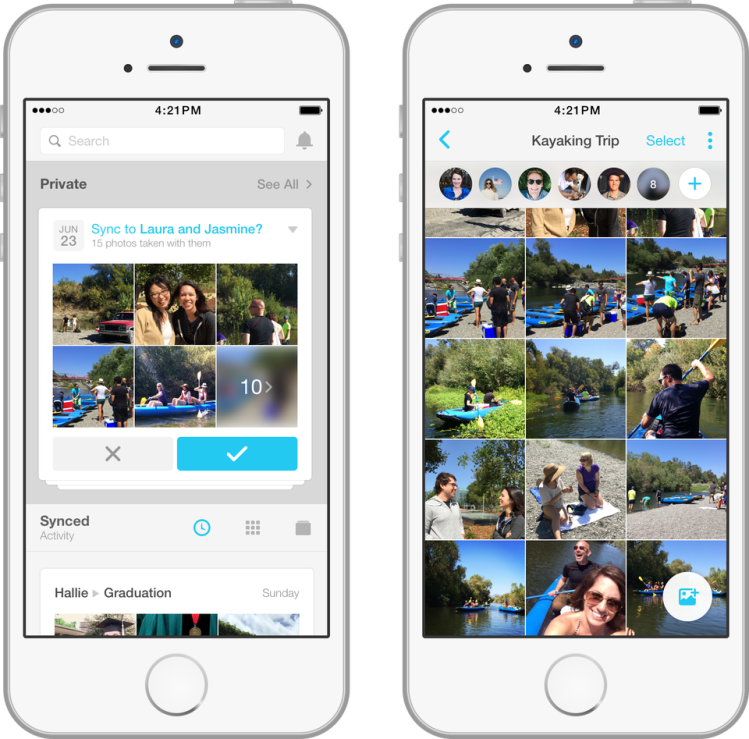 Moments also keeps all of your synced photos organized and even lets you search them to find the ones that you or specific friends are in.
Moments uses facial recognition technology to group your photos based on the friends who are in them. This is the same technology that powers tag suggestions on Facebook. You can control tag suggestions in your Settings.
Moments is a Creative Labs app. It is launching today in the US on iOS and Android, and will be rolling out to more countries over time. You can download Moments from the App Store or Google Play.
Update as of 9/25/15:
In June we launched the Moments app in the US, giving people an easier and faster way to privately share their photos with friends.    Today, we're making Moments available on the App Store and Google Play in most countries.  Now available in 34 languages, the app will also include a new 'Storyline' feature which automatically creates customizable movies based on your Moments. Storyline will create a movie for you by choosing the best photos in your Moment and synchronizing them to your choice of 11 music selections. Moments with at least six photos will have a movie waiting for you that you can edit and preview in real time and then share.
---
---