By Maxine Williams, Global Director of Diversity
Today we are providing an update on our work since the initial announcement of Facebook's diversity data last year.
Diversity is central to Facebook's mission of creating a more open and connected world: it's good for our products and for our business. Cognitive diversity, or diversity of thought, matters because we are building a platform that currently serves 1.4 billion people around the world. It's vital for us to have a broad range of perspectives, including people of different genders, races, ages, sexual orientations, characteristics and points of view. Having a diverse workforce is not only the right thing to do – it's the smart thing to do for our business.
Our work is producing some positive but modest change and our new hire numbers are trending up. In addition to best practice programs we have been running in recruitment and retention, we are always trying creative approaches that tailor solutions to the challenge of increasing the diversity of our population. Some examples include:
Piloting a diverse slate approach in some parts of our business in the US, which means that we aspire to present hiring managers within the pilot organizations with at least one qualified candidate who is a member of an underrepresented group to fill any open role. The opportunity to compete is often the biggest hurdle for underrepresented people to overcome. This approach, similar to the Rooney Rule in the National Football League (NFL) in the US, encourages recruiters to look longer, harder and smarter for more diversity in the talent pool and ensures that hiring managers are exposed to a range of different candidates during the interview process.
We are also testing a number of efforts that provide the opportunity for those early in their college careers to learn both the soft and the hard skills it takes to succeed at Facebook. We've increased by a factor of four the number of freshman year paid training opportunities we offer. Our Facebook University training program (FBU) invites college freshmen, generally from underrepresented groups who demonstrate exceptional talent and interest in Computer Science, to spend most of their summer working on teams with Facebook mentors, learning the skills we are looking for at the company. FBU for Business takes the same approach for those interested in the non-engineering career tracks.
We also know that all the effort we're putting into finding more diverse talent will be futile if we don't ensure that we have an inclusive culture that can truly support diversity. As such, we completely reworked our Managing Bias training course to be harder hitting and the starting point for honest conversations about stereotypes and unconscious bias. It is designed to surface biases that people might not even realize they have, and gives people the tools to identify and interrupt biased behavior as it occurs. Our entire management team has taken the class and we are rolling it out to our teams across the world.
In addition to investing in building a more diverse Facebook, we're also working towards a more diverse tech work force overall. Research has shown that women participate more and take bigger risks when they have communities of support. Given this, we want to help build community on college campuses. To do this at scale, we launched Computer Science & Engineering Lean In Circles in partnership with LeanIn.Org, LinkedIn, and The Anita Borg Institute to bring together small groups of women (and some men) to support one another as they pursue careers in Computer Science & Engineering. There are now 200+ Circles around the world. This summer, two Facebook interns will be leading the Lean [In]tern program, a chapter of Lean In Circles for over 350+ students interning at 115 companies across the Bay Area.
While we have achieved positive movement over the last year, it's clear to all of us that we still aren't where we want to be. There's more work to do. We remain deeply committed to building a workplace that reflects a broad range of experience, thought, geography, age, background, gender, sexual orientation, language, culture and many other characteristics. It's a big task, one that will take time to achieve, but our whole company continues to embrace this challenge.
Below is our current demographic data: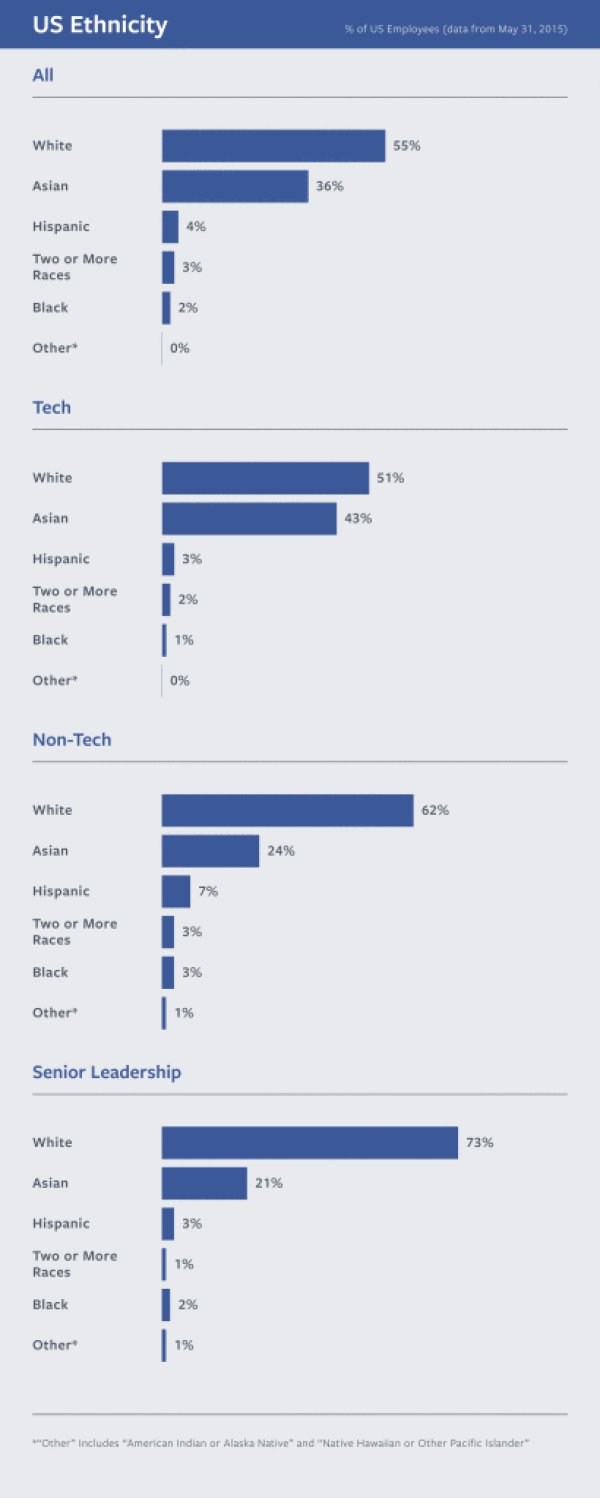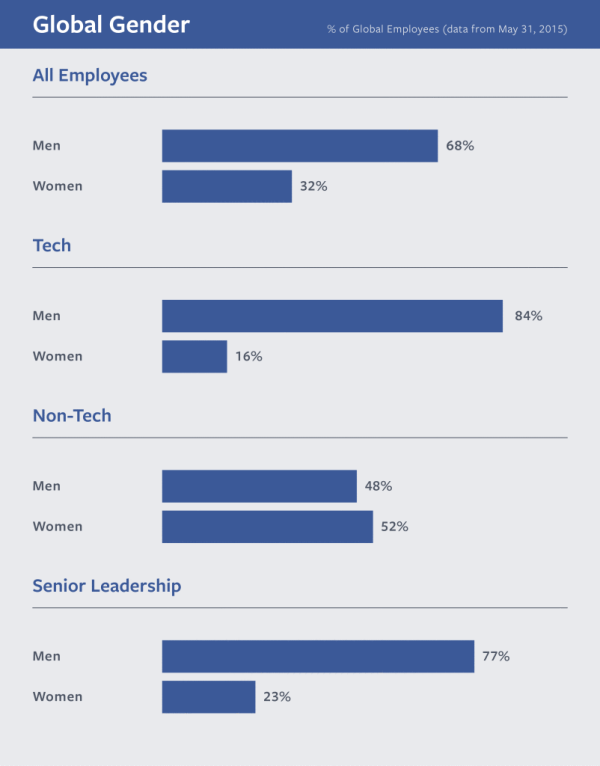 For more information, here is our EEO-1 Report. The categories listed reflect the US government reporting requirements.
---
---