By Michael Huang, Partner Development
Today we're announcing the winners of our first annual FbStart Apps of the Year awards, which recognize the most successful mobile apps from FbStart, our global program offering free tools and services for mobile app developers, accepted to the program, to help grow their businesses.
This year's award categories included best app by region, best social good app and a grand prize winner. The Apps of the Year recipients (full descriptions below) are:
App of the Year Grand Prize: MomentCam
Europe, Middle East, and Africa: Whichit
Latin America: Qranio
North America: Workflow
Social Good: Hunger Crunch
The App of the Year grand prize winner receives $50,000 in cash and $25,000 in Facebook Ad Credit, and the other winners will each receive $5,000 in cash and $5,000 in Facebook Ad Credit. Apps were judged across four principles: growth and engagement, experience and design, efficiency at scale and leveraging Facebook's platform.
App submissions were reviewed by a panel of experts in platform and mobile technology including Benedict Evans, Partner, Andreessen Horowitz; Deborah Liu, Director of Platform Product, Facebook; Ilya Sukhar, Co-Founder, CEO, Parse; Jason Calacanis, entrepreneur and angel investor; Justin Osofsky, Vice President of Platform Partnerships, Facebook; and Manolo Espinosa, Vice President of Platform, SoundCloud.
To learn more about FbStart and the criteria for the awards, you can go here.
App of the Year: MomentCam (Android, iOS)
Based in China, MomentCam lets people create cartoons and caricatures from photos of themselves or friends. You can add objects like hats and glasses to your photo, choose a background and share your "Momie" with the world.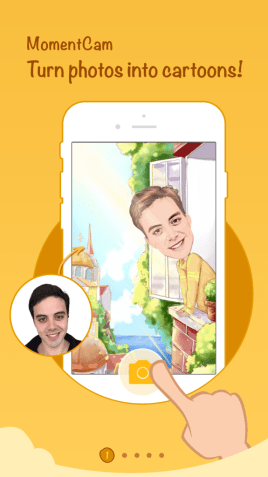 Europe, Middle East, and Africa App of the Year: Whichit (Android, iOS)
From the United Kingdom, Whichit is a social polling app that helps people get opinions from friends or people in the Whichit community. The app lets them poll other people to make a decision, like choosing the perfect outfit or the best new car.
Latin America App of the Year: Qranio (Android, iOS)
Brazil-based Qranio incentivizes learning by offering virtual currency for completing knowledge-based trivia that players can later redeem for real prizes.
North America App of the Year: Workflow (iOS)
US-based Workflow is a productivity tool that lets you automate actions between apps on your iOS device. With its easy drag-and-drop interface, Workflow helps your device and favorite apps interact with each other – for example, you can send a message including the last picture you took, create animated GIFs or share the song you're listening to.
Social Good App of the Year: Hunger Crunch (Android, iOS)
Hunger Crunch was created by Rice Bowls, a 501(c)3 non-profit organization that helps people fight hunger through virtual and real-world experiences. 100% of the profits from any in-app purchases in the game help feed orphaned children around the world.
---
---