One Billion. That's how many World Cup-related posts, comments, and likes 220 million people on Facebook have made in the course of conversation since the tournament began on June 12. Engagement on Facebook around the knockout matches over the weekend pushed the overall interactions number over the 1 billion mark.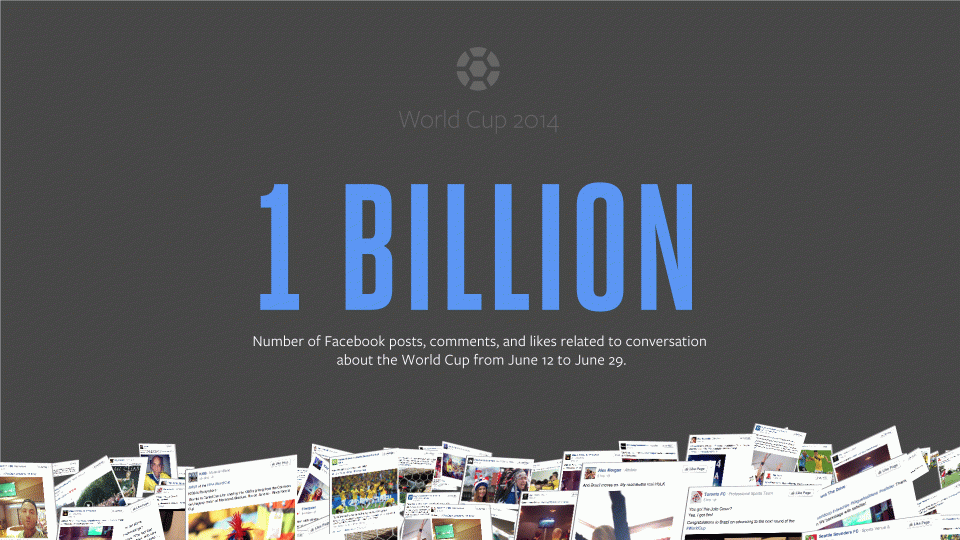 Facebook generally sees a large amount of conversation around sporting events, but the World Cup has proven to be a unique moment. Facebook's data editors have never measured an event — sports or otherwise — that has topped a billion interactions.
On Saturday, more than 31 million people had 75 million interactions (posts, comments, and likes) related to the match between Brazil and Chile. The nail biter saw the second-highest level of conversation for any World Cup match that Facebook's data team has measured to date:
Brazil was also playing in the match that saw the highest level of Facebook conversation. 58 million people had more than 140 million interactions for the World Cup opener between Brazil and Croatia on June 12.
Brazilian players are driving Facebook engagement, too. This photo of Neymar and Hulk has over 2.5 Million likes and more than 70K shares, making it the most engaging post by any player during the World Cup:
Of the top 20 most-liked Facebook posts by World Cup athletes during the tournament, a combined 12 of them are by Brazilian teammates Neymar and David Luiz:
Top 20 Facebook player posts with the most likes:
Neymar – 7
David Luiz – 5
Leo Messi – 4
Cristiano Ronaldo – 3
Bastian Schweinsteiger – 1
Eleven player posts have more than a million likes:
Neymar – 7
Leo Messi – 3
Cristiano Ronaldo – 1
Facebook data releases for World Cup: