When we ask people about our ads, one of the top things they tell us is that they want to see ads that are more relevant to their interests. Today, we learn about your interests primarily from the things you do on Facebook, such as Pages you like. Starting soon in the US, we will also include information from some of the websites and apps you use. This is a type of interest-based advertising, and many companies already do this.
Let's say that you're thinking about buying a new TV, and you start researching TVs on the web and in mobile apps. We may show you ads for deals on a TV to help you get the best price or other brands to consider. And because we think you're interested in electronics, we may show you ads for other electronics in the future, like speakers or a game console to go with your new TV.
If you don't want us to use the websites and apps you use to show you more relevant ads, we won't. You can opt out of this type of ad targeting in your web browser using the industry-standard Digital Advertising Alliance opt out, and on your mobile devices using the controls that iOS and Android provide.
Ad preferences
People also tell us they want more control over the ads they see. That's why we're introducing ad preferences, a new tool accessible from every ad on Facebook that explains why you're seeing a specific ad and lets you add and remove interests that we use to show you ads. So if you're not interested in electronics, you can remove electronics from your ad interests.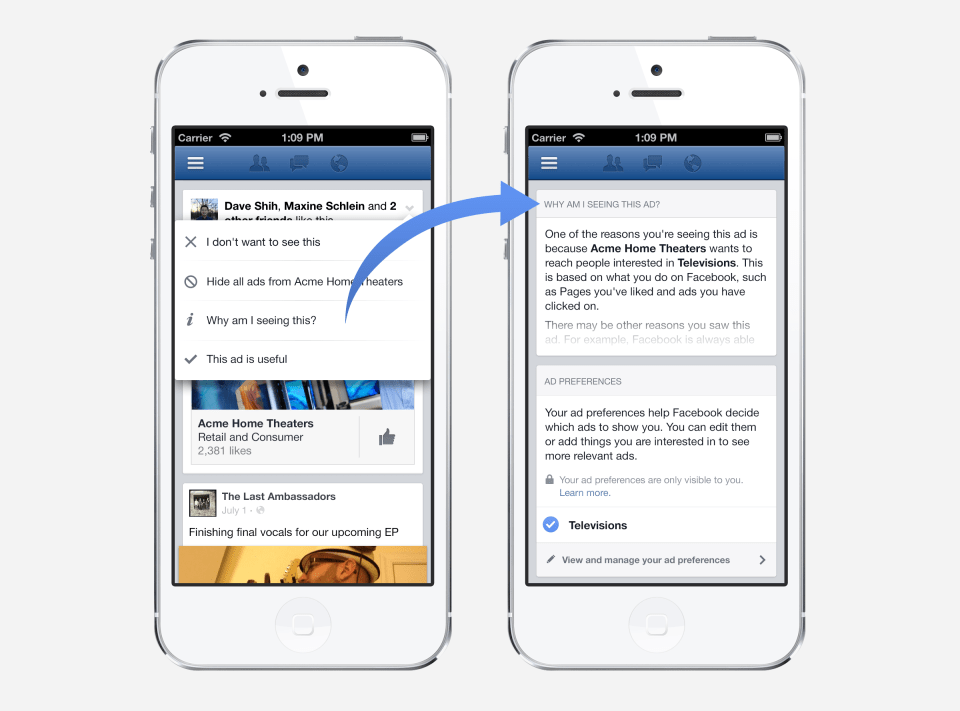 If you live in the US, you'll be able to use ad preferences in the next few weeks, and we are working hard to expand globally in the coming months.
To learn more, visit About Facebook Ads or the Help Center to read about our Cookies policy.