By Dustin Cable, Facebook Data Analyst and Mandy Zibart, Consumer Content Manager
Father's Day will be celebrated in many countries this Sunday, and people around the world will show their appreciation for the dads in their lives, both on and off Facebook. In recognition of all the fathers out there, and those who will be celebrating them, we have put together some interesting dad-related content from Facebook including:
Facebook data showing some interesting shared interests between fathers and their children
In spirit of the World Cup, an analysis of how a certain World Cup player influenced the naming of newborns during and after the 1986 World Cup
An inspiring story of one young woman's reconnection with her father on Facebook
Shared Interests Between Fathers and Their Children
While fathers and their kids may feel like there is little overlap between their favorite musicians, athletes and movies, we took a look at Likes on Facebook and found that they may have more in common than they thought. This analysis of mutual Likes among self-identified fathers and their children on Facebook as compared with Likes among all people who use Facebook reveals what their shared interests look like across music, athletes, entertainment and more. Only children who are over age 18 in likely father-child relationships were considered.
Here is the full list of shared interests among 1) fathers and children of both genders, 2) fathers and their daughters, and 3) fathers and their sons:
Fathers and Children (both genders)
TV Shows
Family Guy
Tosh.0
House
NCIS
The Office
Duck Dynasty on A&E
The Big Bang Theory
Two and a Half Men
Sons of Anarchy
MythBusters
Movies
The Hangover
Buddy The Elf
Step Brothers
The Blind Side
The Notebook
Star Wars
Finding Nemo
Boondock Saints
Superbad
Forrest Gump
Music
Johnny Cash
Pink Floyd
The Beatles
Jason Aldean
AC/DC
Zac Brown Band
Nickelback
Carrie Underwood
Brad Paisley
Kenny Chesney
Athletes
Rob Dyrdek
Dale Earnhardt, Jr.
Michael Jordan
George St-Pierre
Travis Pastrana
Troy Polamalu
Danica Patrick
Michael Phelps
Shaun White
Walter Payton
Teams
Dallas Cowboys
Pittsburgh Steelers
Boston Red Sox
Green Bay Packers
New England Patriots
New York Yankees
Chicago Bears
New Orleans Saints
Detroit Red Wings
Atlanta Braves
Fathers and Daughters
TV Shows
NCIS
Teen Mom
The Ellen DeGeneres Show
Grey's Anatomy
Duck Dynasty on A&E
Criminal Minds
House
The Secret Life of the American Teenager
True Blood
Pretty Little Liars
Movies
The Notebook
Dirty Dancing
Dear John
Buddy The Elf
The Blind Side
Grease
Finding Nemo
The Twilight Saga
Easy A
The Princess Bride
Music
Carrie Underwood
Miranda Lambert
Jason Aldean
Lady Antebellum
Zac Brown Band
Brad Paisley
Luke Bryan
Kenny Chesney
Sugarland
Tim McGraw
Fathers and Sons
TV Shows
Family Guy
SportsCenter
MythBusters
Tosh.0
South Park
Band of Brothers
Two and a Half Men
The Walking Dead
Futurama
Sons of Anarchy
Movies
Star Wars
The Hangover
Jackass
Star Trek
Batman: The Dark Knight
300
Fight Club
The Godfather
Boondock Saints
The Lord of the Rings Trilogy
Music
Pink Floyd
AC/DC
Johnny Cash
Ted Nugent
The Beatles
Metallica
Queen
Led Zeppelin Official
Ozzy Ozbourne
Eric Clapton
Maradona's (Other) Legacy
With the first World Cup match starting today, millions of people around the world will be participating in the conversation about their favorite teams and players. One player, Diego Maradona, remains relevant in soccer history and interestingly, in the names of many young men who were born during and after the historic matches he played in nearly 30 years ago, according to an analysis by the Facebook Data Science team. Towards the end of the World Cup in 1986, there was a 260% increase of babies named Diego in Argentina, and 1 out of 3 Diegos born in Brazil between June 1986 and 1987 were named after Maradona. You can find the full note here.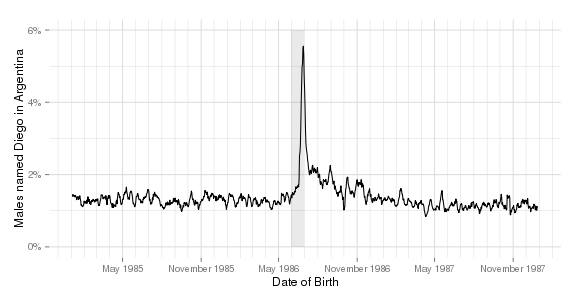 Percentage of males named Diego in Argentina by date of birth (7 day moving average). The gray period corresponds to the 1986 World Cup.
I Found My Dad After 26 Years
Jessica Porter lived a mile away from her dad for 26 years without ever knowing who he was. Raised by her grandparents in Indiana, Jessica spent her entire life wondering who her birth father was until she finally learned his name and was able to search for him on Facebook.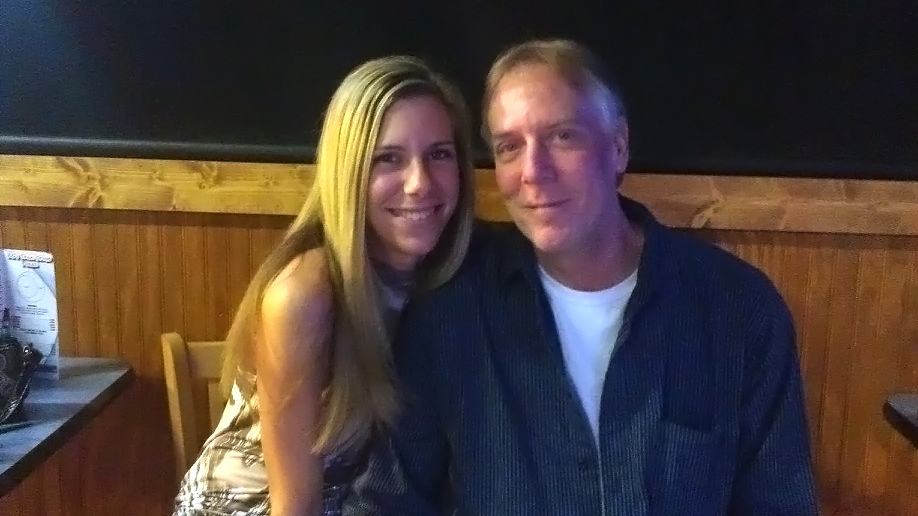 Jessica Porter and Her Dad
After exchanging a few Facebook Messages, they agreed to meet and have been in each others lives ever since. This Father's Day, Jessica will be celebrating her dad, who is also now a grandfather to her 4-year-old son. Find the full story on Facebook Stories.