Monday, May 12: We have updated the bottom of this post with chatter data for the Mother's Day holiday along with a few standout posts by public figures.
For the Mother's Day holiday, the Facebook Data Science team explored what motherhood on Facebook looks like, and also ranked the most popular destinations for the holiday across 10 US cities based on where people have celebrated in previous years.
We will summarize a few of the findings in this post, and you can read the entire note from Data Science by clicking here:
More than 27 million women on Facebook in the US identify themselves as mothers either by connecting with their children on Facebook or sharing the birth of a child as a life event on their Timelines
The average age of all mothers on Facebook is 47, while the average age of new moms who have had a baby since last Mother's Day is 30
The following graph breaks down the percentage of Facebook moms by age bracket:
The states with the most moms on Facebook are:
Wyoming
West Virginia
Iowa
South Dakota
Idaho
The states with the fewest moms on Facebook are:
New York
California
Virginia
Hawaii
New Jersey
The team looked at the average percentage of people who are moms across the US, and for each state analyzed whether the percentage was either higher or lower than the national average, as shown in the following map: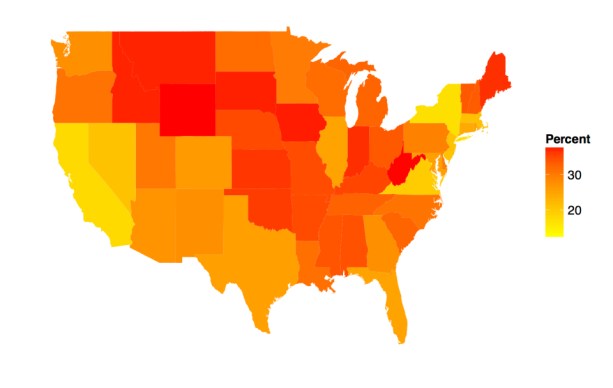 The following plot shows the distance between a child's and their mom's declared current town on Facebook and how this distance increases with the age of the child: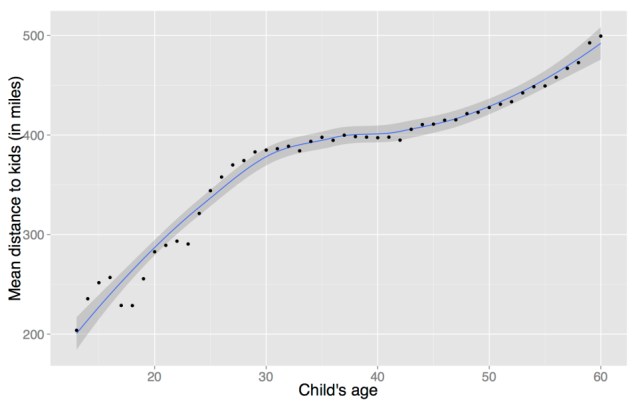 These are the top 10 links shared by children to their mothers' Timelines on Mother's Day last year:
Facebook also identified the most popular locations for Mother's Day across 10 US metropolitan areas based on check-in data. We looked at check-ins that happened on the holiday over the past four years combined with mentions of "Mother's Day" and other related terms. Those check-ins were weighted relative to the total number for each location.
Atlanta:
Two Urban Licks
Ray's on The River
Six Flags Over Georgia
Mary Mac's Tea Room
The Cheesecake Factory
Park Tavern
Atlanta Fish Market
Marlow's Tavern
57th Fighter Group Restaurant
Zoo Atlanta
Boston:
Fenway Park
Odyssey Cruises
FiRE + iCE
Spirit of Boston
The Cheesecake Factory
IHOP
The Capital Grille
Top of the Hub
Abe & Louies
Boston Duck Tours
Chicago:
US Cellular Field
Odyssey Cruises Chicago
Carnivale
Las Tablas Restaurant
Brazzaz
RPM Italian
St. Mary's Cemetery
The Drake Hotel
Cafe Ba Ba Reeba
Fogo de Chao
Houston:
Lakewood Church
Downtown Aquarium
Spanish Flowers
Minute Maid Park
Saltgrass Steak House
Cadillac Bar
Brady's Landing
Baba Yega
Brennan's of Houston
Houston Zoo
Las Vegas:
Mimi's Cafe
IHOP
Olive Garden
Texas De Brazil
Buca di Beppo
Egg Works
Victory Outreach Church
Mon Ami Gabi
BJ's Restaurant & Brewhouse
Red Lobster
Los Angeles:
Dodger Stadium
Luminarias Restaurant
The Huntington Library
IHOP
Bottega Louie Restaurant and Gourmet Market
Noypitz
Vegas Seafood Buffet
Resurrection Catholic Cemetery & Mausoleum
San Antonio Winery
Almansor's Court – Banquet Hall
New York:
Yankee Stadium
Citi Field
Dallas BBQ
Bronx Zoo
Saint Joseph's Church
Iberia Tavern & Restaurant
The Chart House
Max's Of Manila
Maracas New York Night Club
Olive Garden
San Francisco:
AT&T Park
Scott's Seafood Grill & Bar
Hornblower Cruises & Events San Francisco
Kome Japanese Seafood & Grill
Cypress Lawn Memorial Park
San Francisco Zoo
Scott's Seafood Jack London Square
The Cheesecake Factory
House of Prime Rib
Jacks Restaurant
Miami:
Marlins Park
The Cheesecake Factory
The Rusty Pelican
Olive Garden
94th Aero Squadron Restaurant
Perricone's Marketplace & Cafe
Smith & Wollensky
Fairchild Tropical Botanical Garden
Joe's Stone Crab Restaurant
Soyka Restaurant
Washington DC:
Nationals Park
Old Ebbitt Grill
Ruth's Chris Steak House
Fortune Chinese Seafood
Beacon Bar & Grill
Odyssey Cruises
Smithsonian's National Zoo
National Harbor
Carlyle
The Hamilton
A host of celebrities, athletes and other public figures joined the conversation on Facebook, too, posting their own personal Mother's Day greetings:
84 million people across the United States joined the conversation about Mother's Day on Facebook, generating 640 million total interactions on Sunday, May 11.
The Top 5 countries where people were chatting about Mother's Day, as measured by the percentage of Daily Active People in those countries, are as follows:
Singapore (68%)
Australia (67%)
United States (64%)
Canada (59%)
New Zealand (57%)
By Mandy Zibart and Dustin Cable, Facebook Consumer Communications, and Carlos Diuk with Facebook Data Science