Seattle Seahawks coach Pete Carroll rallies fans before the Super Bowl. The U.S. Ski Team gears up for Sochi. Grammy Award winners snap candids backstage. Vin Diesel's lip-syncing video goes viral. And Oprah posts some special photos on her 60th birthday. Celebrities, athletes, musicians and other public figures are joining the conversation on Facebook. Check here each week for the top topics of conversation and a few standout posts.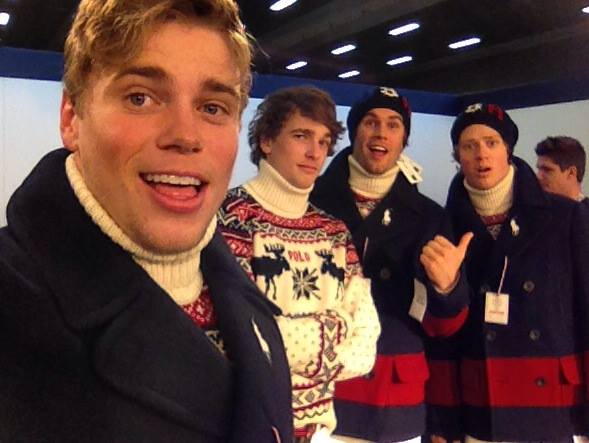 This Week's Facebook Buzz Rankings*
1. Snowstorms and snow-struck Atlanta
2. The 56th Annual Grammy Awards
3. President Obama's State of the Union Address
4. R.I.P. Pete Seeger
5. Justin Bieber
6. WWE Royal Rumble 2014
7. "Real Housewives" Husband Apollo Nida Charged
8. "Flappy Bird" game app
9. Vin Diesel lip-syncs to Beyoncé, Katy Perry
10. Oprah's 60th birthday
Vin Diesel lip-syncing to Beyoncé and Katy Perry songs in this exclusive Facebook video.
Seattle Seahawks coach Pete Carroll rallying fans ahead of the big game.
Members of the U.S. Ski Team posting this "sweater selfie."
The Grammys snapping candids backstage, including this post-performance shot of Imagine Dragons dusted in paint.
Oprah thanking Ellen for sending flowers on her 60th birthday.
Bruce Springsteen honoring the late Pete Seeger after word of his death on Tuesday.
Professional tennis player Andy Murray capturing this view of the court ahead of the Davis Cup.
Rapper Daddy Yankee sharing this Throwback Thursday photo with Snoop Dogg.
Footballer Gareth Bale learning Spanish now that he plays for Real Madrid.
Actor and director Seth MacFarlane posting about his new movie, "A Million Ways to Die in the West."
British Prime Minister David Cameron ushering in the Year of the Horse.
Carolina Panthers quarterback Cam Newton sharing his excitement about being in New York for the Super Bowl.
Singer Avril Lavigne posting this video to thank her fans after hitting 50 million Likes.
By Alex Walker, Consumer Content Manager and Bree Nguyen, Strategic Partnerships Manager
*Facebook Buzz Rankings reflect the top topics being discussed on Facebook, Jan 26-30, in the United States. The rankings are based on both frequency and momentum: the Facebook conversations that not only got a lot of buzz during the week, but also saw a notable increase compared with the previous week.