Will Smith takes to the sky over Dubai. David Beckham shares some behind-the-scenes moments from his latest fashion shoot. Shakira sends a personal letter to fans, and makes a big album announcement. Plus, actors Elijah Wood, Julia Louis-Dreyfus and Bryan Cranston show fans a different side of Sundance and the SAG Awards. Celebrities, athletes, musicians and other public figures are joining the conversation on Facebook. Check back here each week for a few standout posts.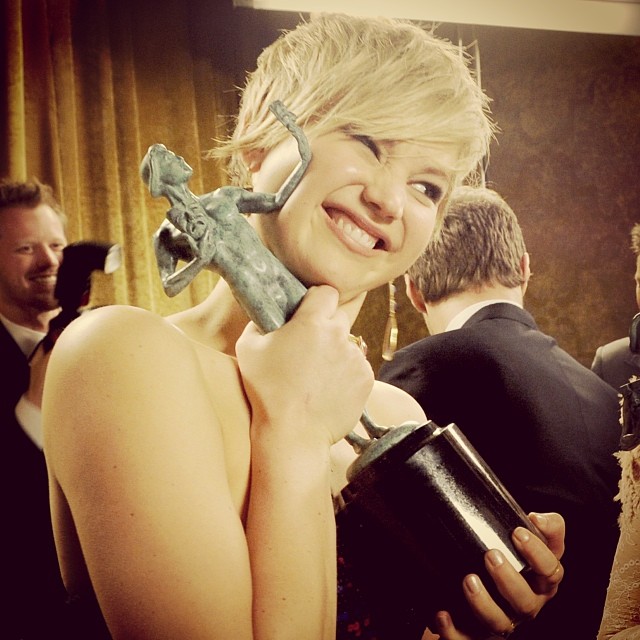 This Week's Facebook Buzz Rankings*
1. Richard Sherman and Michael Crabtree
2. Northeast snowstorm
3. Super Bowl buzz
4. Martin Luther King, Jr.
5. Peyton Manning and "Omaha!"
6. Justin Bieber
7. Captain and Tennille divorce
8. Smarties candy
9. Purdue University
10. New York Governor Andrew Cuomo
Actor Will Smith sharing how he kicked off 2014 – skydiving in Dubai!
Julia Louis-Dreyfus
and Bryan Cranston posting a selfie from the
Screen Actors Guild Awards
.
Singer Shakira writing a personal letter to fans exclusively on Facebook to announce her new album due March 25.
Actor Elijah Wood hosting a Facebook Q&A during the Sundance Film Festival.
NBA
and former
Texas Longhorns
star,
Kevin Durant
, posting this video of the team's buzzer-beating basket to win the game.
Comedienne Aisha Tyler hosting the Critics' Choice Awards, sharing selfies like this one with Oprah Winfrey and Forest Whitaker.
Arsenal football player Aaron Ramsey hosting a Q&A, offering some candid responses to fan questions.
Figure skater Kristi Yamaguchi visiting Facebook Headquarters before heading to the Sochi Games as the U.S. Olympic Committee's digital ambassador.
Singer Austin Mahone sharing his excitement while taping a cameo for "The Millers" on CBS.
Stephen Amell of CW's "Arrow" motivating fans to hit 750,000 Likes by offering a special Facebook Q&A.
David Beckham sharing behind-the-scenes shots from his latest H&M campaign.
Bill Gates posting this video exclusively to Facebook for his Annual Letter.
By Alex Walker, Consumer Content Manager and Bree Nguyen, Strategic Partnerships Manager
*Facebook Buzz Rankings reflect the top topics being discussed on Facebook over the past five days, Sunday through Thursday, in the United States. The rankings are based on both frequency and momentum: the Facebook conversations that not only got a lot of buzz during the week, but also saw a notable increase compared with the previous week.